Intel Corp.'s decision to buy programmable logic vendor Altera Corp. will provide the world's largest microprocessor supplier with further means to distance itself from the traditional personal computer (PC) space.
Intel's overall semiconductor revenue in 2014 came close to the $50 billion mark, with PC microprocessors accounting for the vast majority of sales. However, in the past several years, demand for PCs has begun to slow. Intel forecasts that PC sales will endure a mid-single digital percentage decline this year. The sluggish nature of the market has come as portable computing platforms such as smartphones and tablets rise in popularity.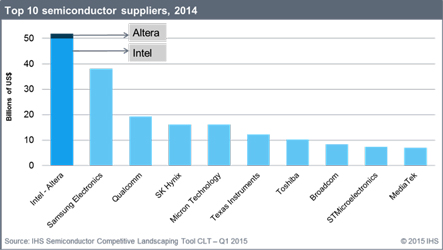 Intel (Santa Clara, Calif.) has for years been trying to transform itself into a multi-faceted organization focused more on markets such as the Internet of Things (IoT), cloud computing and the infrastructure needed to support them. The $16.7 billion purchase of Altera (San Jose, Calif.)—the second-largest supplier of programmable logic devices (PLDs)—has given Intel another arsenal to play in the integrated chip market, where it has the most potential for growth, according to Tom Hackenberg, principal analyst for embedded processing at IHS.
Intel's growth strategy has been to use its core strength to enter profitable and complementary markets. The company is working to enable the integration of more and more capabilities into its chips, CEO Brain Krzanich said during a conference call to discuss the Altera deal.
Krzanich calls the acquisition of Altera a "perfect extension of this strategy." He says that by bringing together Intel's processors with Altera's hardware of programmable FPGAs "we can make the next generation of processors not just better, but truly able to do more."
Embedded Synergy
Intel has been making inroads in the communications infrastructure and data center equipment markets, becoming a leading supplier of high-performance wired and wireless telecommunications infrastructure products.
"Altera's position as a strong supplier of broadband, networking and telecommunications solutions was likely a crucial consideration for Intel,"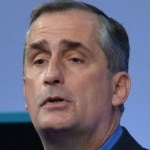 Brian KraznichHackenberg says.
Another complementary area for the two companies is in processors for networking solutions, where more flexible field-programmable gate arrays (FPGAs) and processor combinations are being rolled out. The deal Intel made recently with eASIC to provide custom-built application-specific integrated circuits (ASICs) in combination with Intel's Xeon server MPUs is an example of where this synergy could happen.
Hackenberg says that while Intel's MPUs are optimized for high-performance control, Altera's PLDs and FPGAs are flexible and can be easily configured to process huge parallel streams of packet data as a coprocessor to the MPU. Hackenberg calls this a "key strength of the acquisition."
So, whether Intel plans to complement existing products or create new system on chips (SoCs), "the combined potential of Intel and Altera should be well poised to target a growing telecommunications market and IoT applications," Hackenberg says.
Other areas where the two companies could provide MPUs working side by side with configurable logic include manufacturing and process control, automotive applications, security and surveillance, broadcast and industrial applications.
Industrial Giant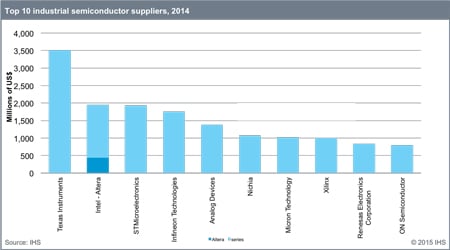 The combined might of Intel-Altera will create a merged company that generated nearly $2 billion in industrial semiconductor revenues in 2014, according to IHS. That would be good enough to move Intel into second place among worldwide industrial semiconductor vendors. Prior to the deal, Intel was ranked fourth while Altera previously ranked 29th overall.
"The Intel-Altera merger is complementary, given that essentially each company manufactures different types of semiconductors," says Robbie Galoso, principal analyst for industrial semiconductors at IHS. "The Intel-Altera merger would combine Intel's leading position in industrial microprocessors with Altera's second-ranked position in industrial programmable logic devices."
Galoso also says that the combined company would achieve worldwide market share gains in manufacturing and process automation, military and civil aerospace and test and measurement.
Questions or comments on this story? Contact dylan.mcgrath@ihs.com
Related links:
IHS Semiconductors and Components
News articles: