Intel has closed its deal to acquire broadband access company Lantiq and says it will create a Connected Home division led by Daniel Artusi, former CEO of Lantiq and an experienced semiconductor industry veteran.
The terms of the acquisition were not disclosed. Lantiq had about 1,000 employees prior to the acquisition.
In a conference call organized to discuss the acquisition, Gregory Bryant, corporate vice president of the client computing group at Intel, says Lantiq's broadband product line complements Intel's Puma line of cable modems covering the DOCSIS standard. Bryant added that Artusi would lead the connected home division and report to him.
"There other groups working on the connected home as well, the IoT group, even the client computing group with PCs. Intel can bring all those pieces together and make them work together," says Bryant.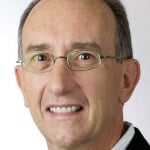 Daniel ArtusiArtusi says that home gateway sector is going through changes as various legacy standards need to come together and interoperate. This includes G.FAST, VDSL, ADSL and DOCSIS 3.1 cable modems. "Cable modems are getting faster very quickly, reaching 1-Gbit per second. DOCSIS 3.1 is very important. The overriding goal is to provide gigabit service whether on cable, fiber or copper," he said.
When asked about combining DSL with LTE, Artusi said that Lantiq has a history of working with Intel's wireless group. Both were originally owned by Infineon Technologies AG before it divested to get out of wireless and wired communications chips.
As to LTE plus DSL, Artusi said that it is more prevalent in Europe than elsewhere because in Europe there are fixed line operators that also provide wireless services. He added that it is starting to appear in other geographies such as Latin America.
Artusi was asked on the call if the acquisition would result in layoffs. Without providing a categorical denial, Artusi says, "The L-word. We are not thinking about that. We've got hundreds of people in Munich and the new division also has staff in the U.S., Israel, India, Singapore and Taiwan."
The global market for broadband consumer premises equipment is expected to be worth $12 billion in 2015, according to IHS Technology. Growth is expected to continue until a peak in 2017 at about $13.1 billion.
Technology in the form of very-high-speed DSL (VDSL) bonding and vectoring technologies are letting service providers offer broadband speeds up to 200 megabits per second (Mbps) on legacy copper infrastructure. Such speeds are more competitive with the DOCSIS 3.0 system for high-bandwidth data transfer, without the need to invest in FTTP infrastructure. As a result, this allows ISPs more flexibility in the capital expense of improving their networks, pushing fiber closer to the home without the cost of directly accessing each household.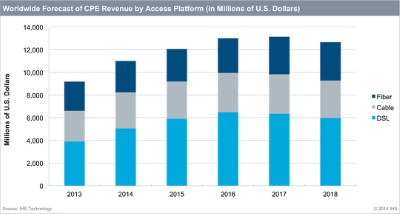 In addition, Wi-Fi is increasingly becoming the choke point for connectivity. So CPE shipments with 802.11ac included is also set to grow rapidly.
Lantiq is a founding member of the Prpl Foundation, an open-source non-profit organization formed at the behest of Imagination Technologies Group plc and others as a support community for development around the MIPS processor architecture.
When asked if Intel would continue that involvement, Artusi says it will while the newly-formed Intel division fully defines its roadmap. Artusi does not say whether that could involve moving to an all Intel processor core policy and adds: "We are certainly living in a heterogeneous world."
Questions or comments on this story? Contact: peter.clarke@globalspec.com
Related links and articles:
Home Networks Intelligence Broadband CPE Market Monitor Report
News articles: