Technological and commercial forces are converging to create new applications for energy scavenging systems. The question is: How will designers meet the new demands?
Energy harvesting systems are not what they used to be. The technology continues to become more adept at extracting power from meager ambient sources, but as the Internet of Things (IoT) takes shape and wearable and mobile devices make new demands on power sources, energy harvesting's role keeps changing, causing designers to adopt new strategies.
Those who adapt to the changing power system landscape will earn a place in the electronics industry for years to come. Those who fail to evolve risk becoming irrelevant. The challenge is to determine how harvesting modules can best meet the needs of tomorrow's electronic devices. Complicating the task is the fact that some of the operating parameters have yet to be defined.
"Money will be made or lost in the IoT and wearable spaces for energy harvesting," says Niranjan Pathare, senior market development manager atTexas Instruments (TI). "Energy harvesting has a big opportunity in these spaces. The challenge is that nobody really knows the specifications of the devices that will ultimately populate the IoT."
Harvesting Today and Tomorrow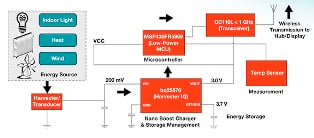 Energy harvesting systems taping a variety of ambient sources can now act as the sole power source for smart sensor motes. To tailoring harvesting to support more complex devices and support the Internet of Things, developers will use a mix of old and new technologies. Image Credit: Texas Instruments Inc.Energy harvesting entered the market with the goal of eliminating batteries. The technology can now deliver on that promise on a limited basis when harvesting is called on to provide power to simple sensor motes.
The power-generating potential of the leading energy sources represent a broad range. Outdoor ambient light can produce 10 milliwatts per square centimeter (mW/cm2) from a solar cell, but when the source becomes indoor lighting, the output drops to 10 µW/cm2. Thermal sources harvested in industrial applications produce 1-10 milliwatts per cubic centimeter (mW/cm3). When the source is the human body, however, the power density decreases to 30 µW/cm3. Vibration/motion sources present the same level of variation, with 100 µW/cm3 in an industrial setting and 4 µW/cm3 in a wearable application. All fluctuate with changing ambient conditions.
Problems arise, however, when designers try to use harvesting as the sole source of energy for applications other than ultra-low-power sensor motes. The low levels of energy extracted and the intermittent production of power simply cannot meet the energy requirements of complex devices, especially when they include power-hungry microcontrollers. Designers of IoT nodes with greater than miniscule power requirements have reconsidered the goal of completely eliminating batteries.
To meet the power demands of microprocessors and serve the complex devices they enable, two things must happen. One, designers need to look beyond the harvester and take a holistic perspective. The other is to use a battery as the primary power source.
Energy Storage
One of the things designers can do is to add an element that can store the energy extracted by harvesters, such as a rechargeable battery or a supercapacitor, to ensure the client device gets power on-demand when the harvester is dormant or its output too low. Another option is to use a battery as the primary power source and have the harvester recharge the battery, extending its operating life.
Combining harvesters and batteries, however, is not straightforward. Designers must contend with output voltages higher or lower than levels required to charge an energy storage cell. To simplify this process, designers use buck-boost converters and power management ICs—such as TI 's BQ25570 and Linear Technology's LTC3331—to ensure the battery or supercapacitor can charge effectively from low-level or intermittent sources.
"We are seeing more and more harvesters used in combination with rechargeable batteries or in applications using primary batteries and energy harvesting whenever power is available," says Chris Townsend, manager of embedded sensing at Lord MicroStrain Sensing Systems.
Seeking Holistic Efficiency
Another critical strategy for expanding the use of harvesting is to reduce the energy consumption of all components in energy harvesting-enabled systems, including the microprocessor, data storage and other peripherals. Anything done to minimize the power consumption of any of the components is going to improve the efficiency of the energy harvesting system, and the industry has already made great strides in this area
"What energy harvesting can provide and what low-power electronics can do is converging," says Townsend. "We are at the first convergence point, where there are applications that these energy harvesting systems can actually serve. Today, it is a small subset of applications compared with what will be the case in five to 10 years, because as power consumption gets lower and lower, energy harvesting systems will be able to serve more and more different applications."
Fine-Tuning Harvesters
The search for energy efficiency begins with the harvester itself. Most energy-harvesting systems have a complex relationship with the client devices they charge. The complexity arises from a disparity between the typical output of the harvester and the voltage required to charge the client. This disparity makes direct energy transfers inefficient.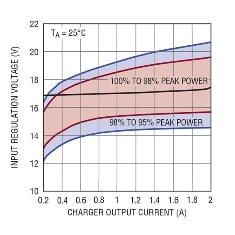 MPPT, adjusts the harvester's output to optimize the transfer of energy to the client it is charging. Image Credit:Linear TechnologyTo remedy this, designers use a technique called maximum-point power tracking (MPPT). This technique checks the output of the harvester, compares it to the voltage required by the client, determines the best power the harvester can produce to charge the client, and then converts the harvester's output to the voltage that will get the maximum current to the client.
"Maximum-point power tracking is a way to optimize power extraction across varied conditions," says TI's Pathare. "For example, solar cells' output power is at a maximum only at a certain operating point. The operating point shifts depending on the light conditions. So it is important to operate solar cells at their maximum power point. The same is true of thermoelectric harvesters. These systems output the maximum power only at a certain point, and usually it is about 50% of their open-circuit voltage. It is key that the thermoelectric harvester operate at the maximum power point."
Using MPPT can increase a harvester's efficiency by 10 to 30%. The sophisticated electronics allow the controller to operate the harvester at its most efficient voltage, resulting in significant power gains. While MPPT greatly enhances power scavenging, the technique was not developed specifically for energy harvesters.
"This isn't anything new," says Tony Armstrong, director of product marketing for power products at Linear Technology. "It is just a new application of a technique that has been around."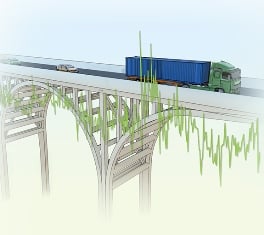 Energy harvesting system developers are using a variety of tuning techniques that enable piezoelectric harvesters to generate usable power across a broad range of frequencies. This shift has enabled these harvesters to take on a greater variety of applications, including remote monitoring of the integrity of structures. Image Credit: LORD Microstrain Sensing SystemsOptimizing piezoelectric harvesting systems also calls for unique measures. In the past, vibration-based systems operated effectively at one frequency only. The frequency had to match the frequency of the host structure's vibration. Real-world structural vibrations, however, rarely have a specific constant frequency. Harvester manufacturers, therefore, have developed a number of tuning techniques that enable piezoelectric harvesters to generate usable power across a range of frequencies. The shift to using a broad range of frequencies has expanded the scope of applications to which these harvesters can be applied.
The Art of Controlling Everything
One of the greatest consumers of energy in harvesting-enabled modules is the microcontroller. To make these devices as energy efficient as possible, designers must find ways to reduce the consumption of every process and subsystem, from processing frequencies to memory and peripheral operating parameters.
One place to start is with microcontroller operating speeds. As a processor's frequency is lowered, it consumes less power. Designers can achieve greater energy efficiency by enabling multiple clock domains instead of clocking every part of a microcontroller at the same frequency. You can see an example of this in Atmel's AVR and SMART ARM-based microcontrollers, which achieve power savings by limiting or powering off logic areas in the microcontroller to dynamically control power consumption. If a peripheral's maximum throughput is not required in an application, the clock rate can be lowered. Using this approach, separate clocks are applied to different peripherals. Unused peripherals can also be shut down or enabled individually during runtime, further reducing power consumption.
Atmel microcontrollers take power savings one step further. Traditionally, an internal timer periodically wakes up the microcontroller to determine if conditions merit the microcontroller's attention. The CPU and RAM consume large amounts of power in active mode, so the act of waking up the CPU consumes a lot of power. To eliminate this power consumption, Atmel has introduced a technology called Sleepwalking , which adds intelligence to peripherals, allowing them to determine whether or not incoming data requires intervention by the CPU. This allows the CPU to remain in sleep mode until an important event occurs, eliminating millions of unnecessary CPU wakeups.
"By not waking up the CPU just to facilitate simple peripheral interactions, we achieve huge power savings," says Andreas Eieland, director of product marketing for Atmel. "You don't need the CPU for the peripherals to make decisions. So this is a huge reduction in the frequency of wakeups, with a corresponding huge savings in power consumption."
Yet another area where designers can trim energy consumption of microcontrollers is the processor's data storage. TI has introduced ferroelectric random access memory (FRAM), a nonvolatile memory that can hold data even after it is powered off. Writes to a FRAM cell occur at low voltage, and minimalcurrent is required to change the data. FRAM uses 1.5 V compared with 10-14 V for EEPROM. This low voltage translates into low power usage, which enables more functionality at faster transactions.
"When data is written into and read from memory, power is consumed," says Pathare. "FRAM minimizes that power consumption."
A Work in Progress
Despite shifting technology and market trends, the ultimate goal of energy harvesting remains the elimination of batteries. There will, however be many interim steps between now and then, and many of these will pair harvesters with some form of energy storage device.
How the industry gets to this point will likely depend as much or perhaps more on developers' ability to reduce system-wide energy consumption. "From our perspective, lower and lower power consumption will enable energy harvesting," says Townsend. "We see low-power electronics evolving, and this will enable energy harvesting more and more. Energy harvesting technology doesn't change nearly as fast as power management on the electronics side."
Questions or comments on this story? Contact dylan.mcgrath@ihs.com
Related links:
News articles: