As expected Ambiq Micro Inc. (Austin, Texas), a 2010 spin-off from the University of Michigan, has launched its family of sub-threshold voltage operation microcontrollers based on the Cortex-M4F core licensed from ARM Holdings plc.
The microcontrollers (MCUs), dubbed the Apollo series, operate at voltages from 3.8V down to 0.5V, far below the normal operating voltage. Operating at low voltage reduces achievable clock frequencies in digital circuits but as power consumption scales with the square of voltage, for many applications the approach could offer improved energy efficiency. These applications include those of high interest at the moment such as wearable equipment, the Internet of Things and portable medical electronics.
Ambiq calls its technology Subthreshold Power Optimized Technology or SPOT and in real-world applications the Apollo series MCUs consumes between one fifth and one tenth of the power of competitors' MCUs of comparable performance, Ambiq claimed in a statement.
The company said it has started to send samples to selected customers and volume production will commence in the spring of 2015 with prices from $1.50 each in volumes exceeding 10,000 units.
The patented technology, implemented in an industry-standard CMOS process, has overcome issues of noise susceptibility, temperature sensitivity and process drift and is already proven in silicon. In 2013 Ambiq launched two families of real-time clocks – the AM08x5 and the AM18x5 – based on the same platform.
The Apollo family initially has four members with up to 512-kbytes of flash and 64-kbytes of RAM on-chip and operate at clock frequencies of up to 24MHz (see table and figure). The Apollo MCUs consume 30microamps/MHz when executing instructions from flash and feature average sleep mode currents as low as 100nA.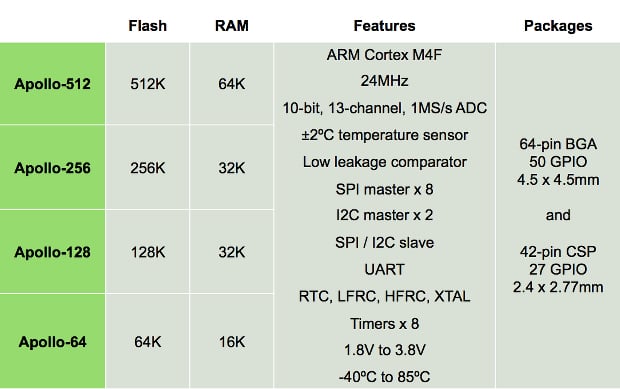 Table: Family summary. Source: Ambiq Micro.
Switching up to Cortex-M4F
Ambiq has switched from an earlier plan to start by offering microcontrollers with a Cortex M0+ based MCU, which would have probably provided lowest possible microcontroller energy consumption. But by rolling out a family based on Cortex-M4F, the F stands for floating point, Ambiq is pitching its Apollo series against a number of mainstream competitors including Atmel, Freescale, Infineon, NXP, Silicon Labs, STMicroelectonics and Texas Instruments.
Ambiq pointed out in a presentation that even though it has chosen to implement the more complex and power hungry Cortex-M4F core in its process, it can provide greater energy efficiency than some Cortex-M0+ based MCUs. It claims to be 3.3 times more energy efficient than the EFM32 "zero" from Silicon Labs in active mode and draw 9 times less current in sleep mode. When compared to the SAM D20 from Atmel Ambig claims 2.8 times more energy efficient when active and to draw 38 times less current in sleep mode.
In other words Ambiq is claiming that it can offer the computational power of Cortex-M4F at power consumption levels that beat those of more specialized and lower capability Cortex-M0+ MCUs.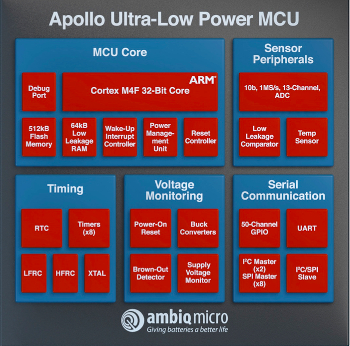 Block diagram of Apollo MCU. Source: Ambiq Micro.
The company has not revealed who it is working with as a foundry supplier or at what minimum geometry its products are being produced. However, a special a 65nm or 55nm CMOS from Taiwan Semiconductor Manufacturing Co. Ltd. (TSMC) would seem a likely bet as TSMC appears the most advanced foundry in terms of characterizing and offering CMOS processes for 0.7 volt operation.
Nor is Ambiq the only chip company developing circuits with sub-threshold voltage operations. PsiKick Inc. (Charlottesville, Virginia), a semiconductor startup formed by professors at University of Virginia and the University of Michigan in 2012, has taped out a complete wireless sensor node on 130nm CMOS. This is a mixed-signal IC that integrates analog front-ends, an on-chip programmable DSP and memory, hardware accelerators, integrated power management, RF communications across multiple frequencies and integrated energy harvesting.
PsiKick has claimed its wireless sensor node SoC consumes between 100 and 1000 times less than any comparable chip.
"The energy efficiency of microcontrollers has been getting better over the last few years but nobody has delivered the near order-of-magnitude improvement made possible by our SPOT platform. The technology, proven in our real-time clocks over the last couple of years and now applied to Apollo MCUs, delivers the breakthrough in battery life that designers of portable devices have been demanding. Looking ahead, we predict that semiconductor energy consumption will be halved every two years. The trend starts here," said Mark Foley, Ambiq CEO, in a statement.
However, it must be born in mind that while an order of magnitude improvement of power consumption in an MCU is admirable, it is itself only a small part of a subsystem's power consumption. Given that the power consumption in sensors and wireless transceivers may dwarf that in the MCU, the swapping out of an established MCU supplier may not make a big difference to the system-level power consumption. Specifiers will also weigh up ease of development and supplier relationships as part of a purchase decision.
Questions or comments on this story? Contact dylan.mcgrath@ihs.com
Related links and articles:
News articles:
ARM MCUs to Shine at ISSCC 2015
Ambiq Preps Launch of Sub-Threshold ARM MCUs
TSMC Tips Low-Voltage Processes Aimed at Wearables, IoT