Leti Chief Scientist Barbara De Salvo will help kick off the IEEE 2018 International Solid-State Circuits Conference (ISSCC), held in San Francisco during February 11-15, with an opening-day presentation calling for radically new, digital-communication architecture for the internet of things (IoT) in which "a great deal of analytics processing occurs at the edge and at the end devices instead of in the Cloud."
Delivering a keynote talk during the February 12 plenary session that formally opens the conference, De Salvo will note that the architecture will include human-brain inspired hardware coupled to new computing paradigms and algorithms that "will allow for distributed intelligence over the whole IoT network, all-the-way down to ultralow-power end-devices."
Leti scientists will also present a paper on and a demonstration of real-life applications of piezoelectric energy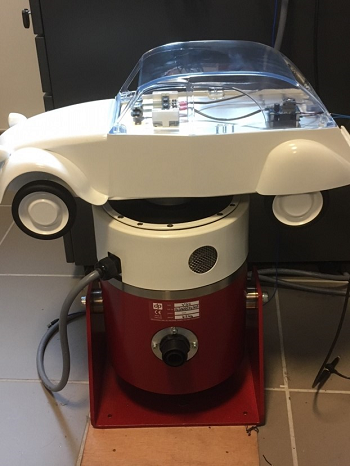 Model demonstrates means to extract electrical energy from shock. Source: Letiharvesting, which converts mechanical energy, such as vibration and shocks, into electrical energy. The demo at Demonstration Session 1, 8.8, from 5-7 p.m., February 12, in Golden Gate Hall of the San Francisco Marriott Marquis Hotel, will show a new technology for extracting energy from shocks. The demo shows an energy-autonomous temperature sensor node powered by the proposed harvesting circuit in an automotive environment. The system is able to harvest enough energy to sense temperature and transmit it wirelessly with a few mechanical pulses.
The demonstration is based on the paper, "A 30nA Quiescent 80nW-to-14mW Power-Range Shock-Optimized SECE-Based Piezoelectric Harvesting Interface with 420% Harvested-Energy Improvement." The paper will be presented at 11:15 a.m., February 13, during Session 8 on Wireless Power and Harvesting. The authors propose an efficient electrical interface to maximize the energy extraction from a piezoelectric energy harvester. The novelty of the approach is to adapt the strategy to sporadic mechanical shocks, usually found in real environments, instead of periodic vibrations. The circuit allows a self-starting operation and energy-aware sequencing with nanowatt power consumption. Compared to a well-established interface, the proposed approach presents four times the energy harvesting capability.