JuiceBox Energy Inc. has made available an 8.6 kilowatt-hour lithium-ion energy storage system, launching the San Jose, Calif.-based company into the residential energy storage market.
With the growth of residential solar systems, some customers have to sell their excess solar energy to the grid at wholesale rates during the day but then buy it back in the evening at peak retail rates. JuiceBox's energy storage system extends the solar day by supporting self-consumption when rates are highest in order to save residential customers money, says the company.
By reducing peak power consumption and fluctuations on the grid, the energy storage system saves money for both customer and utility. When the grid goes down, the energy storage system can operate indefinitely in an off-grid mode with the solar and battery system providing the power for the home, Juicebox says.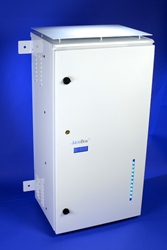 The new JuiceBox 8.6kWh Residential Energy Storage. Source: PRWebJuiceBox's storage system can be installed on new and existing solar energy installations and features a bi-directional inverter/charger for extended safety controls and operating life, the company says. The system communicates to web-based applications via cellular connection in order to monitor, control and update the storage system in the cloud.
Neil Maguire, CEO of JuiceBox Energy, says in a statement the energy storage system "puts the customer in charge of their renewable energy" with a safe and clean technology for those looking to acquire solar energy and for those that already have it.
IHS Inc. says that energy storage will not only be one of the technologies that will transform the world in the next five years but will help boost the amount of renewable energy available on the emerging smart grid. IHS believes solar energy storage in the coming years will grow from a niche-only product to a technology that could grow 18-fold over the next four years to 2.875 gigawatts as energy storage becomes a viable technology for residential, commercial and utility-scale installations.
In order to take advantage of this growth, solar system and module maker SunEdison recently entered the solar energy storage market with its acquisition of Solar Grid Storage in March.
Questions or comments on this story? Contact [email protected]
Related links:
News articles: