The spending spree by SunEdison Inc. continues as the renewable energy giant has acquired Vivint Solar, a provider of residential solar systems.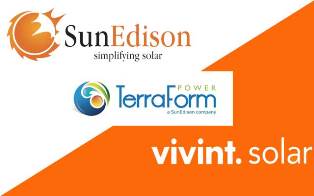 SunEdison acquires Vivint for $2.2 billion. Source: SunEdison.comUnder terms of the agreement, SunEdison will pay about $2.2 billion for the solar company in a combination of cash and SunEdison shares. As part of the agreement, SunEdison's clean energy yieldco division, TerraForm Power Inc., will take control of Vivint's rooftop solar portfolio consisting of 523 megawatts (MW) that is expected to be installed by the end of this year.
The acquisition of Vivint continues SunEdison's very active merger and acquisition strategy that has taken place over the past year when it acquired First Wind for $2.4 billion in November 2014. In March, SunEdison entered the energy storage market with its acquisition of Solar Grid Storage and then went on to purchase three utility-scale solar power plants in Utah in April. Early this month, SunEdison agreed to spend $2 billion for the ownership of Invenergy Wind LLC.
Vivint's management team and the company's residential and small commercial (RSC) business unit will merge with SunEdison's existing RSC team. SunEdison says TerraForm Power will acquire future completed RSC projects from the parent company in order to create greater visibility and predictability to SunEdison's cash available for distribution (CAFD) growth.
As a result of this acquisition, SunEdison has increased its 2016 annual guidance to 4.2 gigawatts (GW) to 4.5 GW, a 50% increase from its prior outlook of 2.8 GW to 3.0 GW.
In other SunEdison acquisition news, the company has also taken control of the U.K.'s Mark Group, a full service energy and solar sales installation provider. With the deal, SunEdison gains a direct sales channel in residential and commercial sales in the U.K.
Questions or comments on this story? Contact engineering360editors@ihs.com
Related links:
News articles:
SunEdison Expands Wind Portfolio with $2 Billion Acquisition
SunEdison Agrees to Build 3 Solar Power Plants in Utah
SunEdison Enters Solar Storage Market With Acquisition
China's Solar Module Market Booming, but Shortage Looms