Automotive supplier Delphi Automotive plc has completed what it calls the longest automated drive in North America with an Audi A1 automobile that has travelled from San Francisco to New York in 9 days.
Delphi says 99% of the 3,400 mile drive was covered in fully automated mode. The nine-day trip crossed 15 states and the District of Columbia.
The vehicle, given the nickname Roadrunner, is the result of collaboration between Delphi (Gillingham, England) and Ottomatika Inc. (Monroeville, Pennsylvania), a company that was spun off from Carnegie Mellon University in 2013.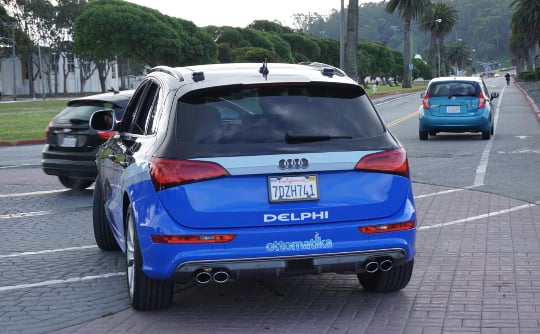 Delphi's Roadrunner pulls into traffic on its transcontinental journey to New York. Source: Delphi.Delphi has integrated its active safety technologies including radar, vision, and V2V and V2X communication systems with automated driving software developed by Ottomatika. It is equipped with six long-range radars, four short-range radars, three vision-based cameras, six lidars and a localization system.
The complete system was able to make human-like decisions that were acted upon through the steering and the acceleration and brake pedals. The vehicle can make decisions such as stopping and proceeding at a traffic-light controlled junction, timing a highway merge or performing a manoeuver around a cyclist on a city street. The car is also capable of automated parking.
Roadrunner also included many automated safety and convenience systems that are already on the market, courtesy of Delphi, including collision mitigation, integrated radar and camera systems, forward collision and lane departure warning systems.

The drive was used to collect approximately three terabytes of data that will be used by Delphi and Ottomatika engineers to further advance active safety. "Our vehicle performed remarkably well during this drive, exceeding our expectations," says Jeff Owens, chief technology officer at Delphi, in a statement. "The knowledge obtained from this trip will help optimize our existing active safety products and accelerate our future product development, which will allow us to deliver unsurpassed automotive grade technologies to our customers."
Jeremy Carlson, senior automotive technology analyst at IHS Technology, says "the accomplishment is significant, but mainly in terms of the publicity generated to help raise awareness of autonomous driving among the general public and for the amount of data generated by the vehicle, which will help with development."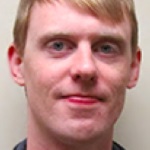 Jeremy Carlson
Carlson adds: "It hasn't fundamentally changed what we expect this sector to be doing or how soon it will be doing it. Delphi is showing some strength here, but most importantly it is generating a lot of data. This builds up a lot of experience and a lead over competitors."
However, while the technology may appear close to fit for autonomous driving, Carlson cautions that there is still a long way to go before the automotive supply chain could roll this out to the general public. "An incredibly high standard of proof of safety is required," he says.
Delphi is one of seven entities licensed to test autonomous vehicles on public roads in California. However, California is the only U.S. state that the Roadrunner travelled through where this licensing applied, although Washington D.C. also has a system in place.
Carlson said Delphi has won two contracts recently for components that will continue to move the industry forward. The first, zFAS, is a central computing unit that powers an Audi piloted/automated driving function. The second is DSRC, a vehicle-to-vehicle communications unit, the first to go into series production in the industry with a design win in the Cadillac CTS.
Delphi is supporting the collaboration with Ottomatika by making an investment in the company. Together, the two companies are preparing short- and long-term roadmaps of steadily increasing vehicle automation.
"Delphi and Ottomatika working together have the potential to solve the automated driving challenge, which makes roads safer for everyone," says Raj Rajkumar, co-founder and CEO of Ottomatika, in a statement.
Questions or comments on this story? Contact: peter.clarke@globalspec.com
Related links and articles:
Auto Tech Report - Autonomous Driving: Question is when, not if
IHS Automotive Technology Page
News articles: