Mobileye NV, a Netherlands registered developer of chips and software for camera-based Advanced Driver Assistance Systems (ADAS), has filed an initial public offering of shares on the New York Stock Exchange that values the company at more than $5 billion.
The company is planning to offer 27.75 million shares at a value of between $21 and $23 per share and to raise between $583 million and $638 million. Of that the company would keep between $175 million and $191 million, with the rest going to equity investors.
Mobileye (Jerusalem, Israel) was founded in 1999 and has created driver assistance technology for such functions as forward collision warning, traffic jam assist and automatic emergency braking, lane finding and pedestrian detection. The company worked for a number of years with STMicroelectronics as its foundry chip manufacturer for the development of the EyeQ vision processor.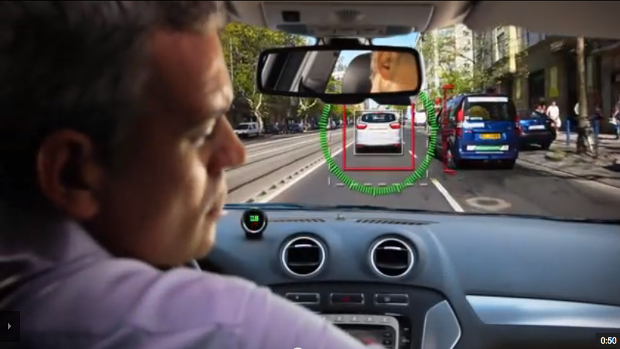 Forward collision warning is one of the features supported by Mobileye's EyeQ vision processor. Source: Mobileye.
The company has also signed up to use the ST-developed fully-depleted silicon-on-insulator (FDSOI) manufacturing process technology for its chips according to ST, the developer of the technology (see FDSOI: Is Cadence the Tipping Point?)
The EyeQ2 processor is shipping now with the EyeQ3 expected to ship in 2015 and engineering staff working on the EyeQ4, which is expected to ship in 2018, Mobileye said in its prospectus. Mobileye claims to have 80 percent of camera-based ADAS mass production and its products have appeared in, or will soon appear in, vehicles from 20 manufacturers including Audi, BMW, Fiat, Ford, General Motors, Honda, Nissan, Peugot, Citroen, Renault, Volvo and Tesla.
The prospectus also reveals strong recent financial growth. The annual revenue went from to $81.2 million in 2013. Sales in 2011 were less than a quarter of those of 2013 at $19.2 million. For the first quarter of 2014 Mobileye reported revenues of $35.6 million, more than three times the $11.7 million recorded for 1Q13.
With ADAS systems seen as useful safety additions by drivers the market is likely to grow rapidly and is also the case that ADAS is seen as step along the road towards autonomous vehicles by some.
The IPO is expected to price later this week.
Related links and articles:
IHS Technology Automotive Semiconductors
News articles:
Imagination Volunteers 'Warrior' Cores for MCU Duty
Startup Movidius Raised Funds for Computer Vision R&D