If you've spent time in traffic recently, there's a good chance you've seen or used one of the more advanced navigation systems that provide turn-by-turn directions and display the recommended route on a car's windshield or center console touchscreen.
Carmakers are taking varying approaches to providing in-vehicle navigation, and analysts remain wary of crowning a winning option. Head-up displays (HUDs) project navigation and other information on the windshield. Other products add navigation and video to rearview mirrors. Each is available as built-in features on some vehciles and also in the form of personal/portable navigation devices (PNDs) that work in any car.
Several markets for PNDs and related components are poised for growth. IHS Technology predicts companies will ship a total of 2.8 billion touchscreen panels in 2016, up from 1.3 billion in 2012. Beyond smartphones, tablets and PCs, this figure includes LCD displays, PNDs and other automotive applications. Touchscreens are typically used in conjunction with portable HUDs and mirrors via wirelessly connected smartphones using apps that provide data to the device and control its functions.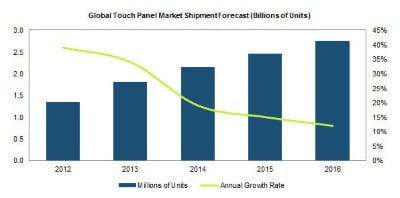 More than 2.8 billion touchscreen panels per year are projected to ship by 2016, according to IHS.While touchscreen control can raise its own safety issues, many HUDs and mirrors also use voice control/interaction and gesture recognition to help address this concern.
Portable PNDs face strong competition from built-in systems, not to mention smartphones which can provide navigation using a variety of apps. Nevertheless, demand for PNDs exists, in part due to advanced features designed for ease of use and the continued desire by many to add navigation systems to older cars.
Luca De Ambroggi, principal analyst for automotive semiconductors at IHS Technology, said portable PNDs face strong price competition from built-in navigation systems and smartphones. "But buyers [for PNDs in general] are looking for devices which satisfy a specific need or use case, and consequently might to be willing to buy devices at a premium price," Ambroggi said.
From Industry Stalwarts to Startups
A long list of firms, including both traditional electronics powerhouses and new players, now offer a significant variety of products for automotive navigation.
Longtime automotive GPS market bigwig Garmin provides a HUD device that sits close to the intersection of the dashboard and the windshield. It connects wirelessly to a Bluetooth-enabled smartphone running Garmin's StreetPilot or Navigon apps. The device displays navigation and other useful information on the inside of the car's windshield using a transparent film or a supplied reflector lens. Drivers can opt for turn-by-turn directions through the car's speakers using the same Bluetooth connection. It retails for $129.99.
Pioneer Corp., best known as a maker of car stereos and speakers, offers two PND solutions. The NavGate HUD device clips onto the underside of the driver's sun visor and projects information onto the windshield in a space that is the equivalent of a 30-inch display. According to the company, this allows for more intuitive driving, since the information is shown "as a natural part of the landscape" and is less distracting. NavGate works with the CoPilot and iGO apps which also enable voice-guided directions.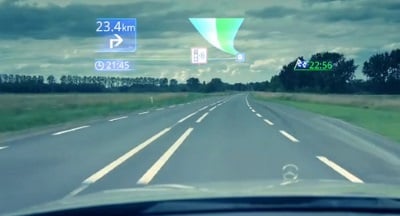 Example windshield view from Pioneer's NavGate portable HUD unit. Source: Pioneer.Pioneer also recently announced a rearview mirror telematics device that fits over the car's existing mirror. The 5-inch LCD touchscreen connects via LTE to Pioneer's Mobile Telematics Center to provide drivers with traffic, route and other information with voice interaction. The device contains a front-facing wide-angle camera that acts to provide better visibility and also records video. It can also connect wirelessly to a rearview camera. The device can be used in fleet management using the Global Navigation Satellite System. It is expected to hit the market later in 2015.
Navdy, a San Francisco-based start-up, offers a HUD device that sits just behind the steering wheel. The device is unique in that it connects to the car's on-board computer for more integration into the vehicle, allowing for information such as speed and fuel economy to be directly accessed and projected onto the windshield along with navigation directions. The device is Bluetooth- and WiFi-enabled for smartphone access. It also includes voice operation and touchless gesture control in an effort to increase driving safety. Navdy is currently accepting preorders for the HUD, which will retail for $499.
Escort Radar, a maker of radar detection devices, offers a complete rearview mirror that replaces the car's existing mirror. The device, SmartMirror, has a 4-inch LCD touchscreen on the right side and attempts to show drivers a real-world street-level view of their surroundings as opposed to representations via icons and map graphics. SmartMirror is compatible with a rear-facing camera and comes with Navigon's Mobile Navigator map application. The device, which retails for $799.95, is Bluetooth-enabled with text-to-speech capability.
Major Challenges and Maintaining Relevance
Despite a range of innovative offerings and new market entrants, there is some hesitation among analysts regarding the traction of portable HUDs. Vehicle OEMs such as BMW, General Motors, Mercedes and Audi already offer built-in HUD options. Aftermarket manufacturers like Denso, Delphi and Continental also have HUD product offerings. As these companies work to fill market vacancies, it could prove difficult for portable HUD-only devices to maintain traction.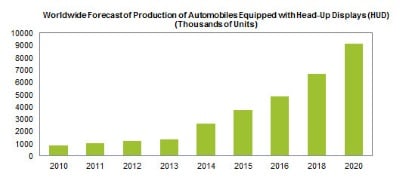 IHS projects 9.1 million vehicles will be shipped with HUDs by 2020.IHS predicts that 9 percent of all new cars sold worldwide in 2020 will include built-in HUDs, up from just 2 percent in 2012.
De Ambroggi of IHS said that to maintain relevance, PND platforms in the past two years have integrated more features like capacitive touch and more Bluetooth/WiFi connectivity.
"PND makers are nowadays offering lifetime updates for traffic and maps," De Ambroggi said. "This is actually a very smart solution to maintain margin while adding value." He added that map updates are still a "black spot" for OEM-fitted navigation devices.
Gerrit Schneemann, senior analyst for mobile media and location-based services at IHS, considers the portable PND market to be a niche market. "PND makers are looking for niche areas for future growth and revenue, like trucking, RV and campers," he said.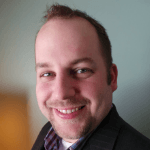 Gerrit Schneemann
Schneemann also said that mirrors with navigation features have yet to really take off. But a recent ruling by the Department of Transportation's National Highway Traffic Safety Administration (NHTSA) could boost demand for mirrors with video, at least in the long run. The rule will require rear visibility video technology in all vehicles under 10,000 pounds (including buses and trucks) by May 2018. Of course, how much real impact this will have won't be known for years.
Despite the challenges of the standalone PND market, the desire for navigation solutions clearly exists. Debate over safety concerns will continue, with some arguing that HUDs still cause too much distraction. Regardless, there may not yet be a market standard for HUDs and other navigation displays, but there is room for market players to make noise.
Questions or comments on this story? Contact peter.brown@globalspec.com
Related links:
IHS Automotive & Transportation
News articles: