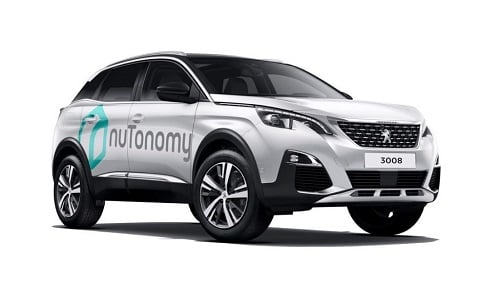 NuTonomy will help Delphi get some 60 self-driving cars on the road by year's end. Source: Delphi
Delphi Automotive PLC has signed an agreement to acquire self-driving startup NuTonomy Inc. for about $450 million in cash and earn-outs.
The acquisition will accelerate Delphi's commercialization of autonomous driving and automated mobility on-demand (AMoD) solutions for automakers and other mobility customers worldwide.
NuTonomy is developing a full-stack autonomous driving software solution for the global AMoD market. The company will add a 100-plus-member AD team while at the same time increasing Delphi's access to new customers and markets in the emerging mobility space.
After the transaction is completed, Delphi will have self-driving operations in Boston, Pittsburgh, Singapore, Santa Monica, California, and Silicon Valley. NuTonomy will remain in Boston and Singapore.
Delphi says it will have 60 autonomous cars on the road across three continents by the end of the year with a goal to further accelerate its global fleet and technology development in the years to come.
Delphi has been expanding its self-driving portfolio through acquisition, having previously bought autonomous driving software developer Ottomatika and data service companies Control-Tec and Movimento prior to the NuTonomy acquisition.