Intel Corp. delivered its third quarter revenue results touting the period as the highest revenue generation in the microprocessor giant's history at $14.6 billion.
Intel had operating income of $4.5 billion, a net income of $3.3 billion and earnings per share of $0.66 during the third quarter of the year. The $14.6 billion was up $1.1 billion, or 8 percent, from the same quarter one year ago. Operating income and net income were both up from last year as well, Intel said.
Intel boasted that it shipped more than 100 million microprocessors during the quarter (the first time it has done such a thing) and achieved record quarterly unit shipments of PCs, servers, tablets, phones and Internet of Things (IoT).
Brian Krzanich, CEO of Intel, said in a statement the third quarter represented "our best-ever revenue" but "there is more to do" in terms of what the company wants to achieve.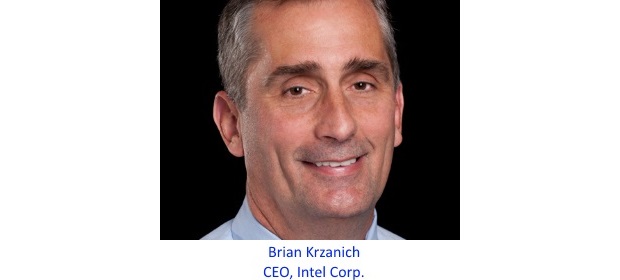 "The trends we observed in the PC market last quarter continued, with stability in mature markets offset by ongoing declines in emerging markets," Krzanich said in the Intel earnings conference call.
Some of the big news during the quarter was the launch of the 4M family of products by the PC Client group with full core performance in both compute and graphics in a fanless design that will allow new designs and form factors, Krzanich said. The first of the 4M products will be available at the end of October, he said.
In the data center market, Intel saw double digit revenue growth across all major market segments with enterprise growing 11 percent, networking growing 16 percent, HTC growing 22 percent and cloud computing growing 34 percent.
As far as tablets go, Intel shipped nearly 15 million units during the third quarter and said it is on track to ship 40 million tablet chips this year. Intel said it is not the second largest tablet semiconductor vendor worldwide and is the largest supplier of chips to merchant suppliers.
"Our strategy for growth is beginning to yield results across a wide range of products. We sold record volumes of PCs, server, Internet of Things, phone and tablet products," Krzanich said. "The diversity and scale of our products uniquely positions us across a breadth of devices that compute and connect. Importantly, our results demonstrate that we are building on our success in the PC and data center segments to successfully pursue adjacent opportunities.

Looking ahead to the fourth quarter of the year, Stacy J. Smith, executive VP and CFO at Intel, said in a statement that Intel is expecting revenue to come in at $14.7 billion, up 1 percent from the third quarter and gross margin range for the fourth quarter to be 64 percent, down 1 percent from the third quarter. Smith said that the reason for the margin change was due to MCU and chipset "unit costs, higher factory start-up costs, partially offset by lower production costs on 14nm."
Related links:
News articles:
Intel Says Mitsubishi Deal Saved $9 Million
Intel Buys Into Mobile With Spreadtrum Spend
Intel Acquires 1,400 Telecom Patents
Intel, Khosla Ventures Back GaN Startup