The world's largest chip company Intel Corp. (Santa Clara, Calif.) has changed the way it reports its financial results and started breaking out its revenues, profits and losses in terms of five business segments. While this increases transparency it also reveals that mobile and communications group made a loss of $3.15 billion in 2013 on sales of $1.375 billion.
The other side of this coin is that while the PC business continues to shrink it remains responsible for more than half of Intel's sales revenue and continues to be highly profitable.
The breakout data was revealed as part of Intel's first quarter 2014 financial results. The company made net income of $1.9 billion on sales revenue of $12.8 billion in the quarter. Sales came in at the mid-point of guidance reflecting a 7.7 percent sequential decline and an 1.5 percent increase compared with the first quarter of 2013. However, income was down 4.8 percent year-on-year.
"In the first quarter we saw solid growth in the data center, signs of improvement in the PC business, and we shipped 5 million tablet processors, making strong progress on our goal of 40 million tablets for 2014," said Intel CEO Brian Krzanich, in a statement. "Additionally, we demonstrated our further commitment to grow in the enterprise with a strategic technology and business collaboration with Cloudera, we introduced our second-generation LTE platform with CAT6 and other advanced features, and we shipped our first Quark products for the Internet of Things."
However, the new format showed up that Intel's attempts to both engineer and buy its way back into mobile communications are not working. The mobile and communications group contrived to make a loss of $952 million on revenue of $156 million that was down 52 percent sequentially and down 61 percent year-over-year.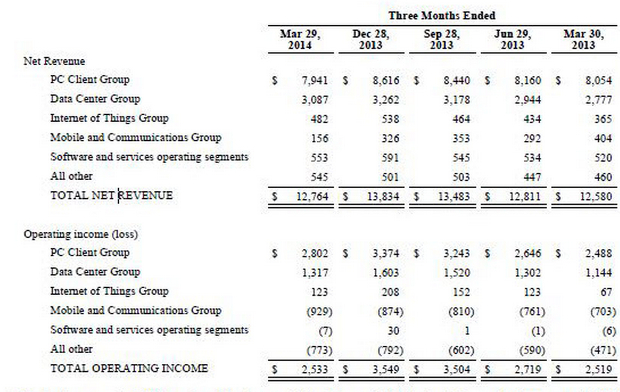 Intel operating segment results
In the first quarter PC Client Group made of profit of $2.8 billion on sales revenue of $7.9 billion, down 1 percent year-over-year. The Data Center Group made profit of $1.3 billion on revenue of $3.1 billion that was up 11 percent year-over-year. The newly-formed Internet of Things Group made a profit of $123 million on sales of $482 million, up 32 percent year-over-year.
The software and services group reflects sales of McAfee but not Wind River Systems Inc. while the others category includes non-volatile memory, netbooks, new devices and corporate.
The outlook for 2Q14 was that revenue would be between $12.5 billion and $13.5 billion. The guidance for full-year capital spending was unchanged from that given a quarter before at $10.5 billion to $11.5 billion.
Related links and articles:
News articles:
Intel Extends NFC Deal With Inside Secure
Intel Ignores History With Wearables Buy
Intel Flexes its Manufacturing Muscle
Intel Sells Cloud TV Platform to Verizon