Avogy Inc. (San Jose, Calif.), a startup founded to develop vertical power devices built in homoepitaxial gallium nitride (GaN) layers formed on bulk GaN substrates, has raised $40 million in a Series B round of finance. New investor Intel Capital led the round with support from original backer Khosla Ventures.
The company said it will use the substantial funding to develop semiconductor and systems technology for the creation of smaller, lighter, more efficient power supplies as it develops its business model.
Avogy was founded in 2010 by Isik Kizilyalli. Prior to founding Avogy, Kizilyalli held technical and management positions at Bell Laboratories, Agere Systems, Nitronex Corp., and Alta Devices Inc. The company has more than 20 patents and 40 patent applications in vertical GaN semiconductor technology, power topology and controllers and has a series of diode and JFET discrete products referenced on its website at www.avogy.com.
Several companies have produced GaN-on-silicon lateral power transistors and power transistor arrays. These include Transphorm Inc., Efficient Power Conversion Corp., International Rectifier Corp. and Infineon Technologies AG.
Avogy is claiming that the use of homoepitaxial GaN and vertical transistors gives it an advantage in the market with better performance, higher reliability and higher breakdown voltages compared to lateral GaN transistors and GaN transistors grown on non-GaN substrates, such as sapphire, silicon or silicon carbide. The company grows its own homoepitaxial GaN layers of greater than 25-micron depths using in-house MOCVD reactors, the company said.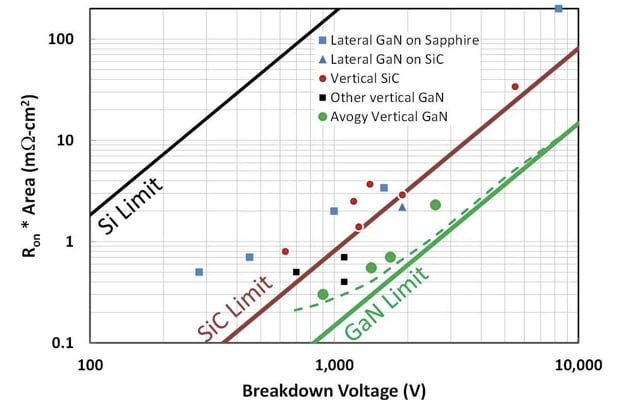 Theoretical and reported specific on-resistance versus breakdown voltage figures-of-merit for silicon, silicon carbide, and GaN power devices. Source: Avogy.
By contrast, heteroepitaxial layer thicknesses are limited to about 10-micron, which effectively limits the maximum breakdown voltage of lateral GaN power devices to less than 1,000V.
"Avogy has demonstrated new technology that dramatically reduces the cost, size and weight of power systems, which will benefit consumers," said Arvind Sodhani, president of Intel Capital and executive vice president of Intel Corp. in a statement from Avogy. "The company's products are a strategic fit for a broad range of Intel platforms, including Ultrabooks, all-in-ones and workstations."
Dinesh Ramanathan, CEO of Avogy, said: "Intel has opened up opportunities for Avogy products in the consumer marketplace. We expect to add new strategic partners to proliferate Avogy products in other market segments."
Related links and articles:
IHS power semiconductors research
News articles:
Infineon to Buy International Rectifier for $3 Billion
Google, IEEE Offer $1 Million For a Better Inverter