Microprocessor giant Intel Corp. has introduced its latest Xeon processor family targeted at data centers needing more computing power for today's rapidly-evolving value chain.
The new processors, dubbed the E5-2600/1600 v3 product family, include numerous enhancements that provide performance increases up to three times that of the previous generation of Intel server chips, Intel said. These microprocessors are designed to be used in servers, workstations, storage and networking infrastructure to power workloads such as data analytics, high performance computing, telecommunications and cloud-based services as well as back-end processing for the Internet of Things (IoT).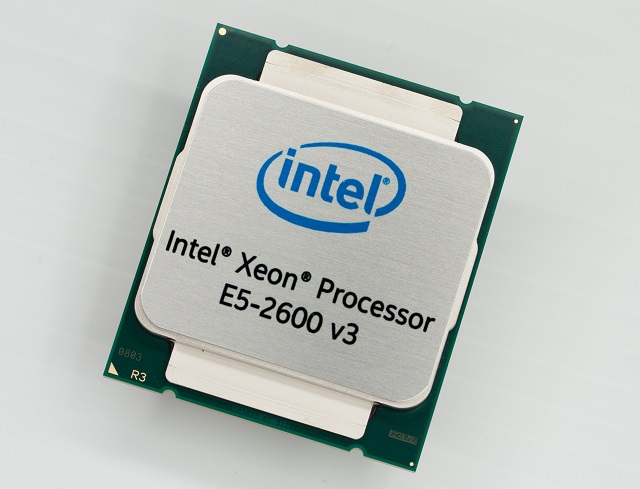 Intel's new Xeon E5-2600 v3 processor in packaged format.
Intel said the new family includes up to 18 cores per socket and 45MB of last-level cache, which provides up to 50 percent more cores and cache compared to Intel's previous generation of processors. Intel said that an extension to Intel Advanced Vector Extensions 2 doubles the width of vector integer instructions to 256 bits per clock cycle for integer for sensitive workloads and delivers up to 1.9x higher performance gains.
Diane Bryant, senior vice president and general manager of the Data Center Group at Intel, said in a statement that the digital services economy sets new requirements for the data center as well as automated, dynamic and scalable service delivery. The new processors "provide visibility into the hardware resources required to enable software defined infrastructure" and allows companies to "fully exploit the benefits of cloud-based services."
Other features of the new Xeon microprocessors include a new cache monitoring tool, platform telemetry sensors and metrics for CPU, memory and I/O utilization, thermal sensors for airflow and outlet temperature and a holistic set of sensors and telemetry for any SDI orchestration offering to monitor, manage and control systems utilization.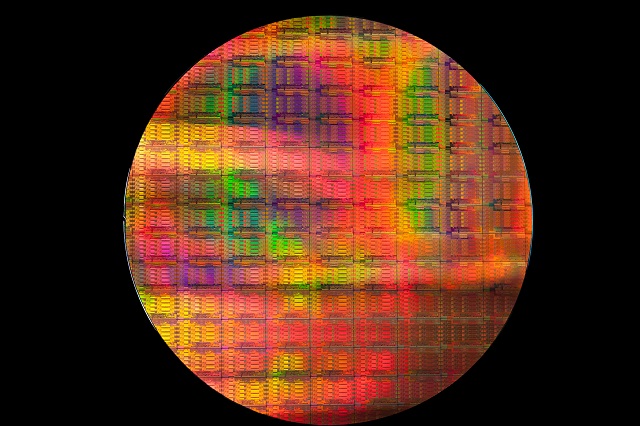 Intel's Xeon E5-2600 v3 product dice in wafer form.
There was no shortage of support for the new Xeon processor announced at the same time including:
Radisys Corp. said it would be supporting the new device in order to meet the demands for processor-intensive Software Defined Networking (SDN) and Network Virtualization (NFV) applications.
NEC launched two new models of its Express5800 series of industry-standard servers based on the Xeon E5-2600 v3 product.
Cray Inc. launched its next generation Cray XC supercomputers and Cray CS cluster supercomputers based on the new server processor.
Super Micro Computer Inc. also rolled out its X10 Server Building Block offering featuring the Xeon processors E-5 2600 v3 family.
Maxta launched its MaxDeploy Reference Architecture to provide a hyper-converged offering to run with the new device.
AMAX said its CloudMax Converge Cloud offering and PHAT-Data Hadoop cluster were fully integrated for the new Xeon processor.
Emulex Corp. has said its OneConnect family of Ethernet and Converged Network Adapters (CNAs) and LightPulse Gen 5 Fibre Channel (FC) Host Bus Adapters (HBAs) all support the new device.
Integrated Device Technology Inc. (IDT) said it had completed its qualification of its DDR4 chipset on enterprise servers for the new Xeon processor.
SGI has incorporated the new processor into its server line for high performance computing.
The Intel Xeon processor E5-2600 v3 product family is offered with 26 different parts priced from $213 to $2,702 in quantities of 1,000. The E5-1600 workstations will be offered in six different parts priced at $295 to $1,723 in 1,000 unit quantities.
Related links:
News articles: