A team of researchers at the University of Texas (UT) at Arlington has developed a method to cool electrons to extremely low temperature without external power. During their research they cooled electrons to -228 C, a development that may enable electronic devices to work with extremely low power. Electron cooling is the process of reducing an electron beam's size and spread of energy without removing particles from the beam. This process is equivalent to reducing the temperature of the beam. Due to the demand for smaller electronic devices, power densities and generated heat have increased significantly. By cooling the flow of electrons, even for small devices, power requirements and generated heat can be reduced.
Electrons are always thermally excited, even at room temperature; to cool down the electrons the natural excitations must be suppressed. The UT team – lead by Seong Jin Koh, an Associate professor at the Material Science Department – discovered a process to lower the excitation of electrons by passing the particles through a quantum well. A nanostructure consisting of electrodes, a quantum well, a tunneling barrier, a quantum dot and a drain electrode did the trick.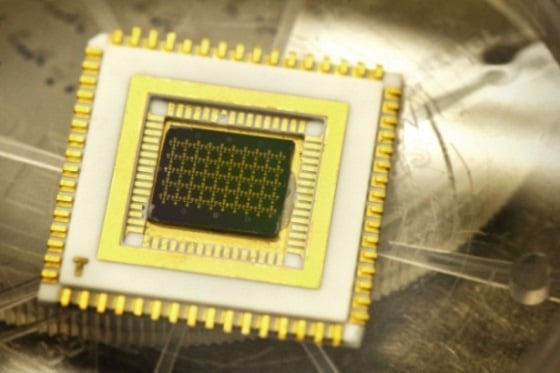 Chip containing nanoscale structures that enable electron cooling at room temperature. (Credit: University of Texas at Arlington)
"We are the first to effectively cool electrons at room temperature. Researchers have done electron cooling before, but only when the entire device is immersed into an extremely cold cooling bath," said Jin Koh. "Obtaining cold electrons at room temperature has enormous technical benefits. For example, the requirement of using liquid helium or liquid nitrogen for cooling electrons in various electron systems can be lifted."
Cold electron beams promise new types of devices, including transistors that can operate at a very low temperature. Usha Varshney, from the National Science Foundation, which funded the research, said, "when implemented in transistors, these research findings could potentially reduce energy consumption of electronic devices by more than 10 times compared to the present technology. Personal electronic devices such as smart phones [and tablets] can last much longer before recharging."
The finding of this research effort were published on September 10, 2014 in the journal Nature Communications.