An international team of researchers from the U.K., the Czech Republic and Japan, led by Jairo Sinova from the Institute of Physics at Johannes Gutenberg University in Germany, has developed a spin-charge converter made of the semiconductor material gallium arsenide (GaAs), with an efficiency comparable to converters made of platinum. The results have been published in the journal Nature Materials.
Spin-charge converters translate electrical signals into magnetic signals and are important to spintronics, a promising new electronics technology that makes use of electron charges, electron spin, and the associated spin-magnetism. They can convert charge current into spin current and vice versa. The principle behind the conversion process is the quantum phenomenon called spin-Hall effect, which occurs when an electric field drives electrons through a semiconductor plate. A simple explanation can be found on Wikipedia.
Most spin converters use the heavy metal platinum because it is a very efficient spin separator, making use of the spin-Hall effect. Now, Sinova and his group have shown that GaAs can replace platinum. A well-known and common semiconductor material, GaAs is easy to work with and can be manufactured using well-established semiconductor production methods. The group also found that the GaAs converter has superior efficiency compared to platinum at room temperature, an important condition for practical applications.
In addition, the team found that the efficiency can be tuned continuously by changing the electric field that drives the electrons. By theoretical calculations, Sinova demonstrated that the reason behind the tunable efficiency is the existence of energy valleys in the conduction bands of semiconductors.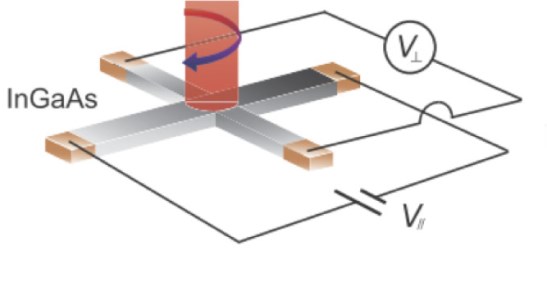 Tunable spin Hall angle device on GaAs through field-induced intervalley repopulation. © Jairo Sinova
"One can think of the conduction band and its valleys as of a motor highway with different lanes, each one requiring a certain minimum velocity. Applying a higher electric field enables a transition from one lane to the other," Sinova said. When transitions occur, the strength of the spin-Hall effect is altered proportionally. In turn, this will affect the separation of both spin orientations.
The results of this research will help develop highly efficient materials for spintronics. For instance, substituting aluminum or other material for Ga or As could further improve efficiency.