Global telecom equipment giant Huawei Technologies Co. Ltd. has bought UK internet-of-things (IoT) company Neul Ltd. (Cambridge, England) for a sum reported to be $25 million.
Huawei is reported to be ready to spend tens of millions of dollars to build an IoT strategy around Neul and its Cambridge base. Neul was formed in 2010 by former executives and founders of Cambridge Silicon Radio Ltd. along with Professor William Webb, who served the company as chief technology officer. The company launched with the idea of creating a global wireless network for machine-to-machine communications operating in license-free "white-space spectrum" being made available by the retirement of analog television broadcasting.
Neul has raised about $19 million since its formation, and Stan Boland was brought in to lead the company in April 2013 replacing founding CEO James Collier who became chief technology officer. It was becoming clear that without significant financial backing Neul was at risk of running out of money and partners before its technologies could be deployed in the market. Boland had a track record of negotiating company sales and it was throught he was brought in to try and maximize value for the venture capital investors.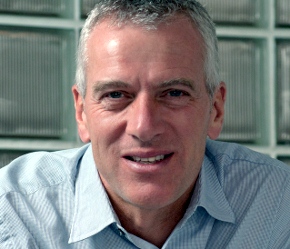 Neul CEO Stan Boland has experience selling startups for considerable sums.
Huawei is the latest of many major wireless and information technology players moving to establish a position in the Internet of Things either through R&D or acquisition.
Neul has suffered a degree of project-creep during its four years of existence but its main claim is that it helped pioneer the Weightless standard for light-touch connectivity that would be suitable for IoT applications. The standard was initially aimed at TV white space (TVWS) spectrum but last week the body that looks after the standard – the Weightless Special Interest Group – launched Weightless-N, a variant of the standard aimed at deployment in unlicensed spectrum in the region 800MHz to 900MHz such as the 868MHz band in Europe and the 900MHz ISM band in the US. The standard could also be deployed in licensed spectrum. These bands are narrower than the TV white space channels and dictate the development of a revised air interface to create a complementary standard to Weightless-W.
Does Huawei feel Weightless?
Having put Weightless out into an industry body where it was hoped to gather support Neul's role has been as vendor of the Iceni transceiver IC in support of TVWS networks tailored for M2M and IoT applications.
However, although Neul and Weightless can provide a solution that does not compromise wireless channels originally set up for human-to-human communications many companies are exploiting the pre-existence of cellular, WiFi and short-range communications to establish IoT services.
At the same time there are other dedicated M2M communications offerings, such as that of SigFox AS (Toulouse, France) was founded in 2009. SigFox uses proprietary ultra-narrow band (UNB) radio technology to provide a low-power cellular infrastructure dedicted to machine-to-machine M2M communications and IoT. The UNB radio operates in license-free ISM bands and combines with software defined radio techniques performed at the basestation to achieve high sensitivity and therefore long distance communications at efficient energy levels. The basestations are said to operate over ranges of 3 to 10 kilometers in urban areas and up to 30 to 50 kilometers in rural areas.
Clearly this has not put Huawei off, which may be as much interested in the engineering talent within Neul and the Cambridge area as it is in the Weightless standard. Huawei has been investing heavily in IoT and 5G projects in the UK and in June announced a plan to create a $125 million R&D center in Bristol with plans to employ 140 engineers by the end of 2014 to work on chip design and software.
Boland, had previous experience selling on fabless chip companies. He was previously CEO and co-founder of Icera, a Bristol-based UK company that developed 4G/3G/2G modem ICs and software that was acquired by Nvidia Corp. in 2011 for $367 million. Prior to this, Boland was CEO and co-founder of Element 14, a Cambridge-based company that developed ADSL chipsets and software that was acquired by Broadcom Corp. in 2000 for $640 million.
Boland clearly felt a sale to Huawei was the best option for investors but he declined to confirm the $25 million price ticket.
Related links and articles:
News articles:
Google Launches Smart Home IoT Protocol
Neul IoT Network To Serve UK Town
UK Joins SigFox's Global IoT Network Play
Report: M2M Alliance to Aid Asia-Pacific Adoption