The town of Milton Keynes plus the Open University, which is resident there, have agreed to build a city wide open-access demonstration network for machine-to-machine (M2M) communications and the Internet of Things (IoT), based on the Weightless communications standard.
The technology is being supplied and managed by BT, the UK's leading phone service provider and Neul Ltd. (Cambridge, England), the pioneer of the standard and its use in TV frequency bands. Working with Milton Keynes council, they will install a network of basestations to provide coverage across the city for static and mobile low power sensors.
The collaboration will deploy large numbers of IoT sensors over its eighteen-month span and is intended to act as a test-bed for a range of different business models in a real-world environment. After the 18 months the network is expected to remain in place as development environment and platform for IoT to attract companies to locate in Milton Keynes.
However, the announcement comes shortly after Arqiva Ltd., the leading owner and operator of broadcast communications infrastructure in the UK, said it planned to create a national IoT network using technology from French startup SigFox SA (see UK Joins SigFox's Global IoT Network Play). Arqiva said it would roll out the SigFox IoT network across 10 of the largest cities in the UK including London, Edinburgh, Manchester, Birmingham and Bristol.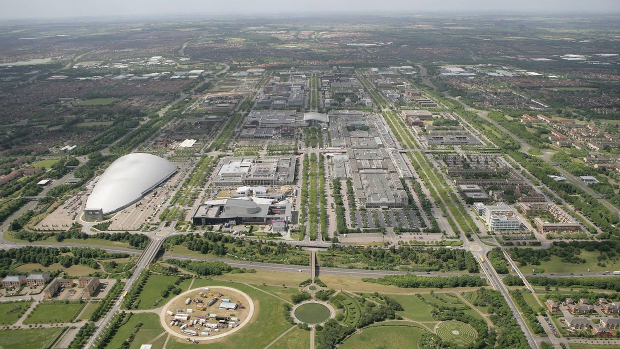 Milton Keynes, a new town in central England with a reputation for innovation.
Neul said the Milton Keynes project would demonstrate the ability of a city-wide M2M infrastructure to cope with a large number of static and mobile sensors. Some of these will support use cases for Milton Keynes council, but the mission for the project is to attract mother innovators to use the infrastructure for commercial applications, which need not be specific to Milton Keynes.
"This could include anything from intelligent monitoring of parking spaces in the city to networked bins which signal when they need collecting," said Alan Ward, head of corporate ICT practice at BT, in statement issued by Neul.
"Neul's low-power, open-access, wide-area network solution provides the key to unlocking a vast variety of new applications, previously impossible or uneconomical with existing communications technologies," said Stan Boland, CEO of Neul.
Related links and articles:
News articles:
UK Joins SigFox's Global IoT Network Play
Report: M2M Alliance to Aid Asia-Pacific Adoption
BT Trials Neul Network for IoT