A group of wireless operators in Asia have banded together to service the growing machine-to-machine (M2M) opportunity under the name Bridge M2M Alliance.
The Bridge Alliance dates back to 2004 but in January 2014, 11 of the operators within formed the M2M group with a charter to promote the growth of cellular M2M deployments and services in the Asia-Pacific region. The group is responding to a strong growth opportunity that might otherwise be inhibited by the fragmented nature of the Asia-Pacific market, according to a report from IHS Technology, the publisher of Electronics 360.
The installed base of wireless M2M connections in the Asia-Pacific (APAC) region is set to rise to 109.0 million in 2017, up from 32.6 million in 2012, IHS forecasts. This represents a compound annual growth rate of about 27 percent over the period which, by 2017, will make Asia-Pacific second-largest regional M2M market, behind only Europe in total cumulative cellular M2M connection volume.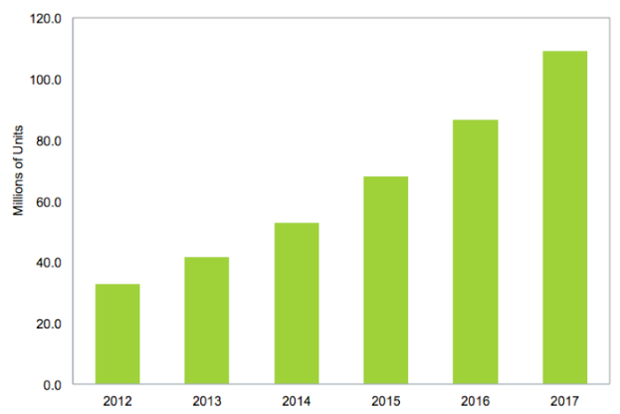 Forecast of installed base of cellular M2M connections in Asia-Pacific region (millions of units). Source: IHS Technology, April 2014.
The 11 founding Bridge M2M Alliance operators were Airtel of India, AIS of Thailand, CSL of Hong Kong, Globe of the Philippines, Maxis of Malaysia, MobiFone of Vietnam, Optus of Australia, SingTel of Singapore, SK Telecom of South Korea, Taiwan Mobile of Taiwan and Telkomsel of Indonesia. Together, these companies provide connectivity to more than 570 million mobile subscribers in the Asia-Pacific region.
"There are some fundamental structural challenges to the growth of multinational M2M deployments in Asia-Pacific that don't impact other regions to the same extent," said Bill Morelli, associate director of M2M & Internet of Things at IHS, in a statement. "These problems include an overabundance of cellular air standards, major geographical barriers, and highly divergent market dynamics in different countries. The Bridge M2M Alliance could play a key role in overcoming these issues and enabling the region to attain its growth potential."
Asia-Pacific uses all the world's air interface standards and has some variants of its own: CDMA, WCDMA, TD-SCDMA, and TD-LTE. This diversity makes multinational deployment, either to enable one device to travel among several countries or to enable one stock-keeping unit (SKU) of a device to be shipped to multiple countries, harder to attain. In contrast, standardization in Europe means that almost all countries have the same profile using the same standards for 2G, 3G and 4G mobile communications: GSM, WCDMA and FD-LTE.
IHS expects the roll-out of M2M to be different in Asia-Pacific compared with North America and Europe. Japan is expected to be quite diverse and market-driven with applications ranging from smart-vending machines to connected cars. China's deployment of M2M is expected to be heavily state-driven with strong government support for the Internet of Things and smart-city development. South Korea has a greater focus on connected devices for consumer electronics and smart home applications.
Among the things that Bridge M2M Alliance can bring are harmonization of commercial terms, such as service agreements – making multinational deployments of M2M easier; technical interoperability between operators' platforms and the joint development of an ecosystem of technology vendors.
Related links and articles:
IHS cellular M2M market tracker 1Q14
Bridge M2M Alliance
News articles:
IoT Startup Spins Out of UK Consultancy
BT Trials Neul Network for IoT
Internet Re-org Could Improve Network
M2M: Market Opportunities Beyond Connectivity