Microchip Technology Inc. has introduced an 8-bit microcontroller (MCU) addition to its PIC12/16 family targeted at applications in the consumer electronics, automotive and industrial markets.
The PIC16LF1554 and PIC16LF1559 devices include two independent 10-bit 100K samples per second analog-to-digital converters (ADC) with hardware support for capacitive-touch sensing. According to Microchip, the ADC in the MCU allows for efficient sensor acquisition and assists with advanced touch-sensing techniques for extremely noisy environments, low-power applications, matrix keypads and water-resistant designs.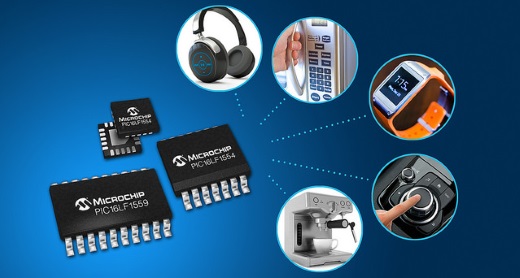 Both 8-bit MCUs combine up to17 ADC channels and include up to 14 KB flash/512 bytes RAM, a 32 MHz internal oscillator and two PWM modules as well as support for I2C, SPI and EUSART for communications. These features make the devices a good fit for remote controls, audio players, cell phone accessories, small appliances, wearable devices, blood-pressure monitors, wearable heart-rate monitors, automotive interior controls, automotive control panels, RFID and sensors.
Fanie Duvenhage, director of Microchip's Human-Machine Interface division, said in a statement, Microchip's MCU family enables basic application functions for a variety of end equipment and the "multiple analog-to-digital structure coupled with the high number of input channels makes the family stand out in applications that require advanced touch-sensing." Duvenhage added the MCUs reduces the related code by more than 40 percent.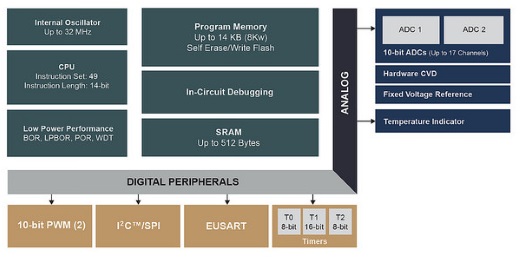 The PIC16LF1554 and PIC16LF1559 MCUs are available now for sampling and production priced at $0.63 each, in 10,000-unit quantities.
Related links:
News articles:
Ericsson Shuts Down Modem Group
Microsemi Ships 22nm FinFET ASICs
Why UMC is Boosting Automotive Chip Business
New Spin-charge Converter for Spintronics