United Microelectronics Inc. (UMC) is making a strong push to increase its automotive semiconductor participation in order to take advantage of a changing marketplace shifting to one of the largest growing chip markets.
In terms of growth rate, automotive chips are right behind digital electronics (smartphones, Internet of Things (IoT)) as one of the fastest growing market among semiconductors, according to IHS Technology, which owns Electronics 360. The compound annual growth rate (CAGR) for automotive ICs is 5.1 percent during the next five years with some segments such as infotainment and advanced driver assistance systems (ADAS) expected to growth at 18 percent and 16 percent, respectively, IHS forecasts. Other applications such as body & convenience, powertrain, chassis and safety will have single digit CAGRs up to 5 percent in the next five years.
Not surprisingly, UMC has taken notice and after years of building automotive chips for the likes of Freescale, ON Semiconductor, Infineon, Renesas, STMicroelectronics and more but seeing these companies stop expanding, the Taiwanese pure-play foundry is making moves to increase its presence in the auto IC market.
Kite Huang, senior manager for technical marketing at UMC, said a stronger presence in the automotive market could not only bring in meaningful revenue to the company but could enhance all of its operations. "It's no secret that Power ICs and MCUs are the two predominant automotive IC applications that have caught the foundry's attention," Huang said. "Many of our existing customers who originally focused on consumer products have begun targeting the automotive field as well."
IHS Technology's senior manager and chief analyst for semiconductor manufacturing, Len Jelinek said the automotive manufacturing is not a bleeding edge business, most chips are manufactured at the 65nm level or below. Which just so happens to be a sweet spot for UMC manufacturing, he said.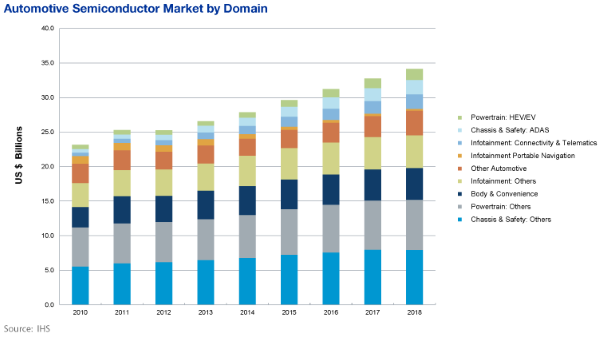 "UMC is marketing its strengths: high volume and high quality manufacturing in fabs that are automotive qualified," Jelinek said. "With the long-term goals of assuring its 8-inch manufacturing remains efficiently utilized."
UMC said opportunities in automotive chip manufacturing are coming from an increase in the sheer number of semiconductors being added to vehicles. But also the foundry sees opportunities that infotainment brings to the table in adding even more consumer ICs into the car – such as LCD panels, applications processors, Wi-Fi, Bluetooth and more. Plus there is strong demand coming from the electric vehicles (EV) and hybrid EV space for power ICs, MCUs and sensors, UMC said. The inclusion of ADAS and automated operations – such as park assist, driving assist, braking assist – is boosting further demand for MCUs, radar, sensors, motor drivers and contact image sensors (CIS).
Fujitsu investment
In order to expand its presence in the Japanese automotive space, UMC recently took a 9.3 percent stake in Fujitsu's 300mm Mie prefecture independent foundry subsidiary and will porting its 40nm technology to the facility as part of the deal. From that agreement, Huang said UMC is already engaging with Tier-1 automotive manufacturers.
But why invest in the facility if UMC already has facilities up and running that could do the job? Huang said the joint venture with Fujitsu not only gives the pure-play foundry another 300mm manufacturing source for diversification outside of Singapore and Taiwan, but it gives the company "the opportunity to gain more foundry business from Japan through Fujitsu's position in the Japanese semi market."
He added that UMC views the engineering talent at the Fujitsu Mie fab to be excellent in its quality, experience and know-how.
Designs for the long term
As part of its strategy to grow its automotive foundry business, UMC has invested in high-temperature tools, processor development and acquired IP (such as eFlash) in order to become more appealing to customers and prepare for whatever technology a customer needs or wants. Besides revenue gains, the automotive market provides a long-term commitment that brings stable business to a foundry. This long-life period for automotive ICs is unique in the semiconductor business, which is probably why UMC is attracted to the market.
"The real key is the technology is mature and once you get a design win, it lasts for 5 to 10 years," said Jelinek. "This strategy is both a fab filler, using mature capacity that is available as well as a way to secure business in a market that is growing."
Attracting new entrants
One of the goals that UMC stated when it took a stake in Fujitsu's Mie foundry was to garner new automotive chip clients in order to play to the Japanese automotive market. UMC already has a deal in place with New Japan Radio Co. Ltd (NJR) of Japan to supply analog and power management ICs to an unnamed Tier-1 automotive OEM and according to Huang the company is expanding its customers.
However, this might not be as easy as it sounds.
According to Akhilesh Kona, analyst for automotive semiconductors at IHS Technology, traditional companies hold the majority of the market space for automotive ICs. These include many of the customers UMC already has in its stable (Freescale, Infineon, STM, Renesas). "With these recognized players for automotive ICs, it would be a rough road for new entrants," Kona said.
That said, if a new supplier wants to enter into the automotive chip space, infotainment is the area to step in, Kona said. Qualcomm and Nvidia are some examples of companies that entered the automotive chip market through infotainment and are now trying to expand their portfolio into ADAS. Kona added that he could see a bigger automotive company acquiring a portion or all of another automotive player in order to grow and consolidate their automotive business.
In general, with IDMs not expanding capacity, foundries that are automotive qualified may be in-line for additional opportunities from traditional players as these vendors may "approach foundries for high volume manufacturing or for manufacturing chips on new nodes," Kona said.
Related links:
IHS Semiconductor Manufacturing
News articles:
UMC Supplying Automotive ICs to Japanese Manufacturers
UMC Takes Stake in New Fujitsu Foundry
UMC makes MEMS microphones for Japan
UMC Licenses Embedded Flash IP from Cypress
Why FPGAs are a Good Fit for Automotive Driver Assistance Systems