Seeing a need for more noise immunity and ruggedness for appliances and automotive applications, Microchip Technology Inc. has released a family of 5V digital signal controllers (DSCs) adept for harsh environments.
The dsPIC33 family of 16-bit DSCs is the first series of Microchip dsPIC devices to include error correcting code (ECC) flash, that the semiconductor company says increases reliability and safety. In addition, the 5V series includes CRC, deadman timer (DMT) and windowed watchdog timer (WWDT) peripherals as well as a backup system oscillator and certified Class B software.
Other features of the DSCs include 6 advanced motor control PWNs, a 12-bit analog-digital converter and operational amplifiers. The combination of features allows the dsPIC33 family to interface with 5V automotive sensors to help with noise immunity and to provide enhanced performance to execute smart sensor filter algorithms. These features allow for automotive touch user interfaces to support larger screen sizes and offer a higher voltage range, Microchip said.
According to Joe Thomsen, VP of Microchip's MCU16 division, many automotive and appliance devices want 5V chips for high-noise environments and easy connection to sensors. The dsPIC33EV series provides this "making this family ideal for motor control and automotive sensing applications" Thomsen said in a statement.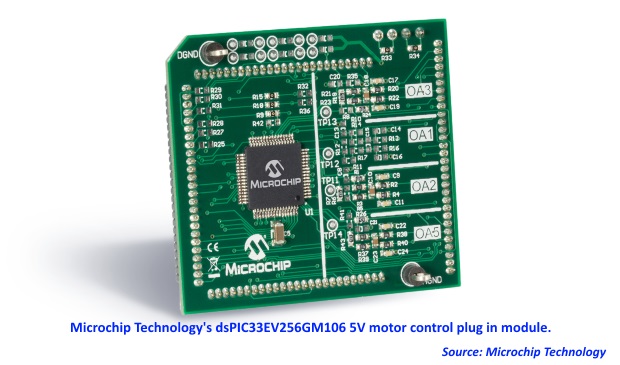 Specifically, Microchip said the series could be added to dryers, refrigerators, dishwashers, range hoods, power tools, sewing machines, actuators, building controls, HVAC systems, fuel pumps, cooling fans and water pumps.
The dsPIC33EV family is available now for sampling and volume production.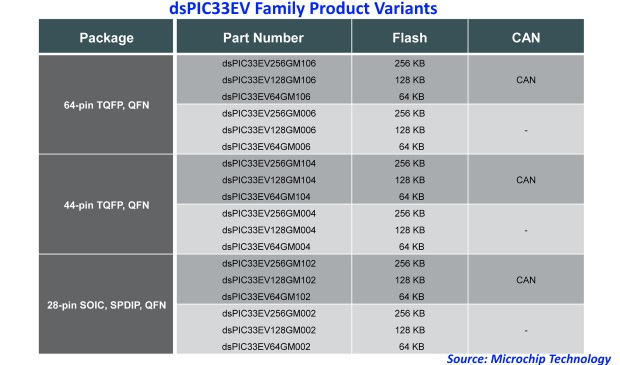 Related links:
IHS Semiconductors & Components
News articles:
Microchip Expands 8-Bit MCU Safety Portfolio
Microchip Completes AFE Roll Out
Microchip Posts Record Q3 Sales
Microchip, Xymox Team for Printed Touchscreen Apps
Microchip Launches High-Voltage Touchscreen Line Driver
Microchip Adds to Automotive IC Portfolio