There is a new series of PIC32MX1/2 32-bit MCUs from Microchip that features a large 256 KB flash configuration and 16 KB of RAM in small-footprint packages. Targeting low-cost applications that need complex algorithms and application code, the series is coupled with Microchip's comprehensive software and tools for graphics, touch sensing and general-purpose embedded control designs.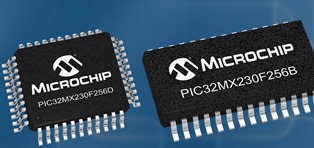 The PIC32MX1/2 MCU provides high performance and features typically relegated to higher-priced applications. The series delivers up to 50 MHz/83 DMIPS performance for executing advanced control applications and mTouch capacitive touch sensing, as well as an enhanced 8-bit Parallel Master Port (PMP) for graphics or external memory. A 10-bit, 1 Msps, 13-channel Analog-to-Digital Converter (ADC), support for SPI and I2S serial communications interfaces and USB device/host/On-the-Go (OTG) functionality.
"This new 32-bit MCU series is ideal for the designers of embedded-control and touch applications who are looking for low-cost and smaller package options," says Rod Drake, vice president of Microchip's MCU32 Division. "With their cost-optimized Flash configuration, performance up to 83 DMIPS, package sizes down to 6x6 mm and 0.5mm pitch and feature-packed peripherals, these MCUs offer increased flexibility to a broad range of applications while keeping design size and cost low."
Another benefit, especially for low-cost applications is that Microchip's MPLAB Harmony software development framework integrates the license, resale and support of Microchip and third-party middleware, drivers, libraries and Real-Time Operating Systems (RTOS). Readily available software packages—including USB stacks and Graphics and Touch libraries—reduce the development time of applications such as consumer, industrial and general-purpose embedded control.
Consumer products with capacitive touch screens, touch buttons or sliders, as well as USB device/host/OTG connectivity, will benefit from the functionality of the PIC32MX1/2 series of MCUs. Feature-rich peripherals of the MCUs are also ideal for medical and industrial applications.
The PIC32MX1/2 MCUs are available now in 28-pin QFN, SPDIP and SSOP packages and 44-pin QFN, TQFP and VTLA packages. Pricing starts at $1.91 each, in 10,000-unit quantities.
To contact the author of this article, email engineering360editors@ihs.com