After months of rumors, Apple Inc. officially introduced the iPhone 6 and iPhone 6 Plus smartphones boasting a larger screen size and higher resolution, new Apple Pay functionality and the unveiling of the Cupertino, CA-based company's latest gadget, the Apple Watch.
The new iPhone 6 will feature two new models one with a 4.7-inch Retina HD display and the other a 5.5-inch Retina HD displays. Apple said the iPhones have been engineered to be the thinnest ever in order to deliver a bigger display device but that is still comfortable to hold and easy to use. The smartphones include the second generation 64-bit A8 chip (designed by Apple), FaceTime HD cameras, Apple Pay, iOS 8, advanced iSight, a new Health app, iCloud Drive and QuickType keyboard.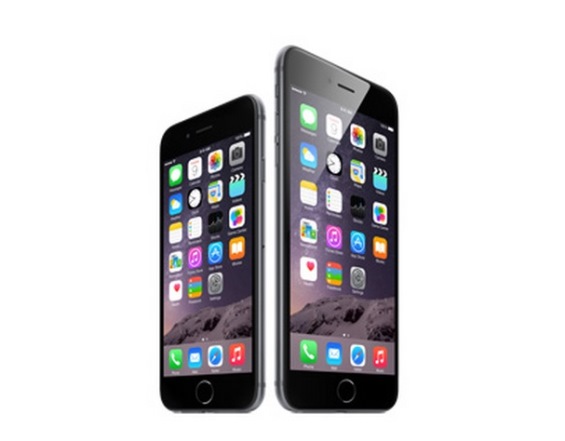 Apple said the 4.7-inch iPhone 6 will provide 38 percent more viewing area than the iPhone 5s, while the iPhone 6 Plus at 5.5-inchs will provide an 88 percent larger viewing area and nearly three times the pixels – at 1920 x 1080 resolution – than the previous generation phone.
These new larger iPhones will create an interesting situation in the smartphone market, according to IHS Technology. Ian Fogg, senior director of Mobile & Telecom at IHS, said Apple shipped 15 percent more iPhones in the first half of 2014 compared to the same period in 2013, despite the fact that no models featured screens larger than 4 inches.
"A larger screen iPhone would put greater competitive pressure on Android smartphone makers because it would remove a differentiator from Apple's rivals," Fogg said. "To date, Android smartphone makers such as Samsung, Sony, LG and HTC have been somewhat insulated because their large screen flagship smartphones have had no Apple equivalent."
Both iPhone models include the M8 motion coprocessor that gather motion data from the accelerometer, gyroscope, compass and new barometer. This allows the device to measure your motion data, even while asleep, saving battery life for other apps such as fitness that it will use all day. With the new Health App, the phone tracks how many flights of stairs you climbed or how many steps you have walked and more.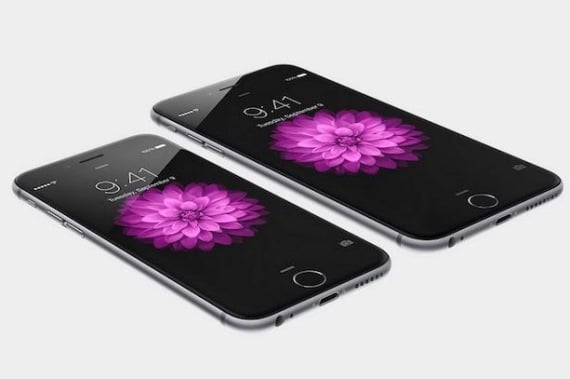 Apple Pay
One of the big features Apple is touting with the release of the iPhone 6 is the advent of Apple Pay – which some have deemed may compete against the likes of Paypal as well as may finally be the boost near field communication (NFC) needs to get off the ground. Apple Pay will utilize a NFC antenna through a dedicated chip Apple calls Secure Element. With Apple Pay, users can add their credit or debit card (sometimes found in the iTunes Store) to pay for everyday items using their phones, instead of going to their wallet.
After a card is added, the actual card number is not stored on a device or on Apple servers, instead it gets a unique digital number and each transaction is authorized with a one-time unique number using the device. Instead of using the security code from the back of the card, Apple Pay creates a dynamic security code to securely validate each transaction, Apple said.
The feature supports American Express, MasterCard and Visa and will work not only at the 258 Apple retail stores but as well as many retailers such as Disney Store, Walt Disney World Resort, Duane Reade, Macy's, Bloomingdale's, Subway, McDonald's, Sephora, Walgreens, Whole Foods and more.
Eddy Cue, senior vice president of Internet Software and Services at Apple, said in a statement that when using Apple Pay merchants no longer see your name, credit card number of security code "helping to reduce the potential for fraud." He added since Apple doesn't record any purchase history, "we don't know what you bought, where you bought it or how much you paid for it."
Apple Watch
Got a hankering to do a bit of Apple business on your wrist? Apple now has a device for that. Along with the introduction of the iPhone 6, the company introduced the Apple Watch, a device that will allow you to send and receive text messages, answer calls to your iPhone and send personal information – such as your heartbeat – to others.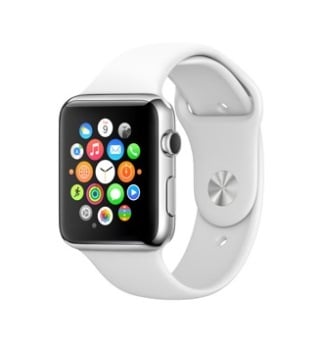 The hook here is that Apple is getting in on the sports and fitness technology craze by including a comprehensive health and fitness app in the watch hoping to promote healthier lives. The wearables market has been growing steadily for the past few years and with the buzz surrounding the Internet of Things (IoT), Apple is hoping to take advantage of the burgeoning market. Introducing the Apple Watch with a street date of early 2015 gives the company time to build a brand and create partners that will make it interesting to consumers.
"When Apple pre-announces new hardware long in advance of availability, such as the first iPhone or original iPad, it does so to give app developers time to create apps and for Apple to arrange partnerships," said Jack Kent, associate director of Mobile Media at IHS Technology. "Today's smart devices are smart because of their apps. Apple should ensure any new device, such as a wearable, has sufficient third party apps available to make the device compelling."
The Apple Watch will feature Apple's Digital Crown technology, a way to scroll, zoom and navigate without obstructing the display. The Digital Crown serves as the "home" button and a way to access Siri. The watch will also use Apple's Taptic Engine and a built-in speaker to discreetly enable new vocabulary for alerts and notifications that you can hear and feel.
The iPhone 6 comes in gold, silver or space gray and will be available in a 16GB model price at $199, a 64GB model prices at $299 or a 128GB model (offered for the first time) priced at $399 with a two-year contract. The larger screened iPhone Plus comes in similar colors and is priced at $299 for the 16GB model, $399 for the 64GB model and $499 for the 128GB model. The iPhone 6 and iPhone 6 Plus will be available in the U.S., Australia, Canada, France, Germany, Hong Kong, Japan, Puerto Rico, Singapore and the U.K. on Sept. 19.
The Apple Watch is slated for availability in early 2015, in three offerings: Apple Watch, Apple Watch Sport and Apple Watch Edition (with a 18-karat rose or yellow gold case). The starting price point for these devices is $399.
Related links:
News articles: