Earlier this week, Apple's iPhone 6 and iPhone 6 Plus as well as the Apple Watch were announced that the devices will contain near field communication (NFC) technology.
Dubbed Apple Pay, the Apple NFC payment program will be available in the U.S. and will begin in October of this year. IHS Technology forecasts shipments of NFC-enabled handsets will grow to 430 million in 2014, up from275 million in 2013, as shown in Figure 1.
Figure 1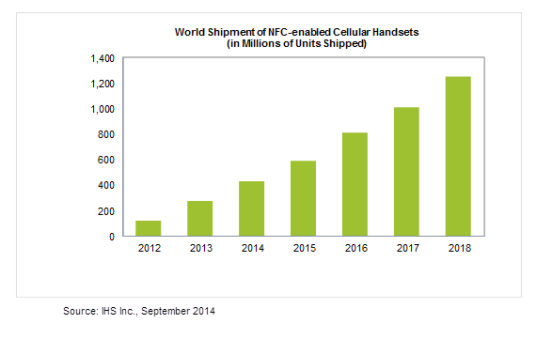 Some of the key features to Apple Pay include:
Apple Pay will reside in the existing Passbook wallet app. It will use Touch ID finger verification, tokenization and an embedded secure element.
When customers add a credit or debit card with Apple Pay, the actual card numbers are not stored on the device or on Apple servers. Instead, a unique Device Account Number (DAN) is assigned, encrypted and securely stored in the secure element on the iPhone or Apple Watch. Each transaction is authorized with a one-time unique number using your DAN and instead of using the security code on the back of your card.
Apple Pay creates a dynamic security code to securely validate each transaction.
Apple will not collect customers' purchase history.
Apple Pay will support credit and debit cards from the three major payment networks, American Express, MasterCard and Visa, issued by banks including Bank of America, Capital One Bank, Chase Citi and Wells Fargo.
Leading retailers that will support Apple Pay include Bloomingdale, Disney Store, Walt Disney World Resort, Duane Reade Macy's, McDonalds's, Sephora, Staples, Subway, Walgreen and Whole Foods Market. It will also be available in Apple retail stores across the U.S.
Apple Pay will also work on the Apple Watch and will extend Apple Pay to over 200 million owners of iPhone5, iPhone 5C and iPhone 5S globally.
IHS' Take on Apple Pay
IHS believes that Apple Pay will no doubt help the drive toward NFC payment and mobile payments in the U.S. It could even be a virtual "shot in the arm" for the entire NFC ecosystem and NFC payments in particular. IHS sees Apple Pay as a big threat to other mobile wallets in the U.S. including Google Wallet and Softcard (formerlyISIS).
However, there is a long way to go before NFC payments and mobile payments enter the mass market. Customers will be able to use Apple Pay in approximately 22,000 merchant locations across the U.S. that have contactless payment enabled. This represents a good starting point but is still a drop in the ocean compared to the 9 million or so merchant locations in the United States.
Any new payment system that is launched onto the market needs to take into account the high security and privacy concerns of consumers. This is particularly important in light of the security breaches at Target, Neiman Marcus and recently Home Depot.
IHS expects the list of retailers accepting Apple Pay to grow as the system gets more consumer friendly and will also help in the U.S. migration to the Europay, Mastercard and Visa (EMV) standard, which is starting to gain momentum. Any retailer not working already on EMV migration is more than likely to replace point of sale (POS) terminals with EMV contactless and NFC compliant terminals in light of Apple's new products.
In summary, Apple's announcement of incorporating NFC into its latest iPhones and Apple Watch is certainly a good start in helping drive NFC payments from geek street to main street!
Related links:
News articles: