The 32-GB NAND flash version of Amazon's Fire Phone carries a bill of materials (BOM) of roughly $201, enabling Amazon to turn a tidy profit on each sale of the smartphone, which retails for $650 on an unsubsidized basis, according to IHS.
But since Amazon likely spent a good deal of money to develop the Fire Phone's unique features, Amazon is going to need to sell quite a few handsets in order to recoup its investment, IHS said.
"The features that differentiate the Amazon Fire Phone—particularly its unique Dynamic Perspective interface—required the development of specialized hardware and software," said Andrew Rassweiler, senior director of cost benchmarking services for HIS, in a statement. "This kind of R&D effort is expensive and can only be paid off through major sales success."
The total cost to produce each unit of the handset, including about $4 for manufacturing expense, is roughly $205, according to IHS.
With the smartphone space continuing to be dominated by Apple and Samsung, Amazon will face an uphill battle to sell enough handsets to make its R&D effort pay off, Rassweiler said.
Ian Fogg, senior director for mobile media at IHS, said going head-to-head with Apple and Samsung is a dicey proposition for Amazon. "This is a high-risk launch-price strategy which is unsustainable for a smartphone market entrant like Amazon," Fogg said. "Simply having a well-known brand on the box is not enough to sell smartphones, as Nokia and Motorola know well."
Qualcomm Inc. scored major design wins in the Amazon Fire Phone, according to the IHS teardown analysis. Qualcomm chips account for the phone's applications processor, as well as the radio frequency (RF) and power amplifier (PA) sections of the design, IHS said.
Qualcomm's Snapdragon MSM8974 chip, carrying the applications processor and wireless baseband function, makes up the core of the Fire Phone's functionality, according to the teardown. IHS said its teardown analysis service has uncovered multiple variants of the MSM8974 in more than 10 teardowns of other phones and tablets examined in 2014, including the Samsung Galaxy S5, the Nokia Lumia 1520 and the ZTE Grand S II.
Amazon is marketing the Fire Phone's user-friendly Dynamic Perspective interface as the smartphone's main feature. Dynamic Perspective allows one-handed access to menus and shortcuts simply by tilting or swiveling the phone, or peeking at the display.
The Fire relies on hardware not found in any other smartphone in order to make its Dynamic Perspective technology work, according to IHS. The Fire utilizes four camera-like sensors—placed in each corner of the handset—to detect the user's perspective relative to the display and coordinate their activities with the phone's Snapdragon application processor, according to IHS. Each of these "cameras" is a monochrome sensor with a resolution of 400 pixels by 400 pixels, according to IHS teardown services.
The Fire also features four infrared (IR) light emitters, which may project more than just a blanket of infrared light, according to IHS.
"These IR emitters may broadcast an array of light 'points,' which are then 'seen' by the cameras, providing the camera with a 'map' of its surroundings," Rassweiler said. "Though we are not sure at the moment, it is assumed that the Amazon Fire phone sensors work in a similar manner to the technology used in Microsoft's Xbox Kinect."
The cameras feature specialized image sensors from OmniVision Technology Inc., IHS said. The firm believes the part is likely OmniVision's OV6211, a shutter sensor used for computer vision applications. IHS is still in the process of determining the exact Omnivision part number.
For the first time, the IHS teardown service uncovered the full suite of Qualcomm's RF360 ICs. The service had never before encountered the full suite in a single smartphone or tablet, IHS said. The RF360 suite is designed for wide global LTE deployments, reducing handset design SKUs and time to market, according to IHS.
Qualcomm's WCN3680 chip, which delivers support for the Wi-FI 802.11ac standard, was also found in the Fire Phone, IHS said.
Amazon Fire Phone's display/touch-screen subsystem is conventional for midlevel smartphones, IHS said. The 4.7-inch, 1,280 by 720p-resolution display, supplied by Japan Display, falls short of the 1,080p full high-definition screens used in high-end models, according to IHS. The use of this display allows Amazon to keep the Fire Phone's BOM costs down, ensuring larger hardware margins, IHS said.
Findings from IHS's Amazon Fire Phone teardown analysis are available from the Materials & Cost Benchmarking service of IHS.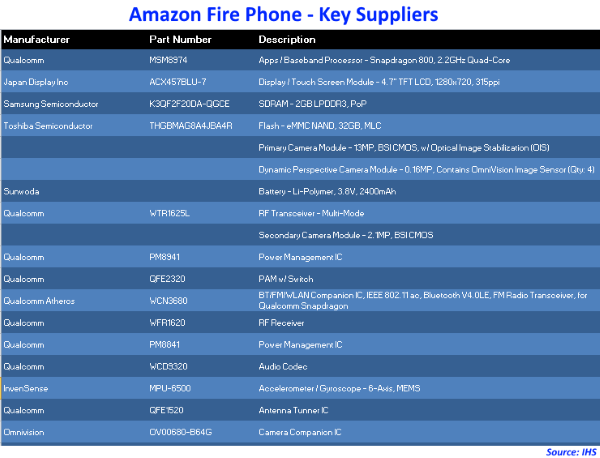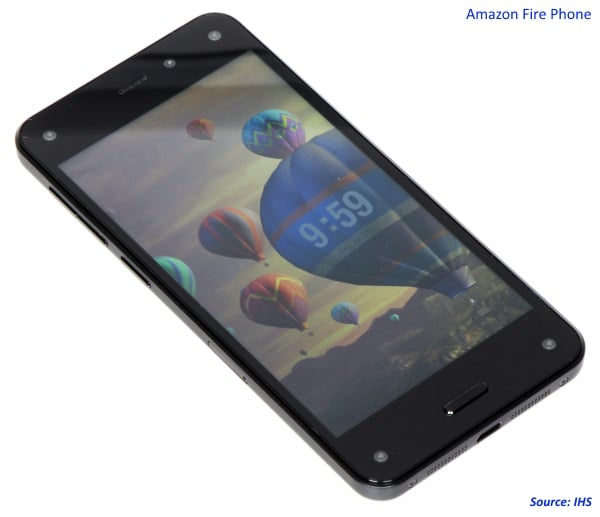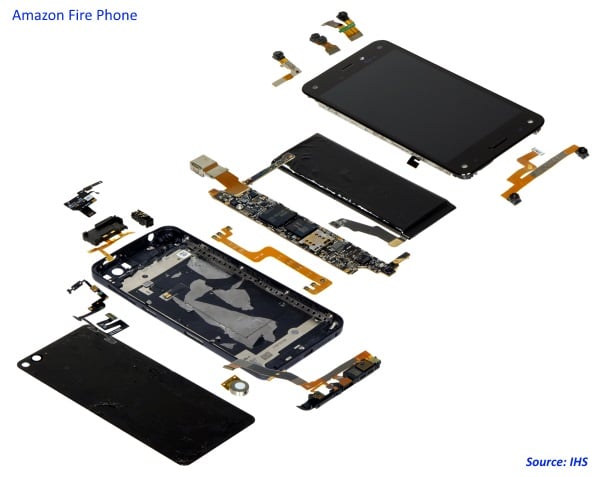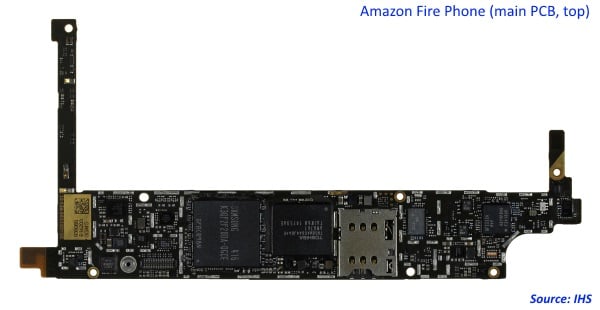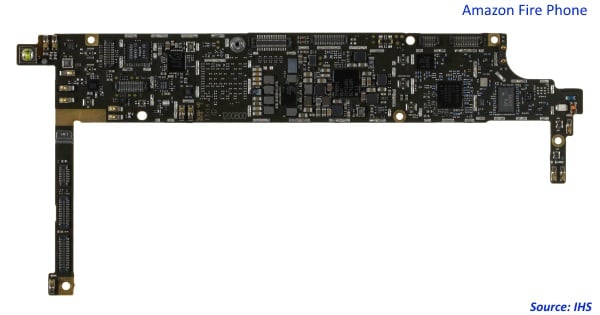 Related links: