GreenPeak Technologies BV, a fabless chip company pioneering the use of ZigBee for home networking and the Internet of Things, has moved its offering up to the system level and introduced a sensor-and-cloud based social media platform.
The Senior Lifestyle System allows children and elderly parents to share lifestyle information in a secure and private way, GreenPeak (Utrecht, Netherlands) said.
The system is built around a set of wireless ZigBee sensor nodes set down through the home and connected via an Internet gateway to cloud-based software that learns day-to-day behaviour patterns. When irregular behavior is identified, family or friends are notified by a smartphone application. That application can also be linked in to social media platforms such as Facebook, WhatsApp, WeChat and QQ.
The system is touted as a benefit because it will allow the elderly to live independently in their homes, while giving concerned relatives a means of being alerted if something unusual is happening.
The wireless sensors can be installed in the home in a matter of minutes and do not require the elderly to wear devices or need cameras, GreenPeak said. The sensors are devised so that they can be put on doors or drawers. In this way movement through the house, in to kitchen drawers or the refrigerator and in or out of the front and back doors of the house can be monitored.This can be augmented with one or more passive infrared sensors that can detect motion in a room.
Over a period of weeks the system automatically learns to identify normal behavior in the home. After the learning period, the system then identifies abnormal situations and can send alerts.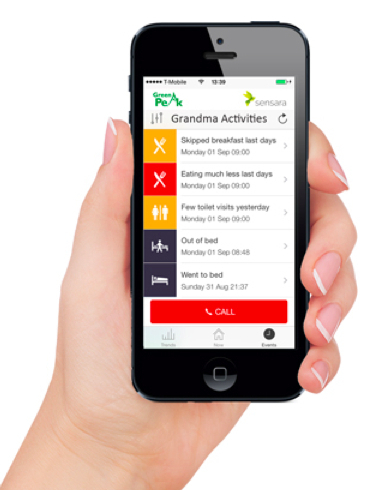 Senior Lifestyle: Keeping tabs on Grandma using cloud-based learning system
GreenPeak said the Senior Lifestyle system is being "rolled out" to consumer in Germany and China via cable television operators, telephone service operators and large retailers, but did not provide names of any partners. Senior Lifestyle is described as the first of a set of Family Lifestyle offerings based on the same technology.
The system can also capture more general and longer-term behavioral trends. For instance, the system will identify and report when a person is moving more slowly. The system has been tested in care environments and is now being made available to consumers.
"Senior Lifestyle is GreenPeak's first application in this Family Lifestyle Systems domain and will become one of the fastest growing Smart Home applications," said Cees Links, CEO of GreenPeak Technologies, in a statement. "Our connected Family Lifestyle systems are simple to install, low cost and unobtrusive – they need no programming or rule and exception definitions." Junior Lifestyle for monitoring babies, infants and children is the next roll out to link the smart home to social media that is planned by GreenPeak.
GreenPeak did not directly reference any third parties with regard to the roll out of Senior Lifestyle or Junior Lifestyle but has previously announced its capability to support new and emerging protocols based on on the IEEE 802.15.4 standard. GreenPeak's family of GP71x transceiver ICs already supports ZigBee PRO, SEP 2.0, RF4CE and Green Power and is capable of supporting supporting new and emerging protocols such as the recently announced protocol by the Google-backed Thread Group.
According to two reports from IHS Technology, the publisher of Electronics 360, the installed base of independent living solutions is set for rapid growth over the coming years. These are: The World Market for Home Health Technologies and Smart Home Subscribers & Services Intelligence Service
Related links and articles:
News articles:
Healthcare Robots for the Elderly Making Progress
Samsung Buys into IoT with SmartThings Startup