The Netherlands-based RF chipmaker GreenPeak Technologies has launched a communication chip that will work as a light emitting diode (LED) lighting controller for smart ambient applications in the home.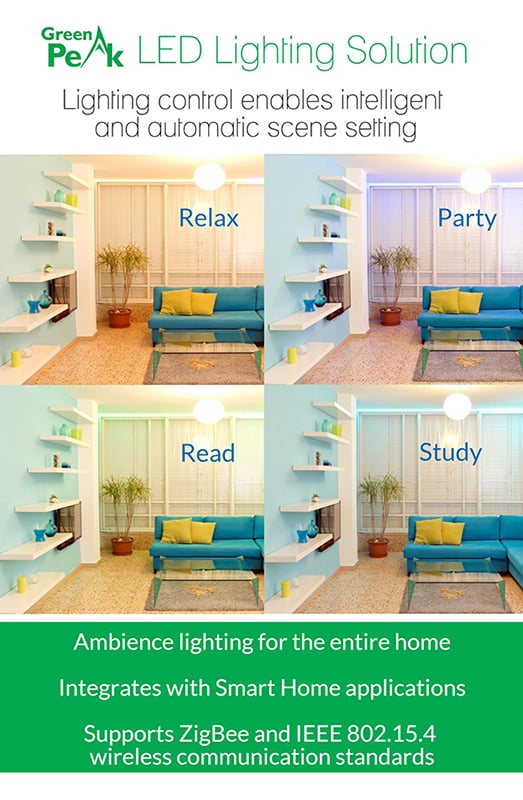 GreenPeak's wireless chip automatically sets the lighting and is controlled via other smart devices in the home. (Source: GreenPeak)The GP651 IC supports various ZigBee and IEEE 802.15.4 communication protocols and is used to create lighting scenes that match mood and function in a home. The chip supports 1-, 2- or 4-channel LED bulbs with the ability to dim a bright LED bulb into a warm white or to create a more vivid colorful scene. The setting and time schedules are controlled by smart home system, a smartphone or even a basic wireless switch, GreenPeak says.
The benefits of smart lighting in the home allows for light that is gracefully dim in the evenings, but can be bright when working from home or more relaxed during a family dinner. GreenPeak says its LED lighting solution helps to support the body's biorhythm and help to focus on work, study and reading. The lights will also switch on and off giving the impression someone is at home for added security.
Cees Links, founder and CEO of GreenPeak Technologies, says this solution in combination with an LED driver that controls the power will allow "LED light bulb manufacturers to produce light bulbs at very low cost, which will move the controlled LED lighting market into a new era of mass adoption."