The Samsung Chromebook 2 is Samsung's latest portable computing offering. The device runs on the Chrome OS, and has a Samsung Exynos 5 Octa apps processor based around a quad-core Cortex-A15 running at 2.0 GHz and a quad-core Cortex-A7 at 1.3 GHz. Accompanying these compute engines is a Mali-T628 MP6 GPU. The Chromebook 2, like other devices in this category is aimed at the niche in education markets, which "are well suited for a system like the Chromebook, as they are simply looking for a device to connect to the Internet, run simple educational applications, and provide the students a tool (with keyboard) to perform minor computational tasks," according to Craig Stice, senior principal analyst for compute electronics at IHS. He adds that the Chromebooks are offered at price points that make them attractive for schools that may have budget constraints.
Stice goes on to note that all major PC vendors have launched their versions of Chromebooks, and all are targeting education, "as it is the one bright spot in the PC market of late," he adds. This has resulted in this small market getting very competitive. Stice points out that Chromebooks are still a low single-digit percentage of the overall mobile PC market, but "when you can find growth in an overall declining market, it creates excitement."
Summary points:
Samsung Chromebook 2
Processor, Exynos 5 Octa, Quad-core 2.0 GHz, Mali-T628 MP6 GPU
Display, 13.3 in diagonal, 262K color TFT, 1920 x 1080 pixels
Chrome OS
Target market: Low-end consumer, entry-level portable computing
Pricing: $399.99
Availability: U.S.
Total cost (direct materials and manufacturing): $204.63
Analysis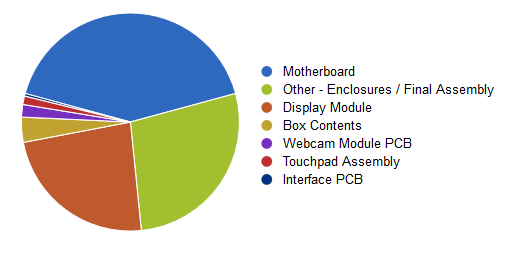 Source: IHS
Major Components:
- Apps Processor, Exynos 5 Octa, Quad-core Cortex-A15 2.0 GHz, Quad-core Cortex-A7 1.3 GHz, Mali-T628 MP6 GPU, 28 nm – MFG: SAMSUNG SEMICONDUCTOR – MPN: Exynos 5800 – (Qty: 1)
- Display Module, 13.3" Diagonal, 16.7M Color TFT (IPS Mode), 1920 x 1080 Pixels, 250 cd/m2 brightness, 297 mm x 169 mm active area, LED backlight – MFG: AU OPTRONICS CORP. – MPN: B133HTN01.2 – (Qty: 1)
- Battery pack, Li-ion polymer, 2-cell, 7.6 V, 4700 mAh, 35 Wh – MFG: SAMSUNG SDI – MPN: AA-PLVN2TP – (Qty: 1)
- SDRAM, DDR3L-1600, 4 Gb, 1.35 V – MFG: SAMSUNG SEMICONDUCTOR – MPN: K4B4G1646Q-HYK0 – (Qty: 4)
- SDRAM, DDR3L-1600, 4 Gb, 1.35 V – MFG: SAMSUNG SEMICONDUCTOR – MPN: K4B4G1646Q-HYK0 – (Qty: 3)
- Keyboard assembly, injection-molded plastic keys, mounted on metal backing plate, w/interconnect flex PCB – (Qty: 1)
- Flash, eMMC NAND, 16 GB, MLC – MFG: SAMSUNG SEMICONDUCTOR – MPN: KLMAG2GEAC-B031 – (Qty: 1)
- 10-layer, FR4/RCF HDI, 2+6+2, lead-free, halogen-free – MFG: UNIMICRON TECHNOLOGY CORP. – (Qty: 1)
- Bluetooth/NFC/WLAN, SoC, IEEE802.11a/b/g/n/ac, 2x2 MIMO, Bluetooth V4.0+HS, NFC – MFG: MARVELL SEMICONDUCTOR INC. – MPN: 88W8897-NMJ2 – (Qty: 1)
- AC adapter, 12 V, 3.33 A, 40 W, w/ 6 ft cord, Velcro® strap – MFG: CHICONY POWER TECHNOLOGY CO. LTD. – MPN: AA-PA3N40W – (Qty: 1)
Device Overview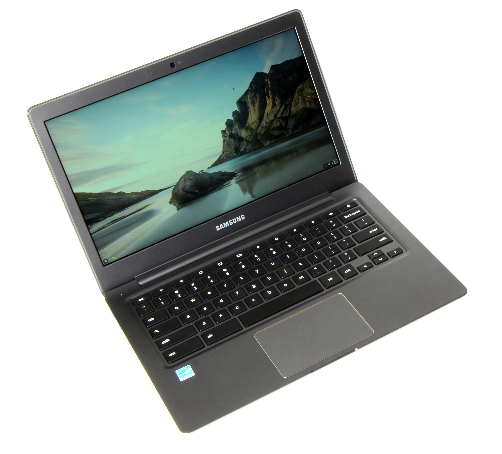 Source: IHS
Motherboard Top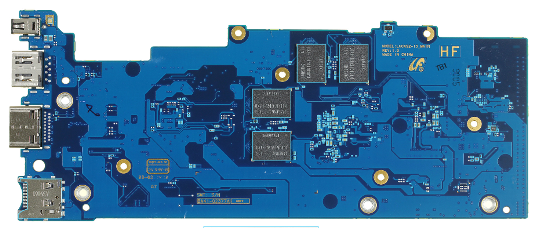 Source: IHS
Motherboard Bottom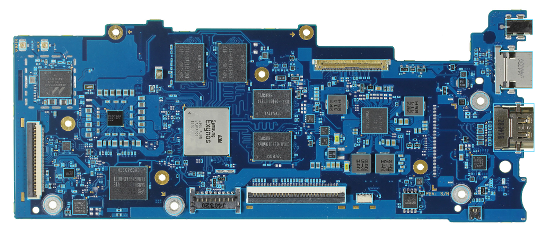 Source: IHS
Interface PCB Top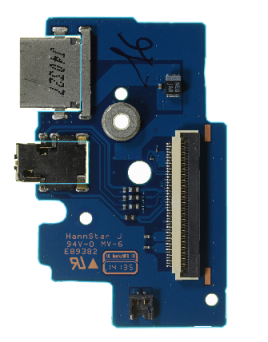 Source IHS