The HP EliteOne 705 G1 is an All-in-One (AiO) desktop system built for the commercial market.
"The AiO is a class of desktop PC in which all the components are built within the monitor, and typically wirelessly connected to a mouse and keyboard," according to Craig Stice, senior principal analyst for compute electronics at IHS Technology.
The AiO leaves behind the traditional tower desktop that took up space and often came with a nest of cables and cords. "The AiO fits nicely onto a desk where space may be minimal, and since most AiOs are more of a plug-and-plays system, can be easily moved if necessary," Stice said.
Summary Points:
HP's EliteOne 700 Series All-in-One Computer
23" LCD Display, 1920 x 1080 resolution, IPS Mode
AMD A4 PRO-7350B Dual Core 3.4GHz APU w/ Integrated Graphics
Preloaded with Windows 8.1 Pro
Target Market: Mass Market
Total Cost: $429.89
Released: Q2 2014
Pricing $879 USD at HP estore with same configuration
Availability: Worldwide
Total cost: $429.89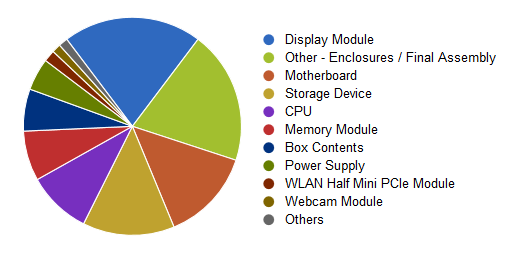 Major Components:
- Display Module, 23" Diagonal, 16.7M Color IPS Mode LCD, 1920 x 1080 Pixels, 509.2mm x 286.4mm Viewable Area - MFG: BOE TECHNOLOGY GROUP CO LTD - MPN: HR230WU1-400 - (Qty: 1)
- CPU, AMD A4-7300 Series APU, Dual-Core, 3.4GHz, 1MB L2 Cache, w/ Integrated Radeon™ R5 graphics - MFG: ADVANCED MICRO DEVICES INC - MPN: AD735BYBI23JA - (Qty: 1)
- Hard Drive, 500GB, 2.5", SATA 6Gb/s, 7200RPM, 16MB Buffer - MFG: WESTERN DIGITAL CORP - MPN: WD5000BPKX - (Qty: 1)
- SO-DIMM DDR3-1600, 4GB, 1.5V - MFG: SK HYNIX INC - MPN: HMT351S6EFR8C-PB - (Qty: 1)
- Switching Power Supply, 200W, Output: 19.5V / 10.26A, 80Plus Platinum - MFG: CHICONY POWER TECHNOLOGY CO LTD - MPN: D12-200P2A - (Qty: 1)
- CD/DVD RW Drive, Tray Load, Internal, SATA - MFG: HITACHI-LG DATA STORAGE - MPN: GTA0N - (Qty: 1)
- Cooler Assembly, 1 Die-Cast Aluminum Bracket, 1 Copper Block, 2 Copper Pipes, 110 Aluminum Fins, Painted, w/ 4 Spring-Loaded Mounting Screws - (Qty: 1)
- 6-Layer, FR4, Lead-Free, Halogen-Free - MFG: CHUAN YI COMPUTER CO LTD - (Qty: 1)
- Internal Shielding / Mounting Plate, 5 Pieces Stamped / Formed Electro-Galvanized Steel, 10 Pressed-in Threaded Metal Inserts, 46 Clinch Points - (Qty: 1)
- Fusion Controller Hub, A88X Chipset - MFG: ADVANCED MICRO DEVICES INC - MPN: 218-0644016 - (Qty: 1)
Overview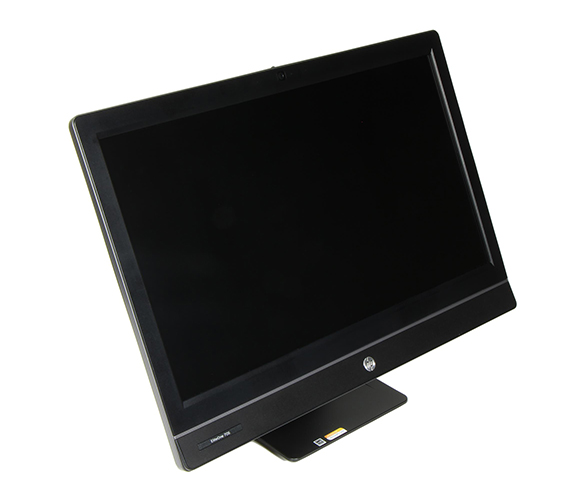 Source: IHS
Motherboard Top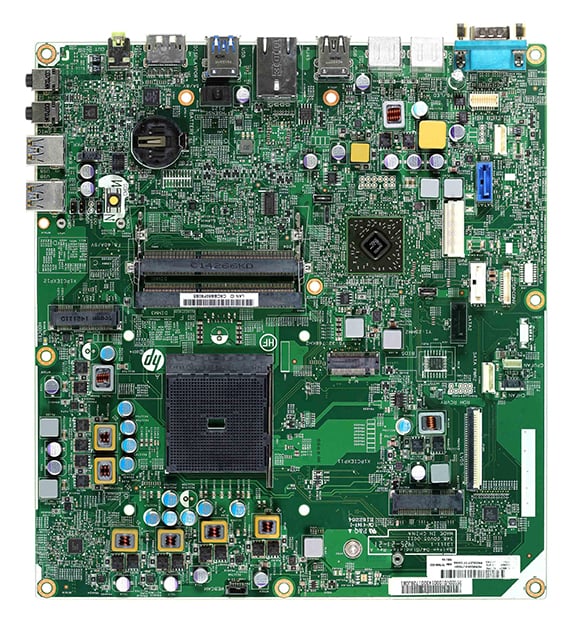 Source: IHS
Motherboard Bottom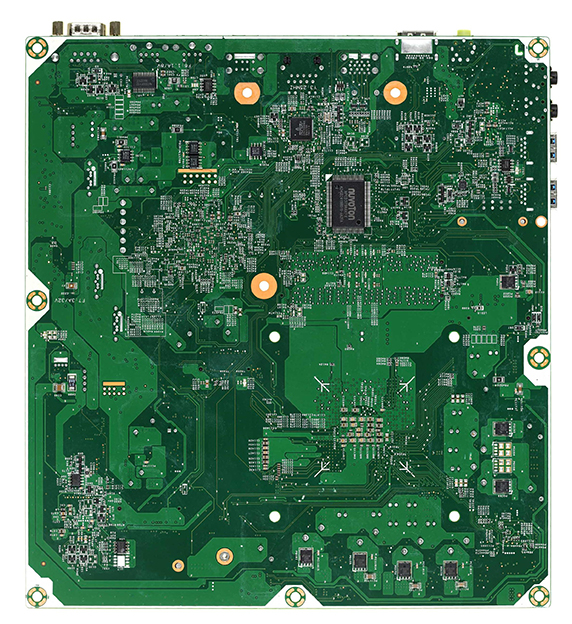 Source: IHS
Card Reader PCB Top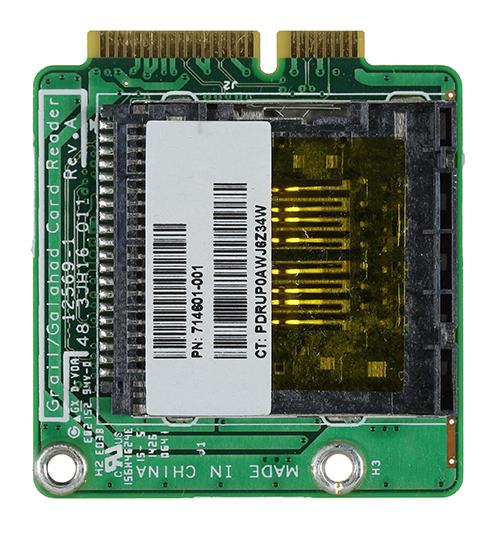 Source: IHS