The recently released Samsung Galaxy S6 Edge is the most expensive Galaxy S line smartphone yet built, but has a lower retail price than a comparable iPhone 6 Plus, according to a preliminary estimate by the IHS Technology Mobile Handsets Intelligence Service.
The Samsung Galaxy S6 Edge smartphone with 64 GB of NAND memory carries a bill of materials (BOM) of $284.85 with the cost rising to $290.45 when the $5.60 manufacturing cost is added, according to results from this IHS teardown of a phone purchased from Verizon. The retail price at Verizon for the Galaxy S6 Edge is $799.99. A comparable Apple iPhone 6 Plus 64GB has a BOM of $236.04, which rises to $240.05 after $4.01 manufacturing cost is added, and a retail price from the Apple online store of $849.00, $50 higher than the S6 Edge.
Overall, this is the priciest Samsung Galaxy S series bill of materials to date. In fact, Samsung seems to have consistently packed more features and cost into their flagship Galaxy S line of phones over the last three generations of product, now producing a BOM cost that is notably higher than comparable iPhones.
Summary points:
Samsung Galaxy S6 Edge Smartphone (SM-G925V)
Processor, Samsung EXYNOS7420 - Octa-Core, 64-Bit, 14nm, PoP
5.1 inch 2560 x 1440 Super AMOLED display
Android-v5.0.2 (Lollipop) OS
Target market: Mass market
Pricing: $799.99
Availability: Global
Total cost (direct materials and manufacturing): $290.43
Major Components:
- Apps Processor, Samsung EXYNOS7420 Octa-Core, 64-Bit, 14nm, PoP – MFG: SAMSUNG SEMICONDUCTOR INC. – MPN: EXYNOS7420 – (Qty: 1)
- Display Module, 5.1" diagonal, 16 M color, Quad HD Super AMOLED, 2560 x 1440 Pixels, 577 ppi, Dual Edge– MFG: SAMSUNG DISPLAY CO. LTD. – MPN: AMB509EG01 – (Qty: 1)
- Baseband Processor, Multi-Mode, 28nm, PoP – MFG: QUALCOMM –MPN: MDM9635M – (Qty: 1)
- Flash Memory, UFS NAND, 64GB, PoP – MFG: SAMSUNG SEMICONDUCTOR INC.– MPN: KLUCG8G1BD – (Qty: 1)
- DRAM, LPDDR4, 3GB, PoP – MFG: SAMSUNG SEMICONDUCTOR INC. – MPN: K3RG3G30MM-DGCH – (Qty: 1)
- Power Management IC for Apps Processor – MFG: SAMSUNG SEMICONDUCTOR INC. – MPN: S2MPS15 – (Qty: 1)
- Power Management IC for Baseband/RF – MFG: QUALCOMM – MPN: PMD9635 – (Qty: 1)
- Primary Camera Module (Rear), 16MP, BSI CMOS, OIS – (Qty: 1)
- Accelerometer / Gyroscope - 6-Axis – MFG: INVENSENSE – MPN: MPU-6500 – (Qty: 1)
- Battery Pack, Li-Polymer, 3.85V, 2600mAh, 10.01Wh MFG: ITM– MPN: EB-BG925ABA – (Qty: 1)
Device Overview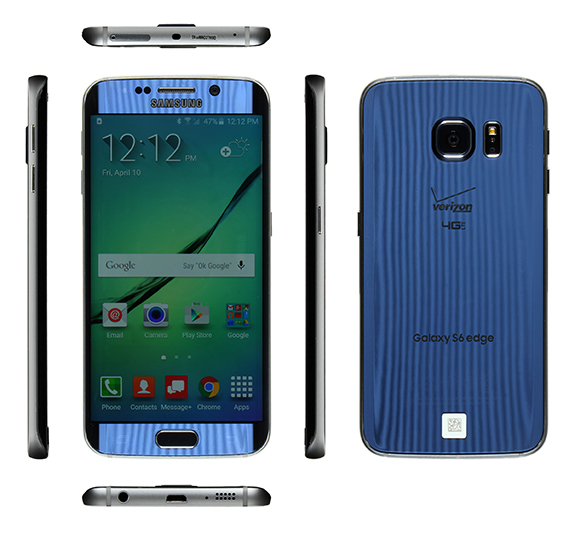 Source: IHS
Main PCB Top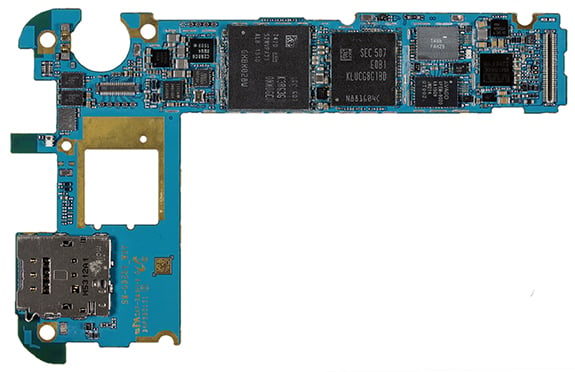 Source: IHS
Main PCB Bottom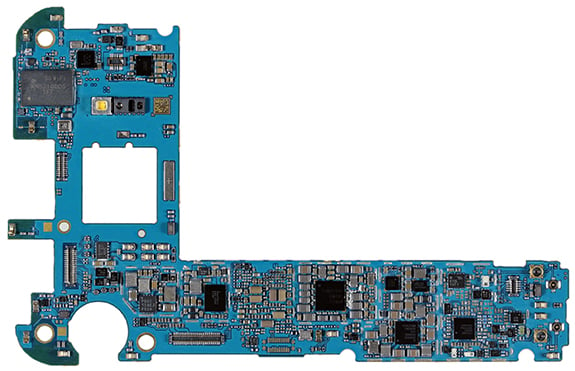 RELATED ARTICLES
Exclusive Video Teardown: Samsung Galaxy S5
Exclusive Video Teardown: Apple iPhone 5s and 5c