Among the various types of consumer medical electronics, the blood glucose monitor has become a major revenue generator, outperforming blood pressure monitors, digital hearing aids, heart rate monitors, and digital thermometers. The Bayer Breeze 2 and the OneTouch UltraMini blood glucose monitors are among the leaders in a market that IHS medical devices & healthcare IT analyst Roeen Roashan says amounted to $449.7 million in 2013. This figure accounts only for the deployed base of the devices themselves, and not for the consumables – test strips – that are used with them. Roashan says the value of the market is expected to grow at 3%, while the actual number of devices deployed is expected to grow at 5.2%. The differential in growth rates is attributable to predicted price erosion.
The devices themselves are fairly simple, and there have been few major advances in functionality, but some are worthy of mention. Glysens has developed a small implantable sensor, the ICGM, which the company claims will, when calibrated monthly, provide readings with accuracies on a par with current devices from Dexcom and Medtronics. Glysens expects U.S. Food and Drug Administration (FDA) approval some time in 2017.
According to Roashan, "that is not long-term, and therefore we might see the market shake up a little in the short-run. In the long-run, it is difficult to say exactly what will happen and what type of devices will be introduced, however the goal is to have a fully automated artificial pancreas." He adds that there are two elements to an artificial pancreas; monitoring the glucose level, and delivery of insulin. "the Medtronic Minimed mimics some of the traits of a real pancreas, however it is not a 100% automated system with no need for patient intervention – that will probably take somewhere between five and seven years," he says.
To get a look at the insides of typical current home versions of glucose monitors, the IHS teardown team has selected the Bayer Breeze 2 and the OneTouch UltraMini (sold by Johnson & Johnson's LifeScan). The Breeze 2 calculates glucose averages and codes readings automatically. Readings stored in memory can be downloaded to a PC. Storage capacity is 360 readings. The UltraMini, although in a smaller form factor, has features nearly identical to those of the Breeze 2.
OneTouch UltraMini
Summary points:
OneTouch UltraMini blood glucose monitor
Reported result range: 20–600 mg/dL
Size: 4.25 x 1.26 x .67 inches
Operating ranges: Temperature, 43–111 F; Altitude, up to 10,000 ft; Relative humidity: 10–90%
Target market: Consumer
Pricing: N/A
Availability: Worldwide
Major Components:
- Dual Op Amp,– MFG: TEXAS INSTRUMENTS –MPN: TLV2763IDGSG4 – (Qty: 1)
- EEPROM, 8kx8 - 1.8V – MFG: MICROCHIP – MPN: 24AA64-I/MS – (Qty: 1)
- Diode, TVS, 11 V – MFG: TEXAS INSTRUMENTS– MPN: TPD3E001DRSR – (Qty:1)
- MCU, 16-Bit, 32 kB Flash, 1024 B RAM, 12-Bit ADC – MFG: TEXAS INSTRUMENTS – MPN: MSP430F437J80 – (Qty: 1)
OneTouch UltraMini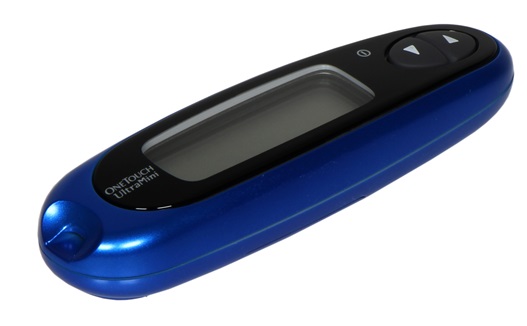 Source: IHS
OneTouch UltraMini Main PCB Top

Source: IHS
OneTouch UltraMini Main PCB Bottom

Source: IHS
Bayer Breeze 2
Summary points:
Bayer Breeze 2 blood glucose monitor
Reported result range: 20–600 mg/dL
Operating ranges: Temperature, 50–113 F; Relative humidity: 10–80%
Target market: Consumer
Pricing: N/A
Availability: Worldwide
Major Components:
- MCU, 8-Bit, 20 MHz, 60 kB Flash, 3 kB RAM, 8-channel, 10-Bit ADC – MFG: RENESAS ELECTRONICS –MPN: UPD78F0395GC-8EA-8 – (Qty: 1)
- LCD Controller – MFG: INTERSIL – (Qty: 1)
- EEPROM, 32 kb – MFG: ON SEMICONDUCTOR– MPN: CAT25320VI-GT3 – (Qty:1)
Bayer Breeze 2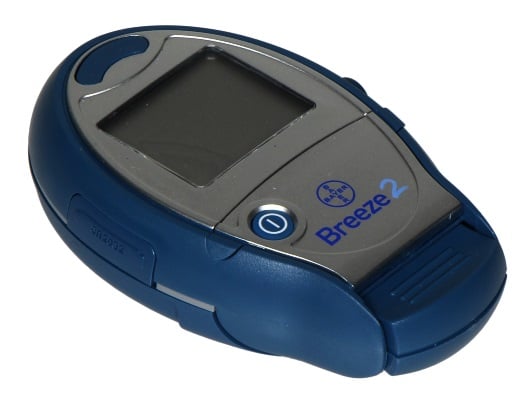 Source: IHS
Bayer Breeze 2 Main PCB Top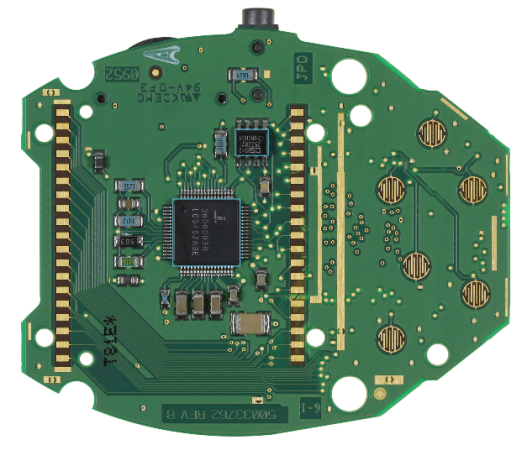 Source: IHS
Bayer Breeze 2 Main PCB Bottom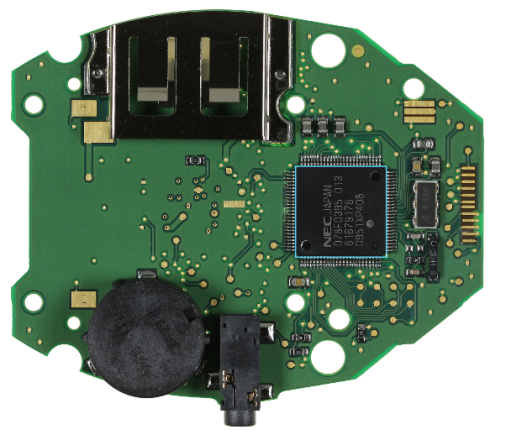 Source: IHS