While the automotive industry pushes ahead with next-generation advancements in safety, self-driving, connectivity and entertainment, the heart of what powers these automotive vehicles is also being challenged as hybrid electric and electric cars gain traction. European luxury brand Audi has thrown in another possible future with its latest concept car that runs on hydrogen gas.
Revealed at this week's 2016 Detroit Auto Show, Audi's H-Tron Quattro concept vehicle can be fully refueled with hydrogen in about 4 minutes and then can take passengers for a drive of up to 372.8 miles (600 kilometers). The vehicle combines a fuel cell that can achieve an output of up to 110 kW with a battery that can provide a temporary boost of 100 kW.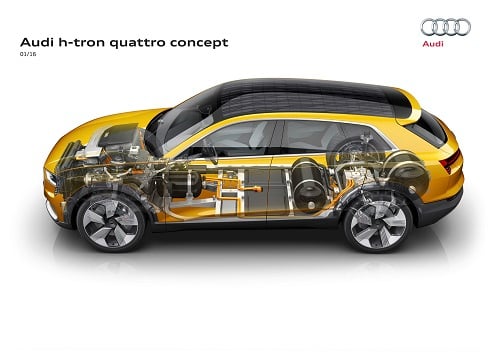 Audi's H-Tron concept vehicle houses three hydrogen tanks located beneath the passenger compartment or luggage compartment. (Source: Audi)
Audi says the H-Tron is closely associated with its other concept car, the E-Tron Quattro—an all-electric SUV with a range of about 311 miles. Both vehicles are based on Audi's second-generation modular longitudinal platform (MLZB-evo). Audi says both the E-Tron and H-Tron cars use virtually identical floor assembly despite containing different technology inside.
The automotive OEM says the fuel cell now surpasses the combustion engine in terms of efficiency with a rating above 60% with 330 individual cells housed in the forward structure of the H-Tron vehicle. The hydrogen tanks in the car are located beneath the passenger compartment or luggage compartment but do not impact the interior.
Audi Touts Zero Global Emissions
Hydrogen-based vehicles consume one kilogram (2.2lb) or hydrogen per 100 kilometers (62.1 miles) and this is generally considered a zero emission vehicle. However, Audi claims by using the hydrogen produced in its e-gas facility in Werlte, Germany, it has pushed the H-Tron to a level where it is a global zero emission vehicle.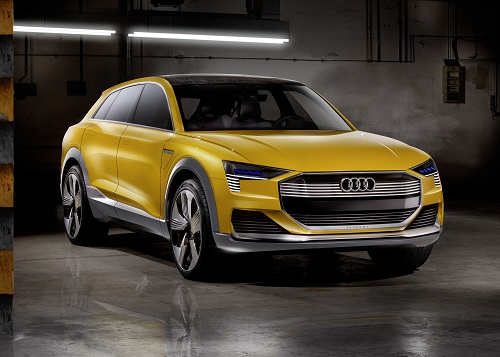 The H-Tron vehicle included Audi's zFAS central driving assistance system designed to further autonomous driving. (Source: Audi)The Werlte facility was built in 2013 and uses electricity generated by wind power to break down oxygen and hydrogen into gas by electrolysis. The gas is then reacted with CO2 to produce Audi e-gas, or synthetic methane, for its Audi A3 G-Tron and the A4-G-tron with CNG drive. Audi says in the future it will be possible to tap the Werlte plant as a source for hydrogen in order to expand fuel cell cars that run on all-green energy.
Next Step Toward Autonomous Driving
Another announcement Audi made at the Detroit Auto Show had to do with its advancement of its central driver assistance system (zFAS) that will be a crucial step toward enabling self-driving cars. Incorporating the zFAS into its H-Tron Quattro concept vehicle, Audi showed how future vehicles will come equipped with radar sensors, new generations of video cameras, ultrasonic sensors and a laser scanner.
The zFAS will compute a complete model of the car's surroundings in real time and provides this information to the assistance systems and the piloted driving systems. It can then assume driving tasks during parking or even in stop-and-go traffic on freeways. Audi says it will be taking this technology into production for the first time ever with its next generation Audi A8 full-size sedan beginning in 2017.