Global revenue from traditional consumer electronics is projected to decline in 2014 for the fourth consecutive year, according to a forecast by IHS. Due to a lull in innovative new products and continued pressure from wireless computing devices like smartphones and tablets, the traditional CE market is expected to decline by 2 percent this year compared to last year.
Revenue from traditional consumer electronics manufacturing will fall to $250 billion this year, down from $255.7 billion last year, according to data from the IHS Internet-Enabled Consumer Electronics Market Tracker. IHS defines the traditional consumer electronics category to include a range of devices, including televisions, set-top boxes, digital still cameras, video game consoles and Blu-ray players.
While vendors at 2014 International Consumer Electronics Show (CES) in Las Vegas this week are showcasing exciting new products like ultra-high-definition (UHD) televisions and wearable technology devices, those products won't ship in high-enough volume this year to rescue the traditional consumer electronics devices from a sales decline, IHS said.
Meanwhile, the appeal of wireless devices like smartphones and tablets continues to put increasing pressure on the traditional CE market. In a dramatic illustration of this trend, global factory revenue for smartphones and tablets was higher than the entire CE market in 2013 for the first time.
"While exciting new technologies such as UHD and wearable devices are being shown at CES, it will take a few years until these products attain enough of a volume to drive the growth of the overall CE market," said Jordan Selburn, senior principal analyst for consumer devices at IHS. "Until these products enter the mainstream, traditional CE revenue will continue to dwindle."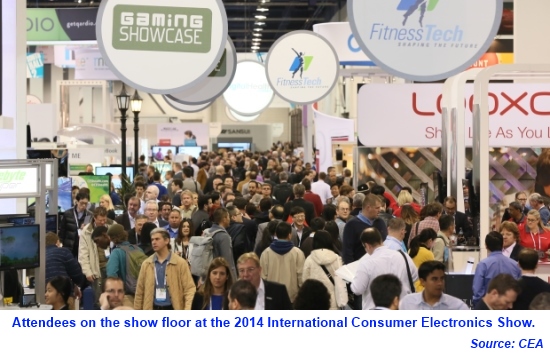 On Monday, the Consumer Electronics Association (CEA)—which produces CES—issued a forecast for the U.S. consumer electronics market calling for growth of 2.4 percent this year. The CEA—which unlike IHS includes wireless devices lie smartphones and tablets in the consumer electronics category—predicts that U.S. consumer electronics sales will reach a record $208 billion this year.
Some 38.5 million UHD LCD TV sets are projected to ship in 2018, up from 1.5 million in 2013, according to the TV Systems Intelligence Service at IHS. Shipments will fly up more than 500 percent to reach 10 million in 2014, according to the firm.
But UHD sets still have a long way to go before they command a major share of the overall market. In 2018, UHD will account for only about 16 percent of all LCD TV shipments, IHS said.
Global market shipments of wearable devices for infotainment applications are expected to grow to 130.7 million units in 2018, up from 51.2 million in 2013, IHS said. The infotainment segment consists of products including Bluetooth headsets, head-up displays, imaging products, smart glasses and smart watches.
Related stories: