Plessey Semiconductor Ltd. (Plymouth, England) has announced the launch of its next generation of gallium-nitride-on-silicon light-emitting diodes (GaN-on-Si LEDs).
By using standard silicon semiconductor production tools with 150-mm-diameter wafers and then making LEDs in GaN grown as top surface, Plessey aims to produce superior LEDs for solid-state light bulbs at lower cost.
The company started selling GaN-on-Si LEDs in February 2013 with the PLW111010, an entry-level product with a light output of just 2 lumens intended for indicator lamps and back-lighting applications. The MAGIC PLW114050, with a nominal flux of 10 lumens, is the first in a family of entry-level LED lighting products that will be released.
The LEDs are designed for ambient decorative lighting and automotive interior lighting. The LEDs come in 3020 PLCC-2 packages with a viewing angle of 120 degrees (half minimum). The PLW114050 product is available in a CCT range from 6500K to 2700K, with a Lambertian distribution in an industry standard 3020 package. With a drive current of 60mA, the PLW114050 has a typical forward voltage of 3.2V.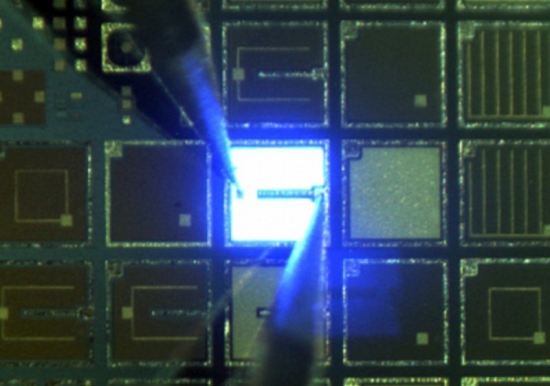 "We have a roadmap that puts MAGIC ahead of the efficacies achieved by sapphire-based LEDs and, thereby, sets a new milestone in terms of lumens-per-dollar performance," said Keith Strickland, Plessey's chief technology officer, in a statement.
Jose Lopez, Plessey's chief commercial officer, said, "Customers are delighted that a European company is committed to developing and manufacturing world-class GaN-on-Si LEDs. The market currently has many suppliers of LEDs, but the quality and reliability can be variable."
Related links: