The digital signage market is seeing strong growth due to the combination of flexibility in display installation, dynamic message capabilities and improved display technologies. In turn, this is leading to opportunity for both display makers as well as vendors of power-related ICs.
According to a new report by IHS, worldwide revenue for digital signage equipment, software, services and media is projected to total just under $14 billion in 2013, an increase of 5.6 percent over 2012, accelerating on the 3.9 percent expansion last year. The report further predicts an increase in revenue of between 4.7 and 5.6 percent over the next few years, with total digital signage revenue of $17.1 billion by 2017.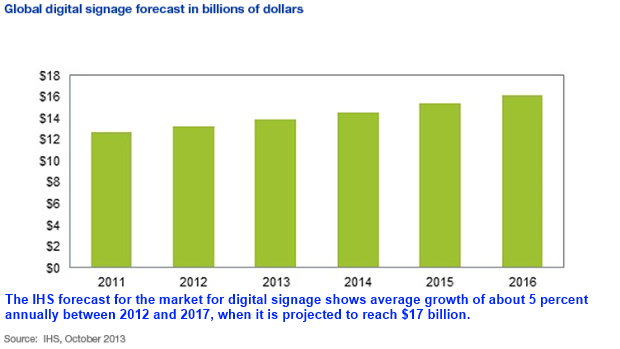 "Improvements in technology offerings, data management and infrastructure expansion will help the digital signage industry to continue the positive momentum it has already generated," said report author Sanju Khatri, IHS director for signage and public information displays.
Signage displays can be implemented using three technologies: one or more standard LCD TV screens, custom LCD displays, or custom direct-display LED arrays. The custom LCD display works well but can be costly in larger or unusual aspect ratios. The LED-based array is attractive because it is self-illuminating (no need for backlighting, which becomes complicated in larger display form factors) and the array's size and configuration can be tailored to the available space of the installation. Further, LED-based signage can be built up to different height/width ratios using standard-size modules offered by their vendors to fit available space. Note that there is little industry standardization on these modules; each vendor offers its own form factor and interface, incompatible with the others.
While the very large displays such as those used for sporting events and advertising get most of the attention (see "Blue LEDs, digital TV bring daylight-bright signs to masses"), the real breakout is in high-volume applications, tightly constrained situations such as fast-food restaurants—called quick service restaurants (QSR) in the industry—where these digital signs can be placed in multiple limited-space locations. These and similar applications combine relatively static information, such as menu offerings, along with dynamic updates and specials, and will make up approximately 42 percent of total digital signage display revenue from 2013 to 2017, according to the IHS report.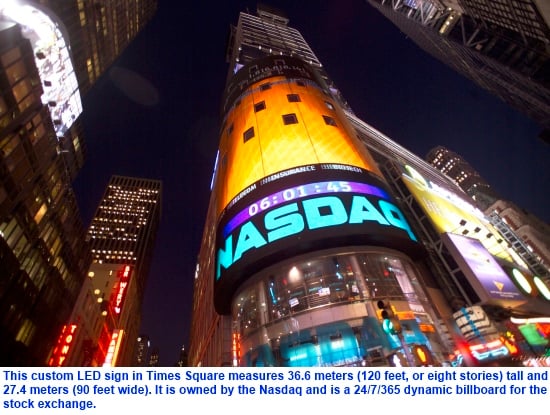 Of course, the visible part of the signage is only the tip of the market iceberg, albeit the very obvious one. Behind every such display are the display-driver electronics. According to a recent report by Stephanie Pruitt, IHS lighting and LEDs research analyst, there are at least 30 vendors of the LED driver ICs that power the LEDs used for backlighting the LCD display or drive the direct-display LEDs. These vendors offer a wide array of both similar, alternate-source products as well as some proprietary devices with unique features. IHS puts the driver market in 2012 at $1.02 billion, and while the report notes that the bulk of this market is for illumination and lighting, signage is a growth market as well. LED drivers used for LED displays need to be able to control the individual LEDs, while those used for backlighting only need to be dimmable as a group, if at all.
Signage LED-display drivers are specialized versions of widely used DC/DC power-regulator ICs and are often the same as (or adaptations of) the LED drivers used for LCD backlighting. A digital sign can use anywhere from a dozen of these drivers to thousands of them, depending on size. Among the many sources are AnalogicTech (now part of Skyworks), Analog Devices, austriamicrosystems (AMS), Cirrus Logic, Diodes Inc., Exar, Fairchild Semiconductor, Freescale Semiconductor, Infineon Technologies, Intersil, iWatt, Leadis Technology, Linear Technology Corp., Macroblock, Maxim Integrated Products, Monolithic Power Systems, National Semiconductor (now part of Texas Instruments), NXP Semiconductors, ON Semiconductor, O2 Micro, Power Analog Microelectronics (now part of Diodes Inc.), Power Integrations, Richtek, Rohm Electronics, Semtech, Silicon Touch Technology, Skyworks, STMicroelectronics, Supertex and Texas Instruments.
Driving the LEDs
The LED power-supply and driver chain is conceptually simple, and driving the LEDs themselves is both easy and difficult: easy because they are in a low/moderate current and voltage regime, while the driver can operate at an efficient DC/DC conversion frequency—usually between 100 kHz and 1.5 MHz—and difficult because the driver must act as a current source, not the more conventional voltage source, which places new and sometimes difficult demands on its circuitry. (Note that a single LED requires drive of between 20 and 60 mA and has a voltage drop of around 1.5 to 2 V.)
Signage OEMs also have their challenges, even with the availability of so many driver sources and versions. Since they are using multiple LEDs—hundreds and thousands of them—they have to decide what combination of series, parallel and series/parallel topology they want to use. Each choice brings trade-offs in driver options, cost, reliability, fault/failure handling and physical layout options (which impact unavoidable dissipation and subsequent thermal considerations).
Drivers must also be compatible with the physical interface and signal format for LED control (on, off and perhaps dimming) that the signage OEM decides to use. Again, as with module form factor, signage vendors employ proprietary techniques with little industry standardization.
A representative LED driver for smaller displays is the LTC3220 from Linear Technology, a high-efficiency, low-noise charge-pump driver that can provide power to up to 18 universal LED current sources. It provides independent dimming, on/off, blinking and gradation control for all universal current sources, with system control via the I2C serial interface port. Its six-bit linear DACs support adjustment of brightness levels independently for each universal LED current source. Efficiency is as high as 91 percent, a critical factor when driving large arrays due to the need to minimize operating costs and dissipation requirements.
As is often the case, the visible glamour of a new product or trend—in this case digital signage—obscures the electronics behind or inside needed to make it happen. But the need for LED drivers is very real and growing, along with the signs.
Related stories: