Three physicists from Japan have been awarded this year's Nobel Prize for Physics for their invention of the blue light emitting diode.
The winners are Isamu Akasaki, Hiroshi Amano and Shuji Nakamura who first produced blue light from compound semiconductor layers in the 1990s. The citation for their award covers the fact that the addition of blue to red and green LEDs provides the ability to generate white light in a new way that is longer lasting and more energy efficient than established light sources.
As a result, while the 20th century was lit by incandescent light bulbs, LED lamps will light the 21st century. The Nobel laureates get to share 8 million Swedish krone (about US$1.1 million) for their major part in this significant transition.
The development of the blue LED had remained a challenge for three decades before Akasaki and Amano working at Nagoya University, and Nakamura working at Nichia Chemicals were able to demonstrate the use of materials such as gallium nitride could produce blue light.
The efficiency has continued to improve over a couple of decades and the most recent record is over 300 lumens per watt, which compares with 16 lumens per watt for incandescent light bulbs and 70 lumens per watt for fluorescent lights. As about one quarter of the world's electricity is used for lighting, the LEDs can contribute to more efficient use of energy. And as LEDs last up to 100,000 hours compared to 1,000 hours for incandescent bulbs and 10,000 hours for fluorescent lights, they also save on materials consumption.
The only downside is that there is a temptation to use fewer lamps of much higher brightness to achieve a given level of illumination, which can result in light pollution. Nonetheless the low power requirements of white LED lighting mean that a significant portion of the world's population can have access to lighting powered by low-cost solar power.
Since the invention of the blue LEDs in the early 1990s the LED component market has flourished, reaching an estimated $17.7 billion in 2013 and supporting more than 250,000 jobs, according to IHS, the publisher of Electronics 360. Those estimates do not take into account downstream markets such as LED lighting, displays, signage, consumer electronics and Christmas lights.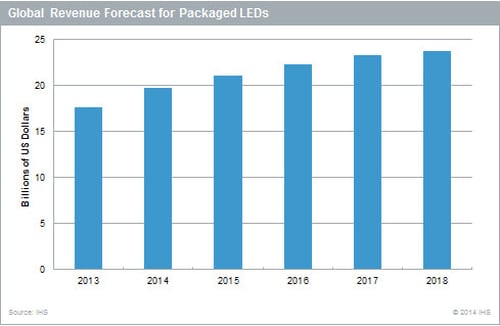 Market for packaged LEDs. Source: IHS.
"Before the invention of blue LEDs, the market was mainly focused on indicator lights in toys, industrial and automotive applications," said William Rhodes, research manager for LEDs and lighting at IHS. "Since then the market has evolved with more than 90 percent of all displays sold this year backlit by LEDs, and LEDs will account for 32 percent of all bulb sales and revenue in 2014."
The LED lighting market is poised for strong growth in the next five to 10 years with energy-hungry technologies being systematically banned across the world.
And with such markets at stake it is no surprise that the commercialization of the blue LED has not been without troubles and disputes.
Nakamura's breakthrough year was 1993, when he announced the creation of a very bright blue GaN-based LEDs. However, Nakamura, now a US citizen was not well rewarded by Nichia and ended up in litigation with the company. Nakamura left Nichia in 1999 and fought the company until 2004 when a Tokyo court ordered Nichia to pay him a substantial settlement.
Isamu Akasaki is now Professor at Meijo University, Nagoya, and Distinguished Professor at Nagoya University, Japan. Hiroshi Amano is also Professor at Nagoya University, Japan. Shuji Nakamura, American citizen is Professor at University of California, Santa Barbara.
Related links and articles:
IHS lighting and LEDs research
News articles:
Philips Ready to Exit Lighting, Focus on Healthcare
Cree to Invest $83 Million in Lextar Electronics for LEDs
LED Lighting Promises More as Li-Fi Hits 10Mbps