Glo AB (Lund, Sweden), a developer of nanowire light emitting diode technology, has raised $30 million in a Series D round of funding and intends to use the money to develop its products and strategic partnerships.
The company was founded in September 2005, as a spin-out from the Nanometer Structure Consortium at Lund University and has raised about $115 million in total equity funding.
Glo is focused on commercialization of the heterostructured nanowire technology research of Professor Lars Samuelson and is on the point of introducing its first products for applications in backlighting displays and automotive lighting. Professor Samuelson also serves as head of the nmC and as chief scientific officer of Glo.
The Series D has come from new investors with participation from existing shareholders. Investors include Wellington Partners, Teknoinvest, Nano Future Invest, Energy Future Invest, Foundation Asset Management and others.
Glo uses self-assembly methods in the manufacture of nanowire-based LEDs at levels of brightness suitable for general illumination applications. The company claims these lighting wires can be made a much lower cost than planar die LEDs using large-area silicon substrates and mass-production friendly technologies.
The company has also expanded its board of directors and board of directors.
Bart Markus, a partner at Wellington Partners is now chairman of the board and Kambiz Hooshmand and Shuo Zhang have joined the board. Hooshmand is a former CEO of AMCC Semiconductor and former group vice president at Cisco. Zhang is vice president of mobile sales for Cypress Semiconductor. James McCanna has joined as chief financial officer. James was previously CFO of private company iWatt, which was sold in 2013 for $345 million.
"We and our customers are excited about the market entry of our first-generation nLED products, demonstrating superior color and competitive efficiencies, thus realizing the promise of cutting-edge nanotechnology for optical applications. Glo's products are next-generation light sources that go beyond the technology limitations of standard planar LEDs. We are aggressively growing our capabilities and strategic partnerships to provide nLED products for all applications," said Fariba Danesh, CEO of Glo, in a statement.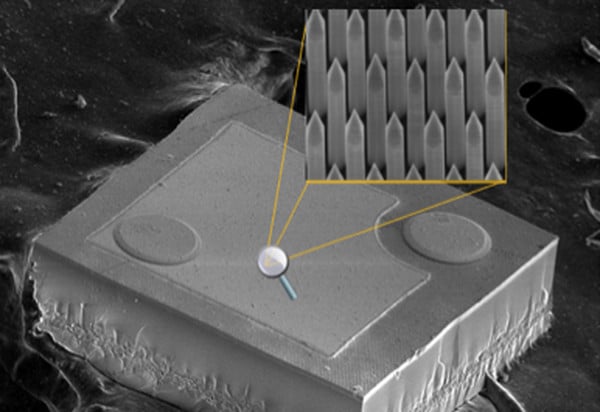 Scanning Electron Micrograph of actual Glo nanowire chip showing individual nanowires inset. Source: Glo
Glo's technology has some similarities to that of Aledia SA (Grenoble, France), a startup developing light-emitting diodes (LEDs) on microwires of gallium-nitride-on-silicon. Aledia raised 10 million euro (about $13 million) in a Series A that closed in 2012 with Braemar Energy Ventures, Sofinnova Partners, Demeter Partners and CEA Investissement participating.
Aledia's technology uses millions of sub-micron diameter light-emitting GaN pillars standing up from the silicon surface to obtain an improved area efficiency of light generation. This produces three times more light per square millimeter of planar area, the company claims.
Related links and articles:
News articles:
World's Thinnest LED Is Three Atoms Thick
Thick-shell Quantum Dots Raise Image Brightness
GaN-on-Si to Gain Ground in LEDs