Foldable smartphones. Digital signs wrapped around building walls. Wearable devices that turn your wrist into an all-in-one camera, computer and heart monitor. Displays curling over car dashboards. Curved big screen TVs on living room walls.
Many of these things are coming… soon. After more than a decade of development work, flexible displays should start moving out of the research labs and prototype production and into a modest number of devices in late 2013 or early 2014.
Despite technical challenges still associated with making thin, unbreakable and conformable displays, market trends point to a promising future for this young industry.
IHS estimates that shipments of flexible displays will grow nearly 250 fold between 2013 and 2020, fueled by demand from a broad array of applications. Flexible display shipments are expected to reach 792 million units globally in 2020, up from 3.2 million in 2013, according to a recent IHS report entitled "Flexible Display Technology and Market Forecast." The report projects that market revenue for flexible displays will grow from just over $20 million to $41.3 billion during the same seven-year period.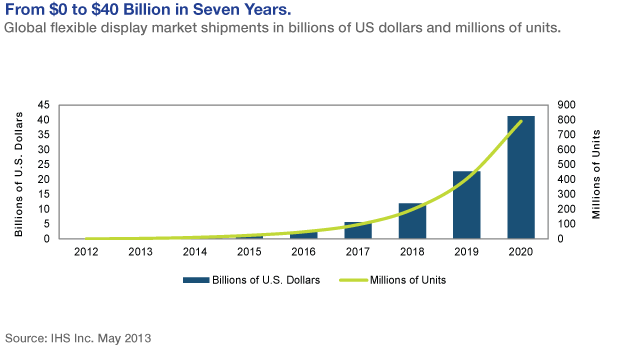 The growth drivers for flexible displays are similar to those that have propelled other technology developments.
Firstly, companies must continually differentiate their products from those of competitors, particularly in fast moving markets like smartphones and tablets. Designing and using flexible displays for next-generation products could give them that edge, especially coming off the innovative touchscreen advancements ushered in by the smartphone revolution, said Vinita Jakhanwal, director for mobile and emerging displays and technology at IHS.
"In the mobile device market, there is constant pressure on companies to do something different," Jakhanwal said. "Now that the basic functionality of the devices is similar, handset manufacturers are looking for ways to differentiate themselves."
Another driver is keeping consumers happy with new features while delivering lighter, thinner and more rugged devices, Jakhanwal added.
"Most of the mobile devices are becoming slightly larger," Jakhanwal said. "The displays are getting into the five or six-inch diagonal size. Consumers are also using and consuming a considerable amount of content on their mobile devices."
But while consumers might appreciate a larger screen, they don't want their mobile devices to get bulkier or heavier, Jakhanwal said. Flexible displays could enable larger, unbreakable screens without increased weight or power consumption, she added.
Not Without Challenges
But as with any new technology, underneath the encouraging projections lie obstacles that have to be overcome before flexible displays will gain first-adopter traction and eventually widespread commercial approval.
Flexible displays still face technology challenges, including long lead times needed for developing fully flexible screens, the development of complex thin film encapsulation techniques, new methodologies for testing plastic substrate reliability and the development of high-temperature processes for creating the displays, several industry watchers noted.
From a broad industry perspective, patience will be required in sorting through what flexible display technology is used in which applications.
Currently, several different technologies are being explored and advanced. Some of the more promising include:
Organic light-emitting diode (OLED), a thin-film-display technology commonly found in mobile device and televisions. Samsung and LG Electronics [JB3] are leading investors in this area and are ramping up their fab lines for mass production of flexible OLEDs. Companies such as Corning have also partnered with market leaders to provide specialty glass substrates to support OLEDs. IHS predicts OLEDs will be the leading flexible display technology every year for the foreseeable future, accounting for 64 percent of shipments in 2020. The firm projects that the market for OLEDs will grow to $94.8 million next year, up from $21.9 million this year.
Organic thin film transistor (OTFT), a proprietary transistor design from Cambridge, UK-based Plastic Logic, which develops and manufactures color and monochrome flexible displays that can be processed at low temperatures. The displays, even the active layers, are made completely with plastic and do not contain any glass, making them unbreakable. According to Michael Banach, Plastic Logic's director of research and partnerships, the company's flexible transistor array backplane enables the fabrication of flexible electrophoretic displays (EPD) that offer a true paper-like experience, sometimes referred to as "epaper."
Graphene, a one atom-thick layer of graphite or a two dimensional form of carbon. Because of its lightweight characteristics, graphene, the thinnest and strongest material available today, could be used in flexible displays, according to Andrea Ferrari, director of the Cambridge Graphene Centre, a research center that opened in February. Nokia Research Center has also invested in graphene technology, and is participating in the European Union's Graphene Flagship initiative to continue R&D in this field.
In addition to technical differences, it will take a few product generations before full flexibility is attained, said Jakhanwal. IHS classifies flexible displays into four generations of technology.
Now entering the market are first-generation durable display panels, which will likely be the dominant product type until about 2017, she said. These panels use a flexible substrate to attain superior thinness and unbreakable ruggedness, but they are flat displays that cannot be bent or rolled, according to Jakhanwal.
Next will come bendable and conformable flexible displays which can be molded to curved surfaces. The third generation will allow end users to manipulate rollable displays. Further out, the price of fourth-generation flexible displays—disposable displays—will drop enough that they can serve as a replacement for paper, Jakhanwal said.
There are other technical and process issues as well, said Dipak Chowdhury, division vice president and Willow Glass program director at Corning Glass Technologies, adding that his view is more based on anecdotal experience rather than data.
While it's widely accepted that flexible displays must use OLED technology because liquid crystal displays can't achieve the needed flexibility, producing OLEDs requires a very high temperature process, Chowdhury said.
There are also challenges related to the reliability of the thin film transistor layer, the high temperature tolerance of the substrates and the barrier properties and durability of the barrier, according to Chowdhury. Other issues involve getting plastic backplanes that can sustain the process temperature ranges and making sure the OLED displays are hermetically sealed, he added.
While large companies are working to overcome these challenges, they are difficult problems to solve, Chowdhury said. "Some companies have solved them, but they cost an enormous amount of money," Chowdhury said. "Others are still working on improvements."
Corning's solution, for instance, is Will Glass, a glass product that bypasses some of the plastic substrates' limitations and works well with OLEDs, he said. The thin, strong and flexible glass, has a is produced on a continuous "roll-to-roll" process (a demonstration can be seen here).
And, of course, there are cost considerations to weigh. Besides understanding what the market value proposition is beyond having a cool new gadget to show off, the inherent process of migrating to flexible displays could give companies sticker shock.
"The major selling points will be that, yes, it's flexible, but also that the displays are lightweight and robust," said Barry Young, managing director at the OLED Association. "But, it's no doubt going to be much more expensive than having a four or five-inch display that's made out of glass."
OLED display production, which includes thin-film encapsulation to protect the OLEDs from the environment, costs at least twice as much as producing a glass display, Young said. Production yields are also likely to be lower than yields of glass, which is a much more mature technology, he added.
Unleashing Imagination
Although challenges loom, there is no shortage of ideas about how flexible displays could be used in commercial applications.
"There is a big difference between what you can do in a lab and what you can do to make a working, nice-looking prototype and a final finished product," said Ferrari from the Cambridge Graphene Centre. "There are all sorts of crazy suggestions out there, but I wouldn't want to dismiss any of them. You never know, maybe one of the ideas will be implemented and lead us in new directions."
The OLED Association's Young added that the nascent market will likely get off to a modest start before engineering imagination spins off into innovative and creative paths.
"Longer term, you could envision all sorts of products," Young said. "For example you could think of a display that is two or three millimeters thick with one side having some of glue that could be used to paste the display on a wall or refrigerator. And then you can get into the conformable displays, panels that could be used on a car's dashboard."
The first wave of commercially available flexible screens are likely to be used mostly in smartphones, tablets and TVs, according to several executives. The largest application for flexible displays during the next several years will be personal electronic devices, according to IHS.
Samsung and LG, as already mentioned, are leading in these areas.
While a Samsung spokesperson declined to answer questions or provide product details, the company announced its Youm flexible displays at CES earlier this year, with mobile devices winning the on-stage spotlight. Panel production was widely expected before the end of the calendar year, but news surfaced on etnews in April that Samsung hit a technical snag with its flexible display encapsulation technology, delaying the production schedule.
LG Electronics also didn't respond to an interview request for general market trends and possible flexible display end-market uses, but it's common knowledge that LG Display is ramping up flexible display production. The Korea Times reported in June that LG Display was looking to mass-produce flexible panels for major clients starting in the fourth quarter.
Both companies also rolled out super thin, curved 55-inch OLED televisions, which began selling in the US this summer for upwards of $13,000 to $15,000.
Going forward, the trend could move towards reaping additional benefits from the unbreakable attributes of flexible displays, and then later, leverage their conformable nature, said Plastic Logic's Banach.
That could lead to demand growth for flexible smart cards, smart tags and wearable electronics, said Paul Cain, Plastic Logic's head of business planning.
In addition to tablets and smartphones, Cain said Plastic Logic is also seeing traction for flexible displays in applications such as digital signage and smart labeling. "Of the newer applications where flexibility enables new design paradigms, wearables are currently very high profile," Cain said.
Banach added that Plastic Logic's technology also has a number of non-display applications. The company recently collaborated with ISORG, a printed electronics startup based in France, in creating the first plastic, flexible image sensor, he said.