While CES is a place to find the latest in gadgets and gear for consumer electronics, communications and much more, it is also a huge automotive trade show.
Because of this, many automotive makers come to CES to present their latest concept vehicles that may eventually become commercialized but often are just to show what technologies are being developed and may be many years off.
In COVID years, CES didn't have as many concepts as previous years; however, at CES 2023 concept vehicles were back in full effect.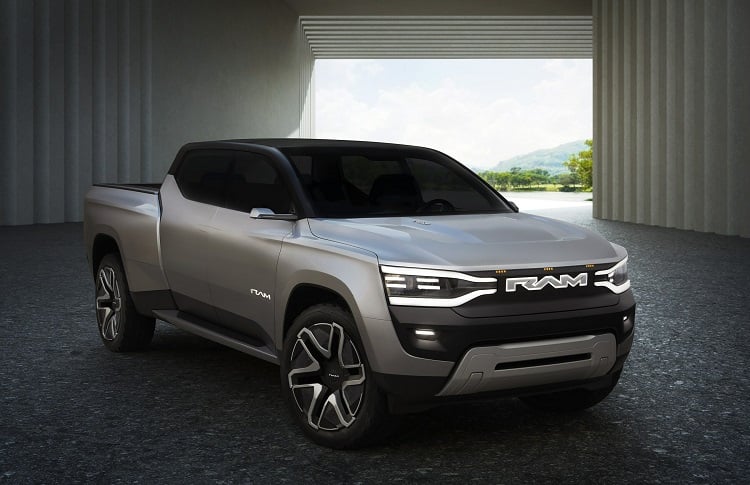 The Ram 1500 Revolution includes a host of next generation features that are not available in current vehicles. Source: Ram
1) Ram 1500 Revolution
The Ram Truck brand came to CES 2023 with its Ram 1500 Revolution, an all-electric prototype that includes several next generation features that the company is advancing.
The 1500 Revolution includes fully animated LED design with a grand saloon-style opening doors and integrated lights into the door and front bumper flares. Other features include:
New powered frunk (front trunk) with one-touch open-and-close functionality for additional storage.
Powered charge-port door on the driver's side.
Powered, multifunction tailgate and a large RamBox with fender wells that clear 35-inch tires.
Powered side steps and powered rear step with active diffuser.
Digital side-view mirrors and augmented reality head-up displays.
Top and bottom collapsible steering wheel with enhanced hand grips with capacitive controls, digital screens, tactile swiping technology and a full glass roof with electro-chromatic panels and integrated roof rails.
Digital side-view mirrors and augmented reality (AR) head-up display (HUD) highlight the onboard advanced technology.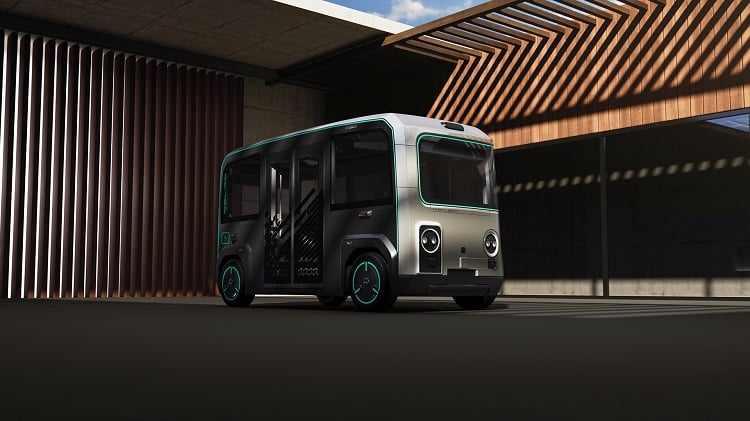 Holon is a new concept shuttle that would be electric, autonomous and be used for ride-hailing or ride-sharing. Source: Holon
2) Holon autonomous shuttle
Holon, a division of Benteler Group, debuted its autonomous shuttle that can operate autonomously and can reach a speed of 37 mph with passenger transportation as the main market, specifically ride pooling, ride hailing and public transit.
The company said other potential use cases for the shuttle include university campuses, airports and national parks where autonomous shuttles have already been gaining traction over the past few years.
A pilot project has already been announced in Hamburg, Germany, with Hochbah, the country's second-largest mass transit company. Additionally, mobility-as-a-service vendor Beep will be responsible for implementing the Holon shuttles in the U.S.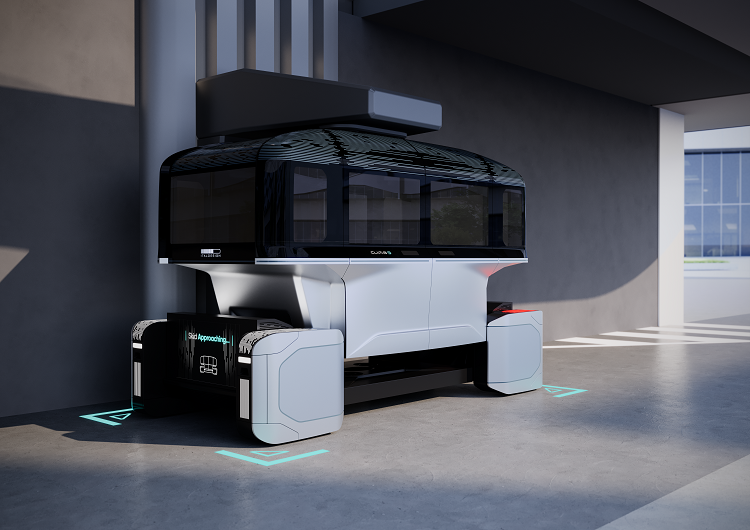 Potential use case for the Climb-E prototype include home services such as medical assistance, telemedicine, dental care, catering, private events, home massages, pet grooming and much more. Source: Italdesign
3) Italdesign's Climb-E
Climb-E from Italdesign is an autonomous transportation concept designed for sustainable urban mobility for next generation civil and residential structures.
The concept offers new ways of traveling starting at a user's door or place of work and carries people through commute or to entertainment destinations. The modular design forms a capsule which can hold up to four people and can be coupled when moving with a fully electric platform.
The Climb-E concept can scale walls like an elevator but also travel on roads. Potential use cases for the prototype include home services such as medical assistance, telemedicine, dental care, catering, private events, home massages, pet grooming and much more.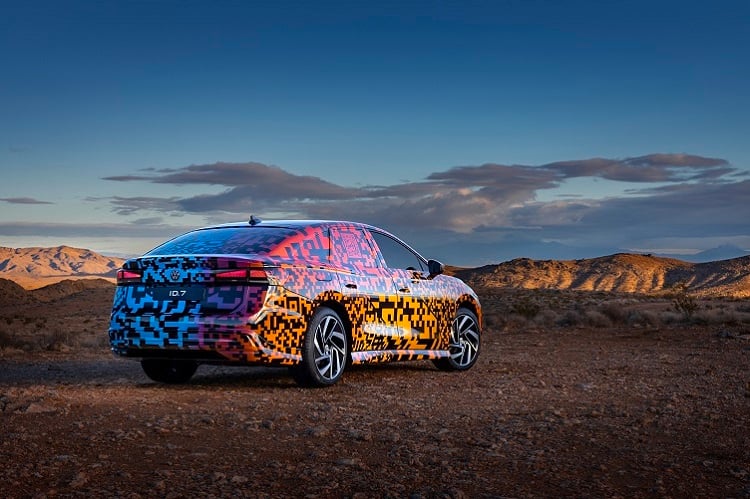 The camouflaged version of the ID.7 appeared at CES 2023 as part of a paint prototype. Source: Volkswagen
4) Volkswagen's camouflaged ID.7
The second electric vehicle that will be available on the global market based on Volkswagen's modular electric drive matrix (MEB) technology, the ID.7 electric sedan targets markets in Europe, China and North America. In Europe, the EV will be produced at the VW Emden, Germany, plant and it will be the second model based on the MEB architecture to be built in Emden.
At CES 2023, Volkswagen showcased a camo version of the vehicle. Why? To show how the company can create different types of scenes in a vehicle through forty layers of paint and could be used to mimic the visualization of sound.
5) Project Arrow
Billed as a "made-in-Canada" concept car, Project Arrow was showcased at CES 2023 in a full-scale version after showing off smaller scale previews last year at the show.
The all-electric Project Arrow is a product of the Automotive Parts Manufacturers' Association (APMA) of Canada and will be designed, engineered and built in Canada as the company aims to reduce emissions from vehicles in the coming decades. The Canadian government proposed new regulations that would require one-fifth of all passenger cars sold in the country to be electric by 2026.
The design is being engineered by Carleton University's School of Industrial Design and Ontario Tech University Automotive Centre of Excellence. 50 Canadian industry partners are involved in the project.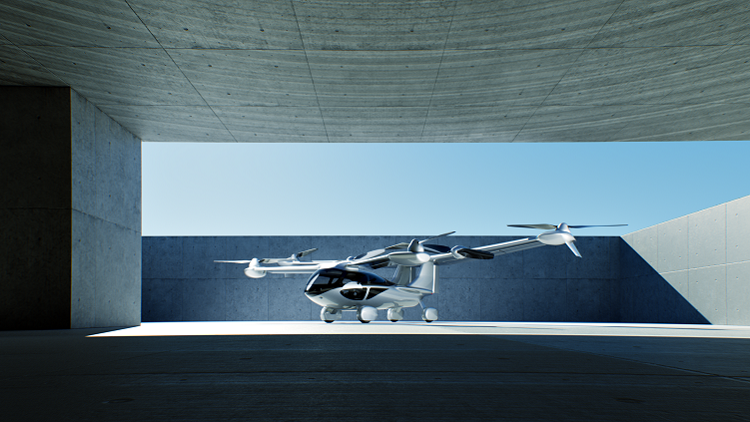 The Aska's A5 flying car is a vehicle that can drive on roads but can also take off from airports or helipads. Source: Aska
Honorable mention: Aska' flying car
While not a traditional automobile, Aska debuted what it claims is the first four-seat electric vertical takeoff and landing (eVTOL) flying car: a vehicle that can drive on roads but can also take off from airports or helipads.
Aska wants to develop the A5 as an on-demand ride-sharing service for major cities and surrounding areas. The company is targeting this for a 2026-time frame and will have certified pilots pick up customers at their homes and fly them to their destinations.