Over the course of this year, shuttles became an extremely popular platform for testing self-driving technologies.
While there has been previous testing of shuttles globally, the sheer volume of autonomous shuttles that were deployed in 2021 was unlike anything the automotive market has seen previously.
Why shuttles?
Whereas ride-hailing projects such as robotaxis use conventional vehicles that are outfitted with autonomous technology grafted to the outside of the infrastructure, autonomous shuttles are generally built from the ground up to function as self-driving transportation platforms.
Robotaxis are generally being tested for passenger transportation, ferrying a handful or single occupants to typically one destination in a city. Meanwhile, shuttles are also being tested for passenger transportation, but they can carry many more passengers at once and could be used more for public transportation, moving from one destination to another.
However, shuttles are also capable of much more than just traditional cars. In some pilot projects, shuttles are being used to transport cargo such as groceries or delivery packages. In others, the shuttles are being used for mobile gyms, mobile restaurants, mobile crafting stations or mobile workspaces.
The goal of these all-electric shuttles is not just to test how self-driving technology can be used in mass transportation, but also how they could help ease congestion in cities. Additionally, these shuttles can help with government mandates for emissions guidelines that will contribute to combating climate change.
2021 projects
There were several projects that started in 2021 from both major players and startups.
Beginning in March, Mobileye, the self-driving division of Intel Corp., signed an agreement with Transdev and Lohr Group to deploy and develop autonomous shuttles globally. The shuttles would use Mobileye's autonomous technology with Lohr's electric shuttles. The first of these would be deployed in Europe with the capability of ferrying up to 16 passengers with speeds up to 50 kilometers per hour.
This was followed by Mobileye announcing that it would be working with Udelv, a shuttle startup, to produce more than 35,000 autonomous delivery shuttles by 2028. The service would start in 2023 and be one of the largest scale projects globally.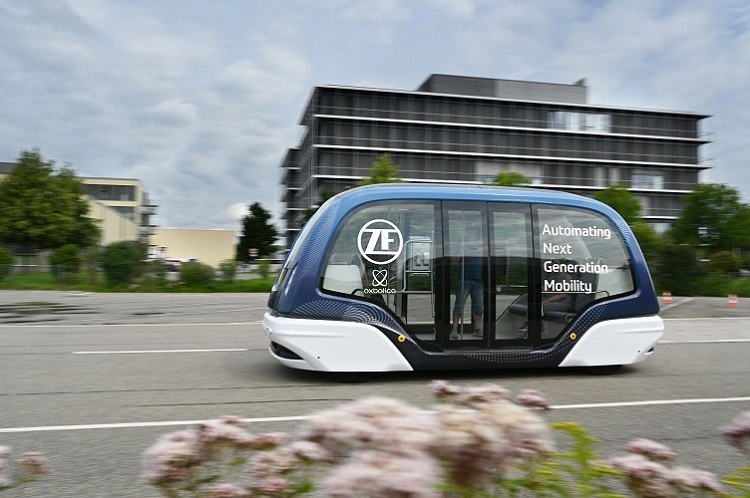 ZF and Oxbotica plan to develop and deploy a fleet of Level 4 autonomous shuttles globally in the coming years. Source: Oxbotica
Mobileye said last mile delivery is the most expensive facet of distribution, accounting for 53% of the overall cost of goods. With consumers buying more goods online, last-mile delivery volume is forecast to increase 75% to 80% by 2030 and will require roughly 36% more delivery vehicles. Adding to this is an ongoing shortage of drivers as the workforce ages and retires.
In April, the National Park Service launched a self-driving shuttle project at the Wright Brothers National Memorial in Kill Devil Hills, North Carolina. The shuttles have no drivers, steering wheels or cockpits and would be used to transport visitors to the park areas. The project collects information about passengers, trips and battery use of the shuttles as well as data about how these vehicles perform, which will be used with future pilot deployments.
Another state-based project involved Autonomous Vehicles Colorado (AvCo) across multiple locations in Colorado in what is claimed to be the longest project in the world. The pilot will be deployed in three phases starting in Golden, Colorado, and operated on three fixed routes, arriving at destinations every 5 to 10 minutes.
In September, Mobility Forus and Sensible 4 launched a long-term autonomous public transportation service in Bodø, a town in northern Norway. The service will travel on public roads in mixed traffic along a 2.2-mile route at locations in the city such as the harbor, city center, parks and hospitals.
In October, Chinese electronics manufacturer ZF invested in Oxbotica, a Level 4 self-driving software company, to deploy a fleet of passenger shuttles worldwide. Under the agreement, the shuttles will help to increase mobility, road safety, reduce congestion and boost productivity.
In November, Cruise Automation, the autonomous wing of General Motors, gave more details about its Origin shuttle. The shuttle is designed for both passenger and cargo delivery. It can carry up to eight different grocery orders that are fully insulated and can be locked so only a user with the right code can use it.
And earlier this month, Sensible 4 announced another trial set to begin in 2022 in Aachen, Germany, for its PeopleMover shuttle that will include Level 4 automated driving capabilities. The shuttles are specifically being used for last-mile operations and the goal is to deliver the shuttles commercially to the European market by 2023.
What's ahead
These are just a few of the self-driving shuttle projects that began in 2021 and it is likely the market will continue to see new trials for these vehicles in the year ahead.
While the types of applications other than passenger transport and cargo delivery are unlikely to take form soon, long term, shuttles may bring a gym to your doorstep, or a portable office for daily work. They could also potentially offer coffee shops that will travel to businesses or apartment buildings. Likewise, pet groomers cold use these vehicles to give shampoos to animals.