Matter came to CES 2023 in a big way. The new standard for smart homes has gotten the market hot again with numerous new products coming out from every vendor to take advantage of what is seen as the next big thing for homeowners.
Connectivity Standards Alliance (CSA) released the Matter standard in October. The goal is to simplify the smart home with a unifying internet protocol-based connectivity. For vendors, this means designing new devices that will work with potential competitors' projects, but also offers many possibilities for future growth by making it is easier for homeowners to have their devices interact.
For homeowners, it means having one central app or ecosystem to control all their smart home devices regardless of manufacturer. That means devices from Google, Apple, Samsung, Amazon, Comcast or any other company will work together for the first time.
Given this is a new standard, not surprisingly smart home vendors came out in force at CES 2023.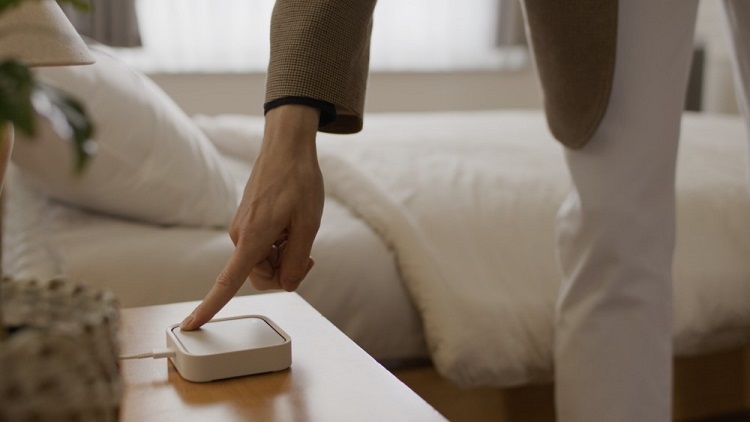 Samsung unveiled its SmartThings Station that is a hub to control all Matter-compatible devices in the home and that learns routines of homeowners. Source: Samsung
SmartThings
Samsung had a huge dump of Matter-compatible devices through its SmartThings brand with the Station, a hub through which Matter-enabled devices will be controlled. This includes built-in radios, Wi-Fi, Bluetooth, Zigbee, Threat all in one hub
The SmartThings Station can be used to establish routines and by quickly tapping a button it could set the house for sleep — turning the lights off, closing the blinds, lowering the temperature — or it could be set for a movie with the lights dimming and other things getting ready for the show.
SmartThings Station will work with other Matter compatible devices to save power or turn off outlets not in use and turn on appliances at non-peak energy times or activate security systems. It can even turn the house into a do-not-disturb zone so homeowners can be left alone. Samsung said.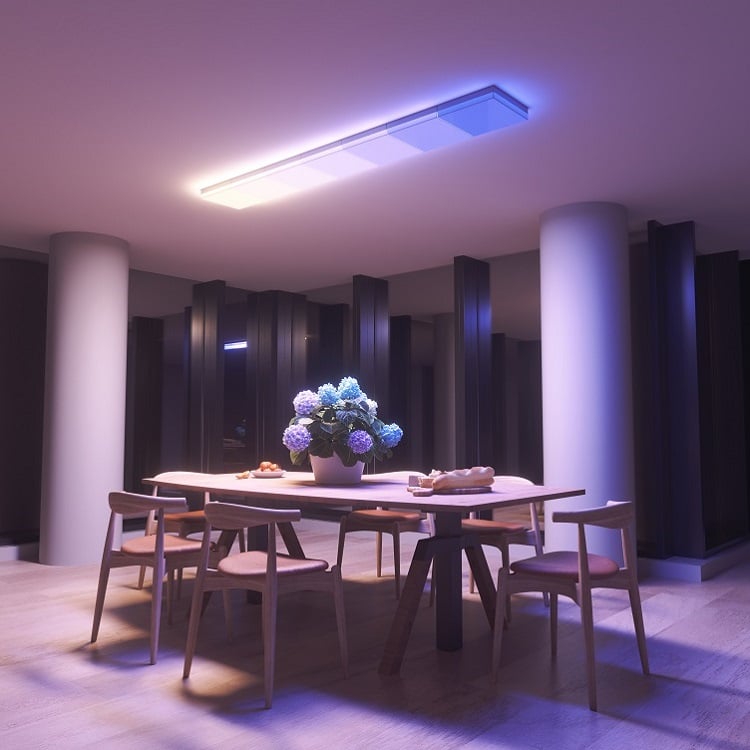 Nanoleaf introduced at CES 2023 the Skylight smart lights that are modular ceiling fixtures that can control through scenes. Source: Nanoleaf
Smart lighting
Some of the coolest Matter-compatible smart home devices came from smart lighting vendors.
First, Govee showcased its M1 strip lights that are Matter-compatible and provide scenes that can be used when consumers are watching movies or playing games. The smart lights can be controlled through Google Home and will work with other Matter devices.
Nanoleaf introduced its Skylight smart lights at CES 2023, a set of modular ceiling fixture that users can control through pre-programmed scenes or create their own. The system provides functional white light for everyday use and 16 million colors for ambient lighting that adjust brightness, colors and more.
GE Lighting, a Savant company, has expanded its smart home ecosystem with its Dynamic effect lighting that features 16 million colors, pre-set and custom light shows and on-device music-syncing. It is naturally all Matter-compatible and the company said it will be rolling out new products later this year and will integrate several smart home devices with Schlage.
Additionally, AiDot has introduced new smart bulbs, smart lamps and smart plugs that all are Matter-compatible.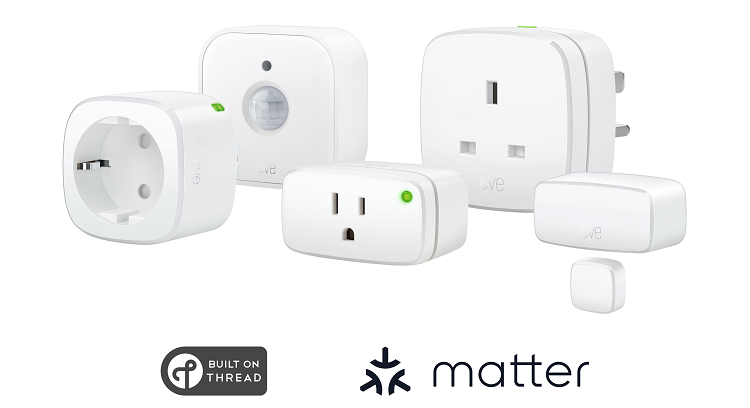 Eve has unveiled new smart blinds, plugs and motion detectors that work with Matter as well as the top hubs in the smart home sector. Source: Eve
Smart plugs
Eve Systems unveiled at CES 2023 new out-of-the-box Matter compatible devices that work with all four major smart home platforms as well, including Apple Home, Google Home, Amazon Alexa and Samsung SmartThings.
The devices introduced included door and window motion detectors, smart blinds with motion detection and smart plugs for the ability to turn off devices using a hub.
Wi-Fi Matters
Renesas Electronics Corp. introduced its first development kit that supports the Matter protocol for all future Wi-Fi, Bluetooth Low Energy and Thread devices.
Renesas said it will also include products from Dialog Semiconductor and Celeno Communications, two companies Renesas acquired recently.
The development kit will be available at the end of this quarter and will help to support the DA16200 system-on-chip (SoC), which the company claims is the first Wi-Fi SoC to deliver a year-plus battery life for always-connected Wi-Fi internet of things devices.