Cosel Co. Ltd. has expanded its medical power offering with the addition of a 1500 W version to its PJMA series. The 1500 W PJMA1500F has a universal input range of 85 V AC to 264 V AC and complies with international safety standards.
Designed for demanding medical applications, the PJMA series is suitable for Body Floating (BF) applications and complies with two Means of Patient Protection (MOPP) (IN/OUT) and 1MOPP (OUT/FG) safety requirements. Based on a robust platform, the units' design has been optimized to offer a very good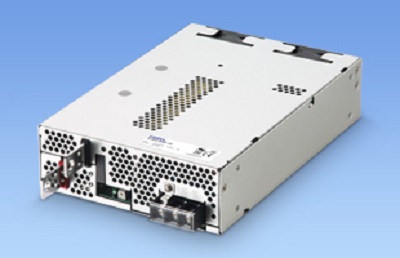 Source: Cosel Co. Ltd. price/performance ratio for medical applications requiring a high-quality power solution. The PJMA series is available in four output voltages of 12 V DC, 24 V DC, 36 V DC and 48 V DC.
The PJMA series can be operated within the so-called 'universal input' range of 85 V AC to 264 V AC and has a typical efficiency of up to 88% at high line. The devices include inrush current limiting circuitry, overcurrent and overvoltage protection, as well as thermal protection. Exhibiting versatility and robustness, the power supplies can be operated in an environmental temperature range of -20° C to 70° C. Depending on the final equipment assembly style and cooling conditions, a derating may apply.
Emission tests confirm that the PJMA1500F complies with the FCC-A, VCCI-A, CISPR32-A, EN55011-A and EN55032-A.