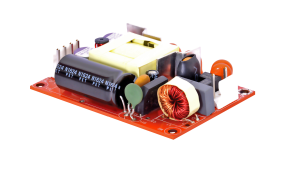 ABC41 Series. Source: Bel Power SolutionsBel Power Solutions and power management devices manufacturer Protection, a Bel group company, have expanded their ABC Series open-frame, AC-DC power supply portfolio to include the ultra-low profile ABC41 (industrial) and MBC41 (medical) Series. Designed for OEM, industrial, telecom, datacom and medical applications—and specifically engineered for use in tight spaces—the high-efficiency units feature an industry-leading footprint of 3 in. x 2 in. x 0.75 in. (19 mm) and deliver 40 W of output power with natural convection cooling.
The ABC/MBC41 Series can be used in space-constrained applications requiring minimal power loss and ease of thermal management. The convection-cooled power supplies also eliminate fan maintenance, audible/ambient noise and vibration, making them suitable for test and measurement equipment, wireless communications, renewable energy, automation and HMI touch panels. An optional PCB mount offers increased flexibility.
The power supplies are available in seven output voltages ranging from 5 V to 58 V, with an operating temperature range of -40° C to +70° C. They accommodate a universal input voltage of 85-264 VAC or 390 VDC, 47-63 Hz. Mean time between failure (MTBF) is two million hours. Standard features include input overvoltage protection, overcurrent protection and short circuit protection. All parts come with a screw-terminal connection, a Molex connector or PCB Mount pins.
The power supplies are RoHS compliant, CE Marked, safety agency certified per UL and NEMKO. They also meet requirements of EN60950-1 (ABC41) and EN60601-1 medical 4th edition (MBC41).
For more information, contact Bel Power Solutions or email Tech.Support@psbel.com.