March has been a busy month for new product releases at TDK-Lambda, and at press time it was less than halfway through.
So far, the company has announced three new products of interest to the electronics testing sector: new entries to its conduction-cooled AC-DC power module series, new models for its CCG series of isolated DC-DC converters and a new programmable rack DC power system as part of the Genesys series.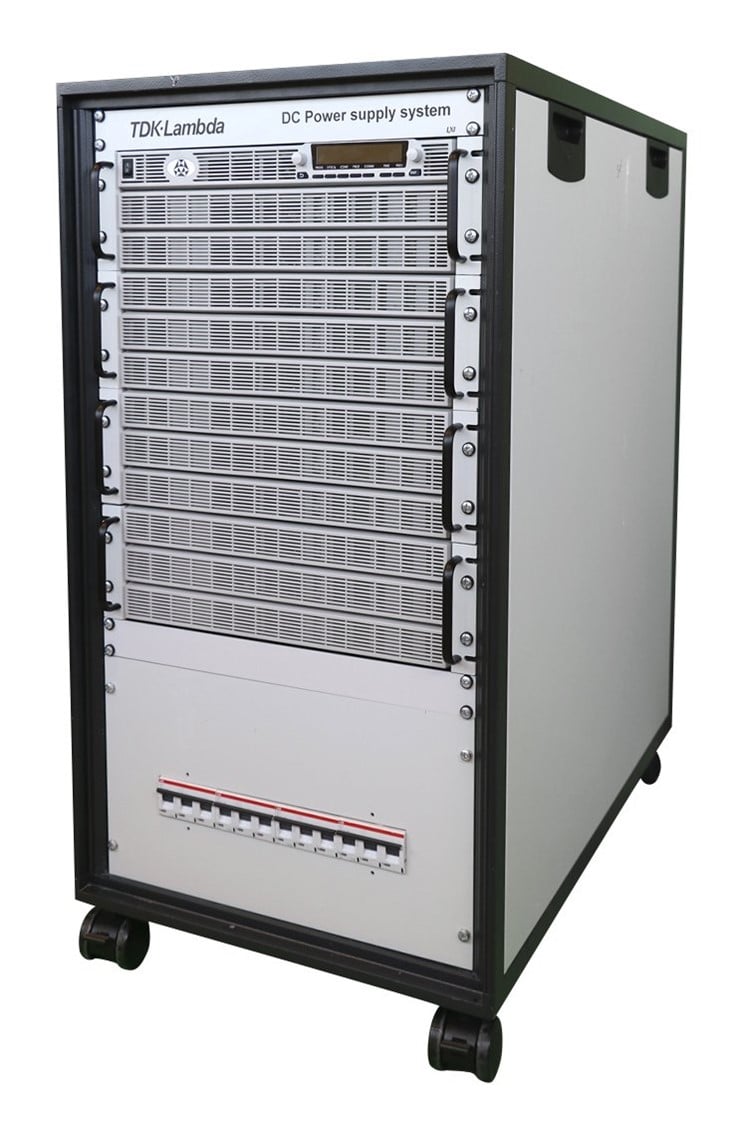 This 30 kW to 60 kW Advanced Programmable Rack DC Power System is just one of several new product releases announced since the start of the month. Source: TDK-Lambda CorporationFirst, the AC-DC modules. The 12 V and 48 V output models, rated at 504 W, are new entries to the company's PFH500F series, which utilizes GaN semiconductors, bridgeless power factor correction, synchronous rectification and digital control to enable efficiencies of up to 92%. In a press release, TDK noted that opto-couplers have been replaced by digital isolators for long-term reliability and stability. It also added that the conduction-cooled series is fully protected against over-voltage, under-voltage, over-current and over-temperature conditions.
The new models offer a compact, 4 inch x 2.4 inch footprint with programming and communication through a PMBus interface. The PMBus can be used to program (read-write) the output voltage and fault management functions and monitor the unit's operating status. Additional features include a 12 V 200 mA standby voltage, remote on/off, pre-biasing start-up, droop mode current share, a Power Good signal and output trim pin. More info on the PFH500F series is here.
Next, the company's popular CCG series of isolated DC-DC converters now includes convection-cooled, through-hole and surface-mount 1.5 W and 3 W rated parts that operate at full load from -40° C to 85° C. Both models feature a compact package size of 15.7 mm x 10.4 mm x 11.5 mm (length x width x height). Over-current protection and remote on/off is standard, with a -5/+10% output voltage adjustment range on single outputs only. Input to output isolation is 1,500 V DC. TDK added that the models offer a non-encapsulated plastic case, avoiding the quality risks associated with silicone potting compounds during reflow soldering. More info on the CCG series is here.
Finally, the 30 kW to 60 kW Genesys Advanced Programmable Rack DC Power System platform is built into a 23U x 22 inch (553 mm) x 36 inch (902 mm) (height x width x depth) stand-alone rack. Fourteen models are currently available from 10 V to 600 V, with output current up to 4500 A. According to TDK, the models can operate in Constant-Current (CC), Constant-Voltage (CV) and Constant-Power (CP) limit and have conversion efficiencies up to 90%. More information on the Genesys series is here.