TDK Corporation has introduced the TDK-Lambda PFE1000FA series of AC-DC power modules, an upgrade to the popular PFE1000F series launched eight years ago. The new series achieves up to a 4% efficiency improvement. Like the existing models, the innovative PFE series enables designers to utilize a single device containing power factor correction, regulation and input-output isolation. These modules have been widely used in outdoor and liquid-cooled power systems, addressing the need for fan-less applications in the industrial, COTS, signage and communications markets.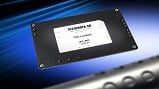 PFE1000FA series AC-DC power modules. Source: TDK-Lambda.
Operating from a universal input of 85 to 265 Vac, the PFE1000FA models are available with nominal outputs of 12, 28 and 48 Vdc and can be adjusted +/-20% via a trim-pin. All the power modules can deliver full power with an operating baseplate temperature range of -40 to +100° C (+85° C for the 28 V and 48 V models below 170 Vac). An isolated module good signal, remote on/off, 12V standby output, over voltage, over current and over temperature protection is included on all models.
The package size and pin-out is in the same 100 x 13.4 x 160mm format as the original series, allowing an easy upgrade of existing designs for up to 30% lower power losses and reduced temperatures. An enhancement to the PFC circuit gives a more sinusoidal input current wave form, providing lower harmonic currents as defined by the IEC 61000-3-2 standard.
The TDK-Lambda PFE1000FA series is certified to the safety standards of UL/CSA/EN 60950-1 and is CE marked according to the Low Voltage and RoHS2 Directives.