Although U.S. and EU cable providers in 2012 lost television subscribers for the sixth consecutive year, they managed to increase their total customer base due to their expanding business in Internet and telephony.
U.S. cable television subscriptions declined to 56.7 million in 2012, down 3 percent from 58.4 million in 2011, according to a new report entitled "State of the US Pay TV Operator market 2012" from information and analytics provider IHS (NYSE: IHS). Nonetheless, total revenue generating units (RGUs) for all U.S. cable services rose to 132.4 million, up 2 percent from 130.2 million in 2011.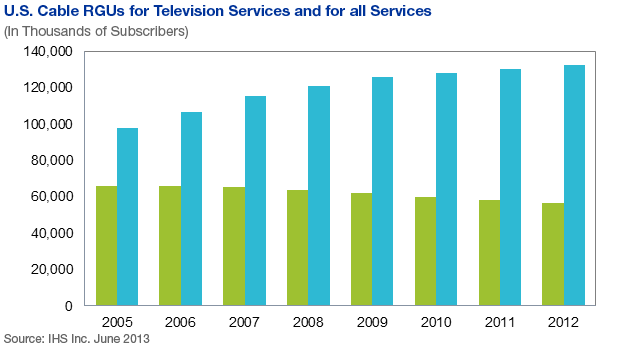 The U.S. cable market continues to face rising competition from Internet protocol television (IPTV), which is drawing TV subscribers away," said Erik Brannon, analyst for television research at IHS. "However, high-speed data and voice services are buoying cable subscribers and revenue. Without the continued growth in RGUs generated by voice and Internet, the U.S. cable business would face major financial trouble in 2012 and beyond."
With the decline in television subscribers, U.S. cable TV providers lost 1.7 percentage points of their pay-TV market share to IPTV in 2012. Cable TV operators in 2012 held a 56 percent share of the U.S. pay-TV market, down from nearly 58 percent in 2011. Meanwhile, IPTV's share increased to 10 percent, up from nearly 9 percent in 2011.
Cable's penetration of U.S. television households was 47.9 percent at the end of 2012, down from 49.6 percent a year earlier.
"IPTV will continue to eat into cable's TV market share as the penetration of IPTV equalizes with cable in areas served by both technologies," Brannon said.
Similar to the U.S. market, EU cable operators in 2012 experienced a decline in television subscribers, but managed to expand total RGUs based on the growth of other services. European cable television subscriptions fell to 57.9 million, down 1.4 percent from 58.7 million in 2011 attached. Meanwhile, European cable operators increased their total RGUs to 106.5 million, up 3 percent from 103.5 million in 2011.