The following is an overview of a teardown analysis conducted by TechInsights.
Earlier this year, Google unveiled its second-generation Nest Hub, a smart home control system.
The Nest Hub is Google's answer to Amazon's Alexa offerings with a touchscreen and smart home controller. The voice-activated smart home hub contains a speaker, a microphone and gesture control. The gesture control system is an interesting switch from the Amazon offerings and gives the Nest Hub some differentiation from its competitors.
The smart home hubs have come a long way from the initial offering, which was just a smart speaker connected to the internet that could play music and tell users the weather. The newer devices allow for full control of smart home devices through one display as well as incorporate new offerings such as streaming services like Netflix and Hulu.
Of course, it also allows homeowners to listen to music, get the latest news or weather and do internet searches. The system connects to other devices and the internet through Bluetooth or Wi-Fi.
The Hub features a 60 Hz TFT touchscreen display powered by Amlogic S905D system-on-chip (SoC), a quad-core Arm Cortex-A55 architecture, and 2 GB of DDR3 SDRAM.
The following is a partial deep dive of the Google Nest Hub conducted by TechInsights.
Summary points
60 Hz TFT touchscreen display, 1024/600 pixels
2 GB DDR3 SDRAM
No camera
Amlogic S905D SoC
Target market: Smart home
Released: March 2021
Pricing: $99.99
Availability: U.S.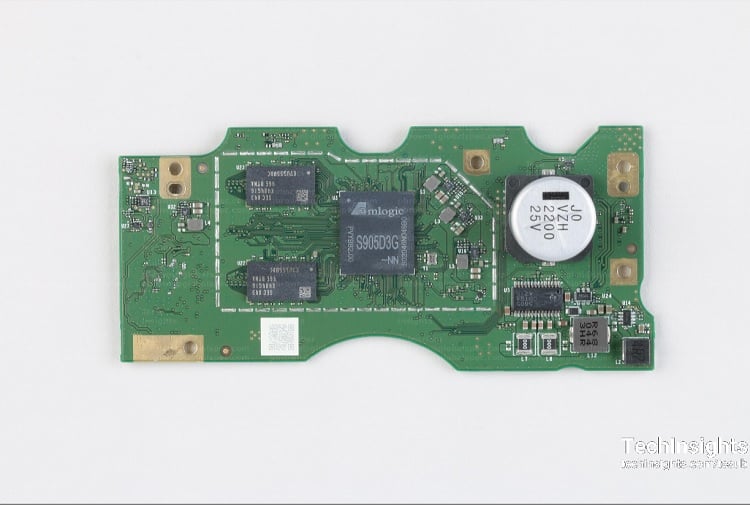 The main board electronic components of the Google Nest Hub. Source: TechInsights
Main board
The main board of the Google Nest Hub is the heart of the smart home control with the main processor and memory that controls the system. The main components include:
Amlogic S905D SoC
DDR3 SDRAM memory from Samsung
Slap-down DC-DC converters from Silergy
Adjustable LDO regulator from Texas Instruments
Two-input positive OR gates from Diodes Inc.
Audio power amplifier from Texas Instruments
(Learn more about microprocessors at Globalspec)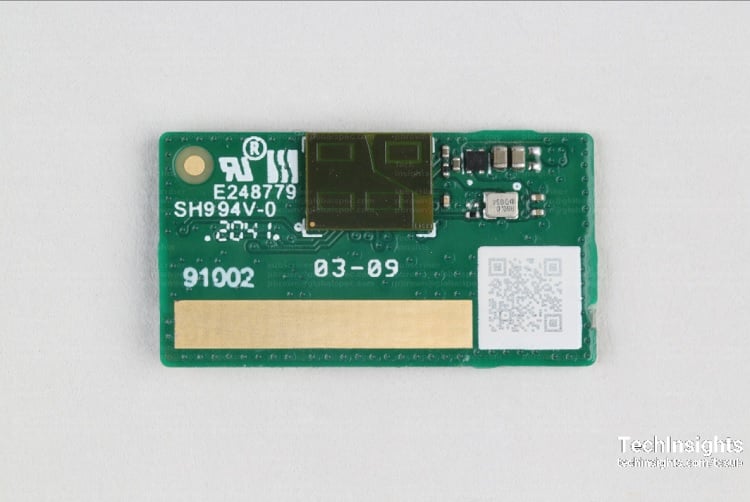 The gesture board and its components of the Google Nest Hub. Source: TechInsights
Gesture sensor board
The Google Nest Hub includes gesture controls that sense and detect the movements of the user to correspond to a command of the smart home controller. The board that controls this process includes a 60 GHz radar module from Infineon and a 1.9 V LDO regulator from TI.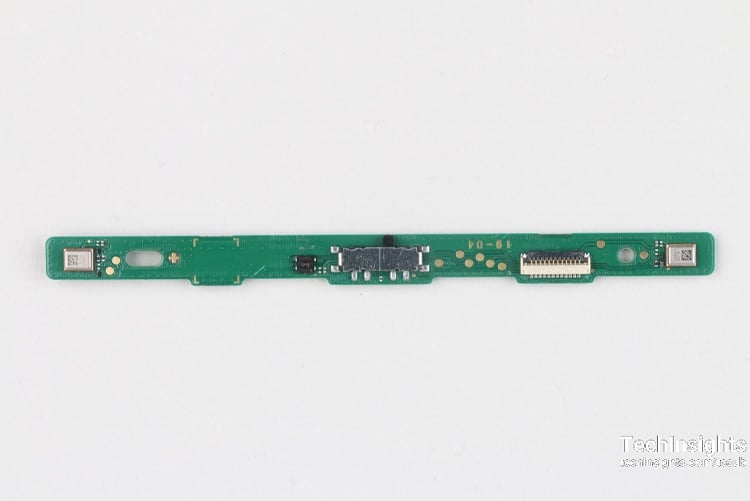 The sensor board and components of the Google Nest Hub. Source: TechInsights
Sensor board
The sensor board of the Google Nest Hub houses all the microelectromechanical systems (MEMS) sensors that help with the basic functions of the smart home device. The components include:
Humidity and temperature sensor from Sensirion
Two MEMS microphones from Goertek
(Learn more about MEMS devices at Globalspec)
Major components
$29.06 – 60 Hz display/touchscreen subsystem – BOE (Qty 1)
$8.37 – S905D quad-core ARM Cortex-A55 multimedia SoC – Armlogic (Qty 1)
$5.19 – DDR3 SDRAM memory – 512 MB – Samsung (Qty 2)
$5.19 – DDR3 SDRAM memory – 512 MB – Samsung (Qty 2)
$3.65 – 60 Hz radar module – Infineon (Qty 1)
$3.52 – Internal frame (Qty 1)
$2.95 – Wi-Fi 802.11 a/b/g/n/ac, Bluetooth 5.0 – Broadcom (Qty 1)
$2.56 – Speaker (Qty 1)
$1.69 – Multichip memory – 4 GB MLC NAND flash, memory controller – Samsung (Qty 1)
$1.49 – Back enclosure