Samsung Electronics will showcase four projects from its C-Lab Inside, an in-house idea incubator, at the upcoming all-digital CES 2021 event.
The Korean electronics giant will also have participation from seventeen companies that are under its C-Lab Outside, a startup acceleration program. Samsung said it wanted to highlight the startups it is working with during CES because of the lack of opportunities for startups to participate in the event given there will be no in-person exhibition because of the COVID-19 pandemic.
The four C-Lab projects that will debut at CES include:
EZCal, an automated TV picture quality calibration application for cinema-level viewing quality.
Air Pocket, a portable oxygen storage device.
Scan&Dive, an internet of things (IoT) device and solution for fabric classification and optimal care recommendation.
Food & Sommelier, a service for finding optimal food and wine pairings.
17 startups
The companies that will participate in CES 2021 as part of Samsung's C-Lab Outside startup program include technology such as child tech, 3D scanning and artificial intelligence (AI).
The startups are given workspace and are monitored by Samsung at the Daegu Center and Gyeong-buk Center in South Korea.
Some of the companies include:
Deeping Source — an AI company specialized in personal information anonymization.
Flux Planet — which is creating real-life avatars for 3D scanning and virtual and augmented reality content.
Magpie Tech — which is developing growth management devices for children.
Designovel — which is creating fashion designs using AI.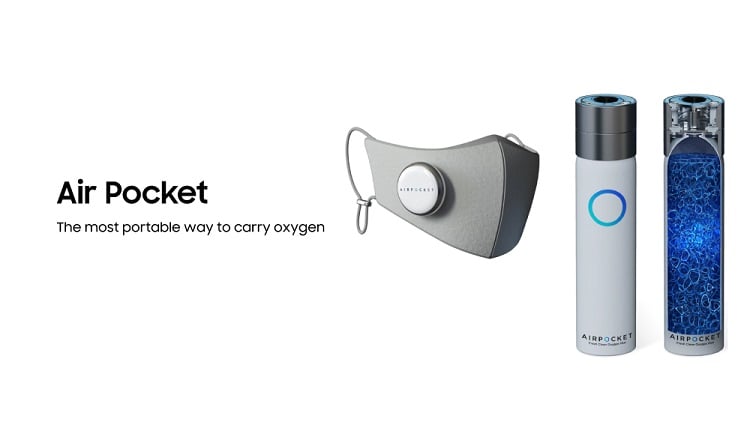 Airpocket is a new wave to transport oxygen through a handheld device. Source: Samsung
C-Lab Outside startups plan to target the global market starting with CES 2021, meeting worldwide investors and buyers for potential new business opportunities.
Three companies were chosen from Samsung's startup incubation program as CES Innovation Honoree Award winners for this year's CES, including:
Luple — which is developing a portable and artificial sunlight device.
Breathings — which is an IoT device to manage respiratory health.
Linkface — which is a neckband device that monitors breath and heart signals.
CES 2021 will be all-digital and will take place Jan. 11-14.